Costa Rica is a country blessed with truly spectacular nature. Its tropical rainforests are brimming with wildlife and will make you feel like you've woken up in a National Geographic documentary. The beauty of its waterfalls and volcanoes will leave you speechless, and the endless palm tree-lined beaches will make you want to pack your bags and move there permanently.
I spent 6 weeks in this wonderful country exploring its incredible nature and wildlife, and it was one of my most memorable trips ever! Therefore, I decided to put together a 10 day Costa Rica itinerary that would give you exactly the right balance of hiking in the jungles, relaxing on beaches and driving through scenic landscapes. If you're a nature lover like me, this itinerary will be perfect for you!
Disclosure: This article contains affiliate links from which I may make a commission at no additional cost to you if you make a purchase.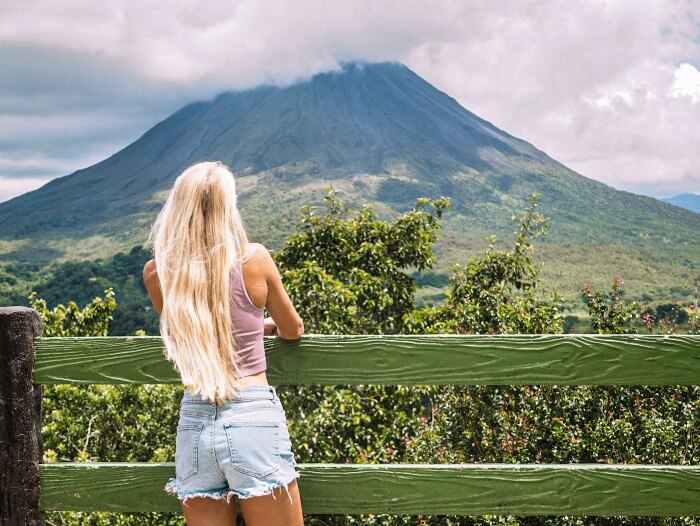 Transportation for this 10 day Costa Rica itinerary
Be aware that this 10 day Costa Rica itinerary includes some remote destinations where the roads can be in a very poor condition (especially if you're traveling during the rainy season as we did). Therefore, I highly recommend renting a 4×4 car as some of the places would otherwise simply be inaccessible for you or would require huge detours.
We rented our 4×4 from Nomad America and loved the whole experience! Not only did we get to drive the most epic car, but also camp in the middle of the stunning Costa Rican nature since the car came with a rooftop tent and all the camping equipment we needed. (And if camping is not your thing, I've also included hotel recommendations for each of the destinations in this itinerary.)
I've written an entire article about renting a 4×4 in Costa Rica, where I share tips on safe driving and camping in Costa Rica, explain when it is necessary to rent a 4×4 car and provide a detailed review of Nomad America.
P.S. You can get 10% off your 4×4 rental from Nomad America by using my discount code SMOOTH.
Without further ado, let's dive into our 10 day Costa Rica itinerary!
10 day Costa Rica itinerary:
Day 1: La Fortuna – Mistico Hanging Bridges Park
Since most international flights arrive in San Jose airport, this will be the starting point of our Costa Rica itinerary. As soon as you've landed, rent a car and get ready for an epic road trip! If you decide to go with Nomad America, they will pick you up from the airport and drive you to their office for free, where a nice 4×4 will be waiting for you.
Since this Costa Rica itinerary is meant for nature lovers, we're not gonna spend any time in San Jose and will head straight for the good stuff. And by that, I mean La Fortuna. Located at the foothills of Arenal Volcano, about 2.5-hour drive from San Jose Airport, La Fortuna is the eco-tourism capital of Costa Rica. The area offers a ton of fun activities so I recommend staying here for the next two nights.
Once you've arrived in La Fortuna, head to Mistico Hanging Bridges Park. Although it may sound like a place for wild adventures, it's actually a rainforest sanctuary where you can take a leisurely walk along paved trails and six hanging bridges. The park boasts some of the best views of Arenal Volcano, a lovely waterfall and exotic flora and fauna. The entrance fee to the park is 26 USD and the trail is only 3.2km (2 miles) long.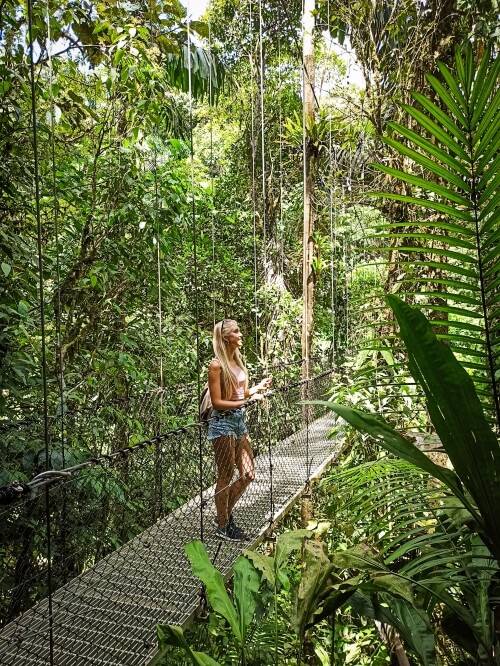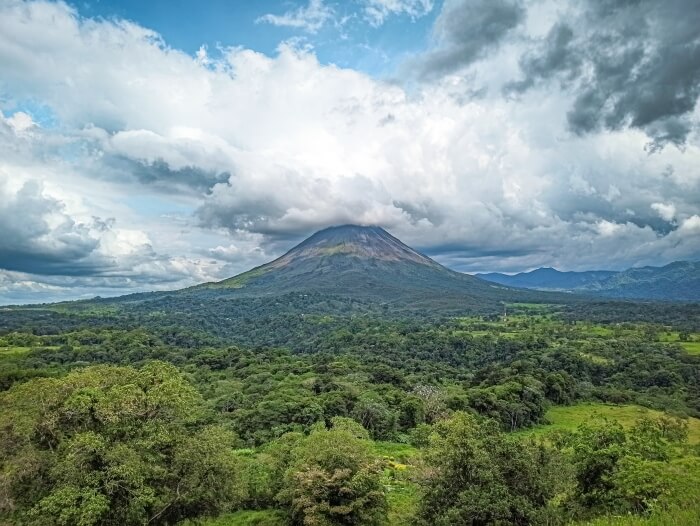 During our visit, we spotted beautiful hummingbirds, huge blue morpho butterflies and a large group of coatis just two meters from us! While you might see some wildlife on your own, you can be almost 100% sure that you'll find more animals if you take a guided tour, such as this 4-hour tour with a naturalist guide. Throughout our 6-week stay in Costa Rica, we took several guided tours in nature reserves and our guides' ability to spot animals hiding in the thick rainforest canopy was mind-blowing!
You can also take a guided horseback riding tour in Mistico Park, which will take you through the tropical forest and pastures with fantastic views of Arenal Volcano.
Tip: In case you're too tired/jet-lagged or short on time to visit Mistico on day 1, you might be able to squeeze it into day 2 or the morning of day 3.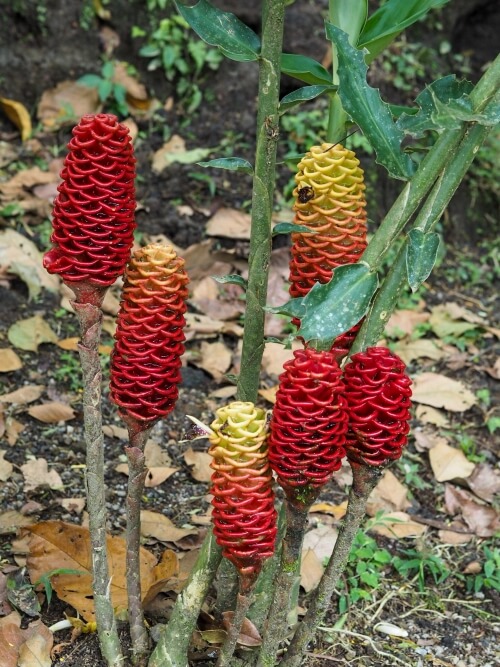 Accommodation
Selina La Fortuna: Selina is an amazing hospitality brand with locations all over Central and South America. From cozy tepee tents and shared dorms to deluxe private rooms with Selina's signature boho style decor, there's a variety of options for different budgets. They also have a pool, an on-site restaurant and daily yoga classes.
Day 2: La Fortuna – hot springs and Arenal Volcano National Park
Kick off your second day in Costa Rica with a visit to hot springs. After the Arenal Volcano eruption back in 1968, many hot springs were formed in the La Fortuna area. Most of them now belong to expensive spa resorts.
There is one spot though, where you can access the hot springs for free. You'll find it right across the road from Tabacon Resort.
At a first glance, the place might not look like anything special – it's just a river running through a forest after all. But once you lie down in the hot mineral-rich water, you'll get what all the fuss is about. I still remember the feeling of relaxing in this crystal clear steaming river surrounded by lush greenery and the sounds of nature – it was an incredible experience.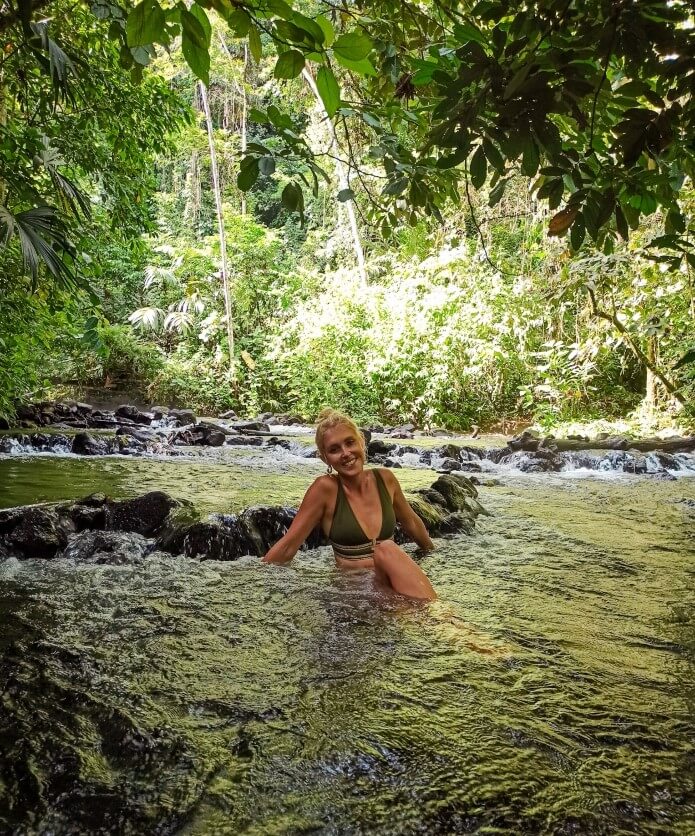 Since these hot springs are free, they are also very popular. We went there as early as 8am and had the place to ourselves so if you want to avoid the crowds I recommend doing the same.
Once you're done soaking in the hot springs, explore the Arenal Volcano National Park, just 5km (3 miles) away. The entrance fee is 10.240 colones (16 USD).
Arenal Volcano is one of the most famous natural landmarks of Costa Rica. It last erupted in 2010 and is now in a resting phase. Nevertheless, it's prohibited to climb to the top of it due to safety reasons. Instead, you can hike on old lava fields and through the rainforest at the base of the volcano.
There are several trails to choose from, where you can enjoy the views of the volcano and Lake Arenal, admire a 400-year-old ceiba tree and other cool plants. If you're lucky, you might even see some wildlife like monkeys, coatis, parrots and other species.
The trails are all pretty easy and mostly along flat terrain but it can get a little muddy in the rainforest so bring appropriate shoes.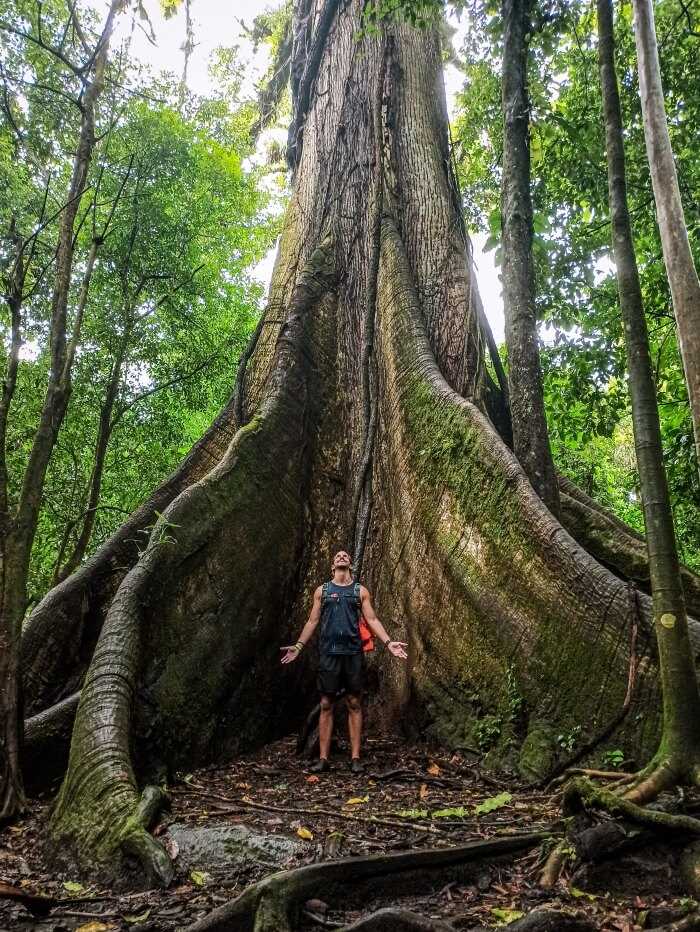 If you'd like to squeeze more activities into your day or you're looking for alternative options, there are lots of fun experiences to choose from in the La Fortuna area, such as the ones below: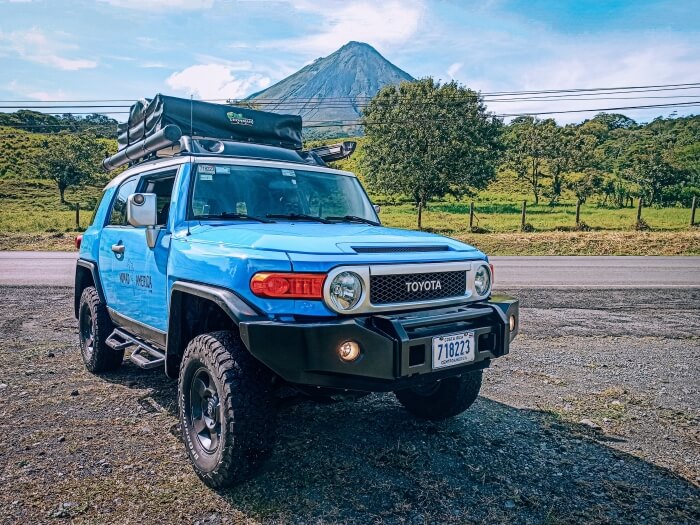 Accommodation
Spend another night at Selina La Fortuna.
Day 3: Rio Celeste
It's time to head north and drive to Tenorio Volcano National Park to see the Rio Celeste waterfall. It is often considered one of the best waterfalls in Costa Rica and it's easy to see why!
The drive there takes 1.5-2 hours depending on whether you take the highway or the more scenic (but bumpy) countryside route along the coast of Lake Arenal.
The entrance fee to the park is about 14 USD and there's a 6km (3.7 miles) hiking trail through a lush rainforest which leads you to the incredibly beautiful Rio Celeste waterfall and several other viewpoints. The bright blue waterfall is truly breathtaking and in my opinion one of the highlights of this 10 day Costa Rica itinerary. Photos simply don't do justice to this place!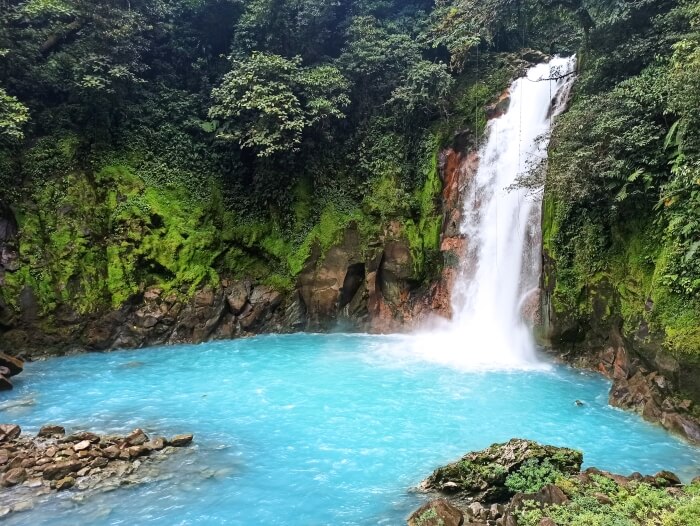 The trail is very straightforward, easy and mostly flat but in order to reach the waterfall, you need to take quite a lot of steps down and then back up again.
Even though we didn't see any animals in the park except for small lizards, I've heard that people have spotted sloths, monkeys, toucans and snakes there. Once again, if you want to increase your chances of seeing wildlife, take a guided tour.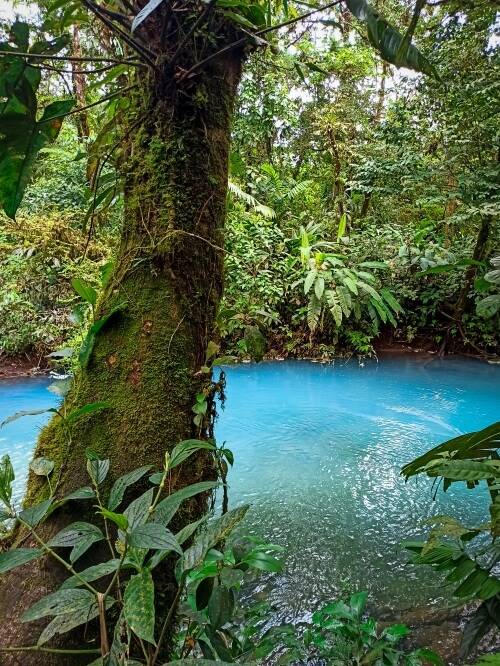 It might be tempting to jump into these bright blue waters but swimming in this national park is prohibited. Luckily, there's a spot outside the national park borders (just a kilometer south along the road from the entrance), where you can swim in that same river. The color of the water is not quite as intense but it's a lovely place nevertheless and it's completely free.
You can either spend the night in a hotel near the national park or start driving towards Monteverde – the area you're going to explore the following day. It's about a 2.5-hour drive so if you'd like to split it up, you can spend the night in Tilaran.
Accommodation
Finca Amistad Cacao Lodge: Located just a few kilometers from Rio Celeste waterfall, this eco-lodge is set on a 60-hectare cocoa farm and features rustic bungalows, a restaurant and a sun terrace with rainforest views. They also offer authentic cacao and chocolate-making tours. P.S. You need to have a 4×4 car to get to this lodge.
Day 4: Monteverde – Santa Elena Cloud Forest
Monteverde is a mountainous rural area known for its picturesque landscapes and humid misty cloud forests. There are several forest reserves in the area such as Monteverde Cloud Forest Biological Reserve, Santa Elena Cloud Forest Reserve and Children's Eternal Rainforest.
Monteverde Cloud Forest Biological Reserve is by far the most popular one and tends to get overcrowded. Therefore, we chose to visit the Santa Elena Cloud Forest Reserve ('Reserva Bosque Nuboso Santa Elena' in Google Maps), which receives fewer visitors, is higher in elevation and has more mist.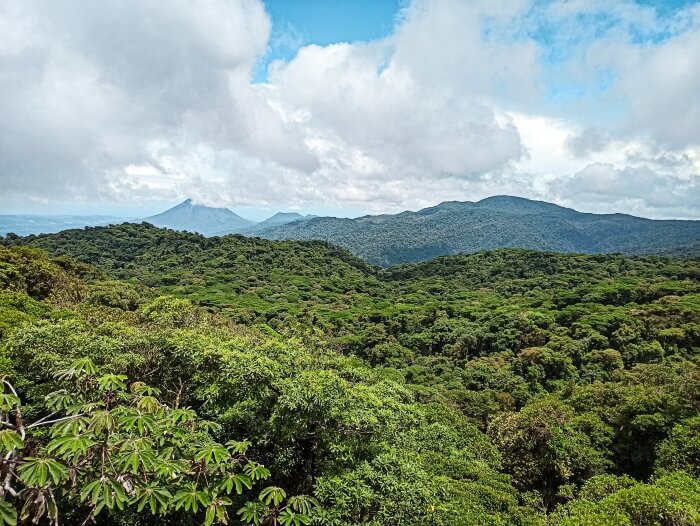 Like most roads in the Monteverde area, the road leading up to Santa Elena Cloud Forest is pretty rough and full of potholes so you'll be glad to have a 4×4. The entrance fee is 14 USD per person and there are multiple hiking trails with varying lengths – from 0.5km (0.3 miles) to 5km (3 miles).
Due to the high elevation, the temperature in Santa Elena Cloud Forest is much cooler, the air is fresh, the vegetation is bright green and trees are covered with a thick layer of moss. There's also an observation tower offering awesome views over the forest-covered landscapes, Arenal Volcano and Lake Arenal.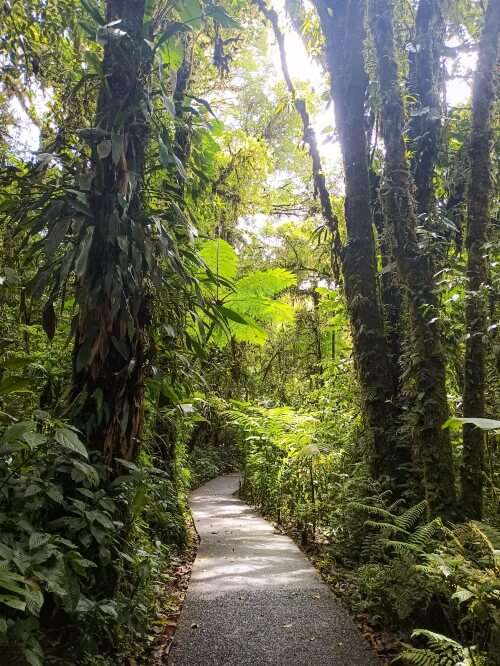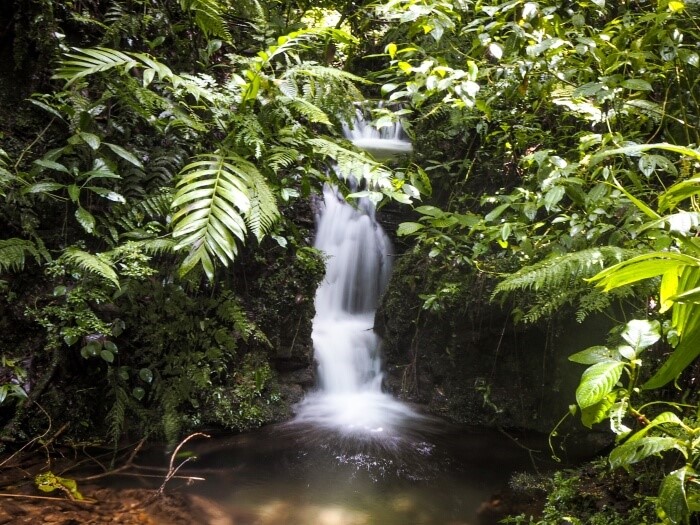 Spend the night in the Monteverde area. The biggest town here is Santa Elena where you'll find most of the accommodation options and restaurants.
Accommodation
Camino Verde B&B Monteverde: Surrounded by mountains and cloud forest, this B&B is located in the heart of Santa Elena town, near all the shops, restaurants and tour operators. Their rooms are simple but tastefully decorated and a delicious breakfast is included in the nightly rate.
Day 5: Playa Flamingo & Playa Conchal
Since you've seen a good amount of rainforests now, it's time to head to the coast and explore some of the gorgeous beaches. Hit the road early because you need to drive 3 hours to get to Playa Flamingo, a small beach town on the Pacific coast of Costa Rica.
Due to its fine white sand and pristine water, Playa Flamingo is considered one of the most beautiful beaches in the country, so including it in this 10 day Costa Rica itinerary was a no-brainer!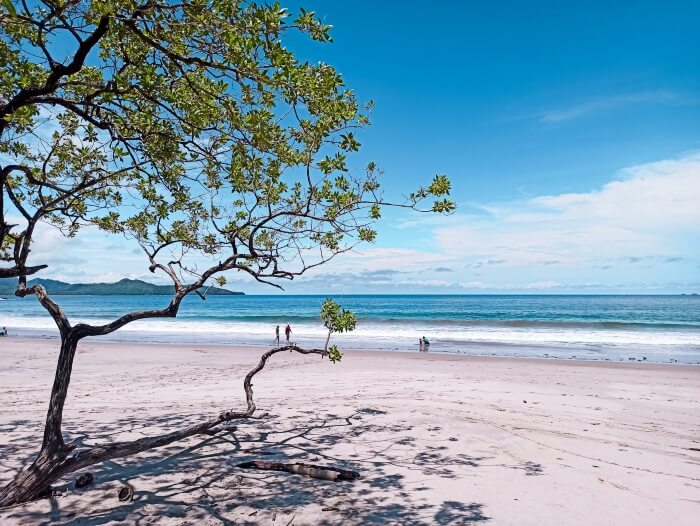 The best way to spend your day here is to simply relax on this beautiful crescent-shaped beach, sip some fresh coconuts and enjoy the scenery around you. There are plenty of trees offering shade and if you get hungry, you can grab a meal from one of the restaurants right by the beach. We had a ceviche in Coco Loco and it was fantastic!
I also recommend that you check out Playa Conchal just a 10-minute drive from Playa Flamingo. The beach consists of white crushed seashells, which gives it a really unique look. The access to Playa Conchal can be a little confusing since the main road leading to the beach belongs to a resort and unless you're staying there, you can not use the road. Instead, you can park your car near Brasilito Beach and walk about 15 minutes south along the beach until you reach Playa Conchal.
If lazing on the beach is not your cup of tea, there are plenty of activities to do near Playa Flamingo and Playa Conchal, such as horseback riding, zip-lining and ATV tours.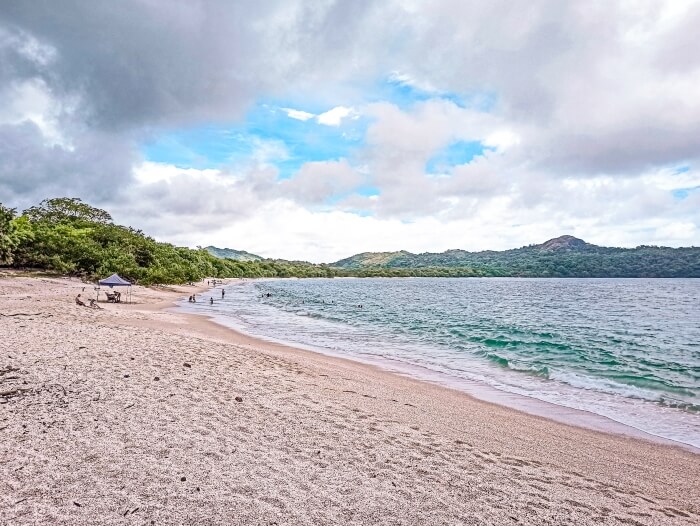 Spend the night in Playa Flamingo, Brasilito or Potrero.
Accommodation
Libelula Lounge Boutique Hotel: This award-winning eco-hotel is situated just a short drive from Playa Flamingo and offers luxurious glamping tents as well as beautiful spacious rooms. The property is decorated with local artwork and upcycled elements and features a large pool surrounded by a lush tropical garden.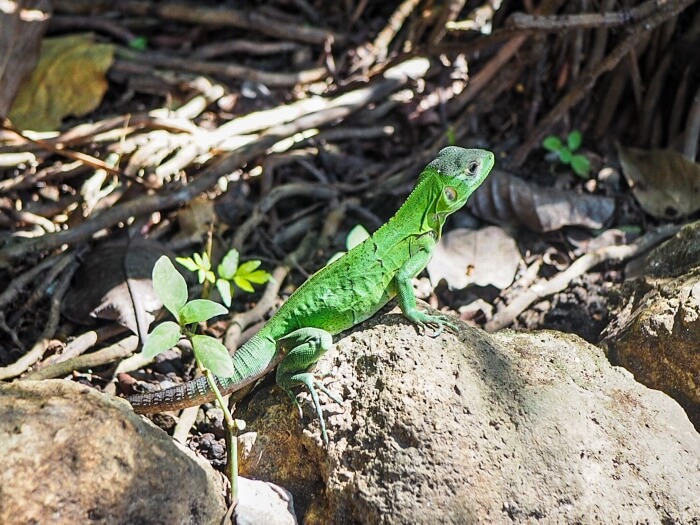 Day 6: Tamarindo
Continue your 10 day Costa Rica itinerary by driving to the next beach town – Tamarindo. It's just a 30-minute drive so you'll have the full day to explore this lively town. Tamarindo used to be a small fishing village but has now become one of the most popular beach destinations in Costa Rica.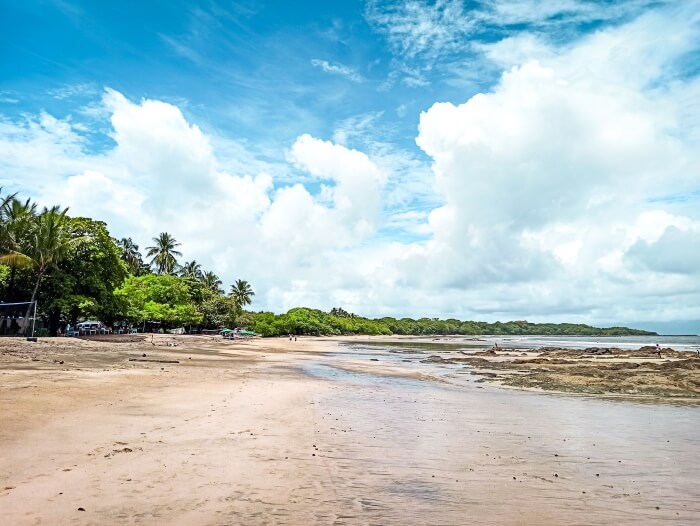 Tamarindo Beach is considered one of the best beaches in Central America. It boasts a wide strip of soft sand, beach clubs, cool bars and restaurants, and beginner-friendly surfing conditions.
Whether you want to discover the culinary scene, take a yoga class on the beach, go shopping, learn to surf or just chill on the beach, Tamarindo offers something for every type of traveler. If you've never surfed before but want to give it a try, I highly recommend taking at least one class instead of trying to figure it out on your own.
The beach is also known for its spectacular sunsets so make sure to be there at the right time (between 5 and 6 pm depending on the season). Alternatively, you can take this sunset sailing tour on a catamaran, which includes an open bar, a meal and a snorkeling stop.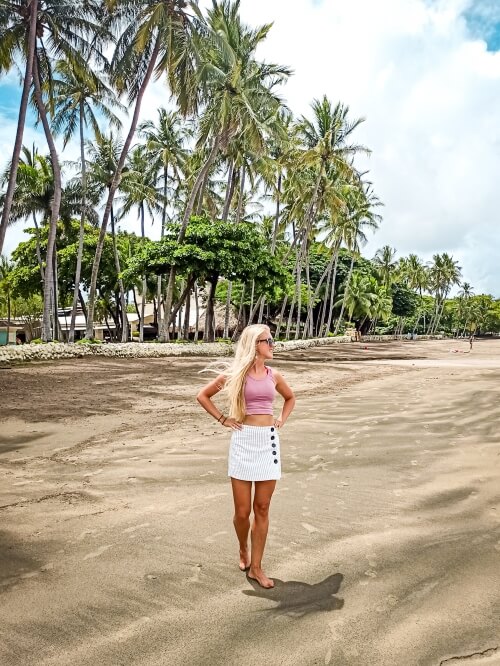 Accommodation
Villas Macondo: This beautiful property is just 150 meters from Tamarindo Beach and features a tranquil tropical garden and cute bungalows overlooking a pool. Each room has a private patio with a hammock that makes for a perfect place to relax after a long day of exploring.
Day 7: Samara
On day 7, you're going to explore yet another Costa Rican beach town. This time, however, a much smaller, quieter and more authentic one called Samara, about a 2-hour drive from Tamarindo.
The main reason for visiting Samara is its gorgeous beach with soft tan sand, rows of palm trees, calm waters and laid-back beach lounges. Sadly, when we were there, it was pouring rain all day long so we didn't get to properly enjoy it. We did go for a little stroll along the sand and even on a grey and gloomy day the beach looked beautiful! I can only imagine how amazing it must be on a sunny day.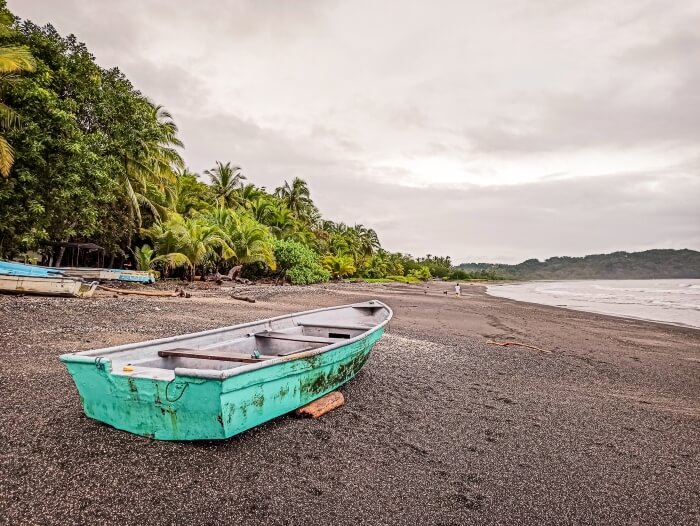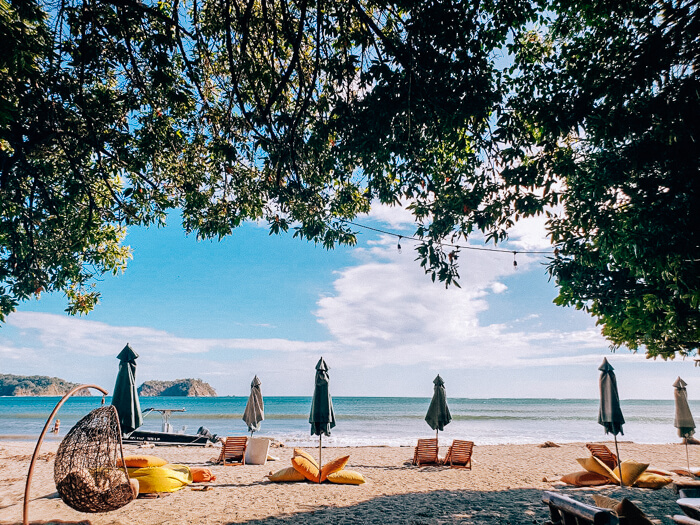 There are several restaurants and bars right on the beach where you can bury your toes in the soft sand and watch the sun go down while sipping a tropical cocktail. If you're looking for a romantic ambience, head to Locanda restaurant when it's dark and have dinner under palm trees surrounded by hundreds of fairy lights.
Besides relaxing on the beach, you can also take this dolphin-watching tour, which includes a snorkeling stop at a coral reef or this turtle nesting tour, where you can watch wild sea turtles lay their eggs on a nearby beach.
In case you want to get off the beaten path, head to Belen waterfall where you'll find multiple rock pools to swim in and a small cascade. We didn't visit it because it was raining that day but I've heard it's a fun non-touristy place where you can easily spend a couple of hours.
Accommodation
Good Life Lodge: This small boutique hotel is just 200 meters from Samara Beach and offers spacious, modern and squeaky-clean rooms, each with a large balcony. There's also a relaxing garden that looks like a tropical oasis with exotic plants, fountains and a hot tub.
Day 8: Santa Teresa
Our next stop in this 10 day Costa Rica itinerary is Santa Teresa, a paradise for surfers, yoga enthusiasts, backpackers and beach bums. It's a 3-4 hour drive from Samara and you can either take the highway or choose the more rough and adventurous countryside road with multiple river crossings (only possible if you have a 4×4).
Since Santa Teresa is considered one of the best surfing destinations in the country, take a surfing class or rent a board from one of the dozens of surf shops lining the main street and join the surfers riding the waves. The boards are usually rented out for a full day and the price is around 10 USD.
If you're not into surfing, find your zen by taking a yoga class in one of the many studios or hotels with outdoor yoga decks. We took a class in Casa Zen Yoga Centre and loved it!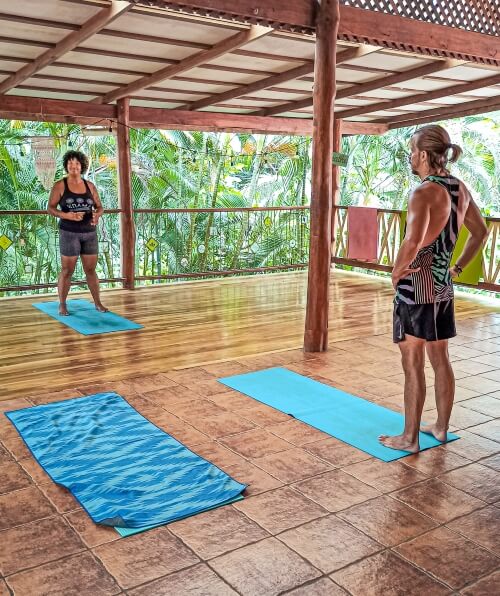 Santa Teresa has an awesome cafe and restaurant scene offering some of the most diverse cuisine in the country. From dirt-cheap local eateries and authentic cevicherias to cool beach restaurants and trendy vegan cafes serving acai bowls, there are endless options for all budgets and tastes.
Also, don't miss out on the magnificent sunsets in Santa Teresa. Every evening people gather at the beach to have a few beers and admire the spectacular show of colors as the sun dips behind the horizon.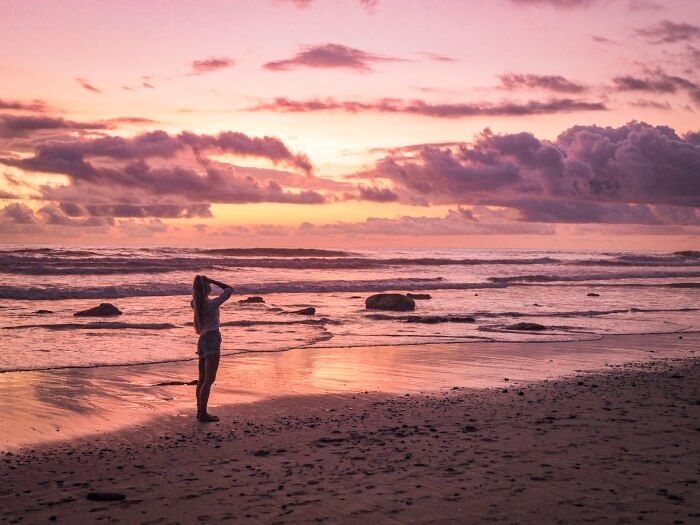 Accommodation
Canaima Chill House: If you're dreaming of a peaceful retreat in the jungle where you're surrounded by howler monkeys and exotic birds, then Canaima Chill House offers exactly that. With their tropical-style suites, an incredible pool, massage services and an outdoor hot tub, this place is like paradise. Note that you need a 4×4 car to get to the hotel.
Day 9: Montezuma
For your last day of exploring, head to Montezuma! It's a small town with a bohemian and artsy vibe, just 20km (12 miles) from Santa Teresa.
Montezuma is known for its gorgeous waterfall which is one of the biggest attractions in this part of Costa Rica. The access to the waterfall is free but it requires a 20-minute hike along the river bank and through the forest.
This might be dependent on the season and the water levels but we needed to walk through the river which meant that our shoes got completely soaked! So be prepared for that and choose your footwear accordingly (a lot of locals just hiked barefoot).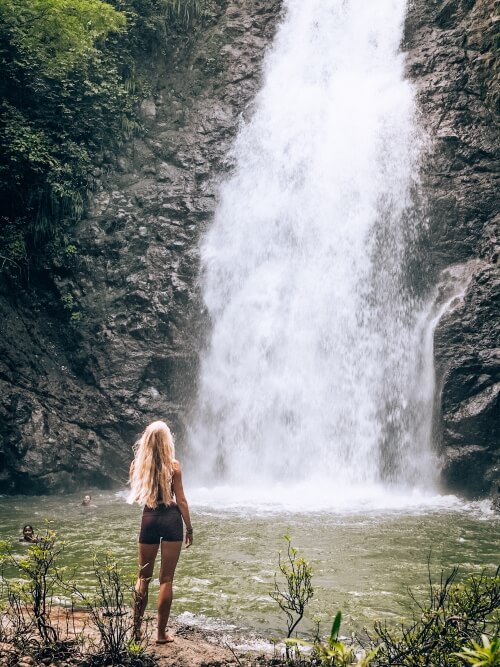 The beach in Montezuma is also pretty amazing and one of my favorite ones in this 10 day Costa Rica itinerary! It's a fairly undeveloped coastline with a tropical jungle hugging the wild, kilometers long and partially rocky beach. It's a great place to spot wildlife as well. We saw a couple of iguanas and curious capuchin monkeys that walked straight up to us hoping to get a piece of our lunch.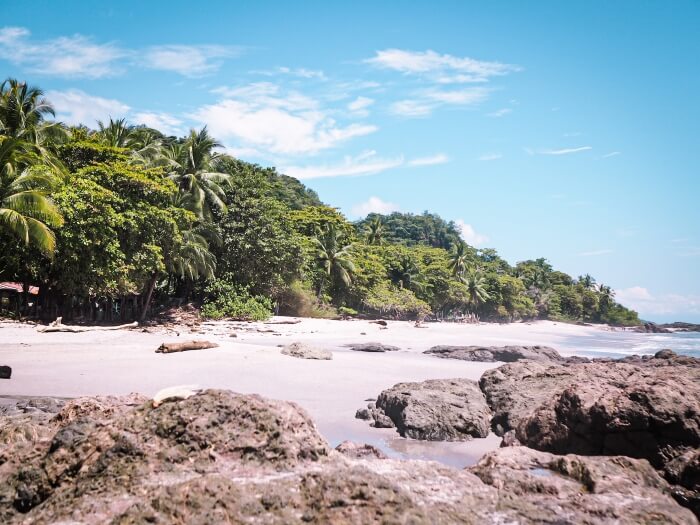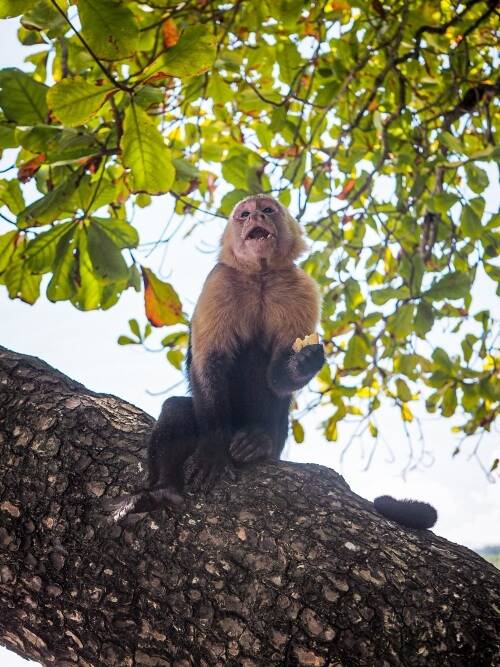 We also took a mountain biking tour along the coast which was a great way to do something active and get off the beaten path. Some of the highlights were biking to a 'cemetery island', taking a dip in a crystal clear river and seeing a huge strangler fig.
Accommodation
Spend another night at Canaima Chill House in Santa Teresa.
Day 10: Drive back to San Jose
Finish your 10 day Costa Rica itinerary by driving back to San Jose – a journey that will take roughly 5 hours.
First, you need to get to Paquera, a small town on the coast, and then take the ferry to Puntarenas. From there, it's a 2-hour drive to San Jose Airport.
You can book your ferry tickets in advance here. Apparently, if the website shows that there are no tickets left, this usually doesn't mean that the ferry is sold out and you'll most likely still be able to buy tickets at the ferry dock (that's what the locals told us).
Map for 10 day Costa Rica itinerary
Click on the icon in the top left corner to see all the locations pinned on the map.
10 day Costa Rica itinerary – final thoughts
Costa Rica really is a special place and those incredible rainforests, beaches and wildlife encounters will stay in my memories forever. I hope that this itinerary gave you some ideas for planning your 10 days in Costa Rica and that you'll have an amazing time discovering all the natural beauty this country has to offer!
If you have any questions about this itinerary (or other places in Costa Rica) let me know in the comments.
Planning to explore other countries in Central America as well? Then check out my posts on Guatemala and Panama:
Pin this 10 day Costa Rica itinerary!
READ MORE: