Guatemala – the land of the Mayas, majestic volcanoes, colonial cities and lush jungles – is one of the most amazing countries I've ever had the chance to explore.
I spent six weeks in Guatemala, during which I got to know the different parts of this Central American country and visit some truly incredible places. Based on my experiences, I've put together what I think is the perfect 10-day Guatemala itinerary to help you plan an unforgettable trip.
With 10 days in Guatemala, you won't be able to see everything this country has to offer but you can definitely tick off many of the highlights. From hiking volcanoes and spotting wildlife in tropical rainforests to discovering ancient Mayan ruins and picturesque colonial towns – this Guatemala itinerary will give you the perfect mix of nature, adventure, culture and history.
I've also included a map of this Guatemala travel route to give you an idea of which parts of the country this itinerary covers. At the end of this blog post, I'm also sharing my recommendations for what to do if you have more than 10 days to spend.
Ready to start planning your dream Guatemala trip?
Disclosure: This article contains affiliate links from which I may make a commission at no additional cost to you if you make a purchase.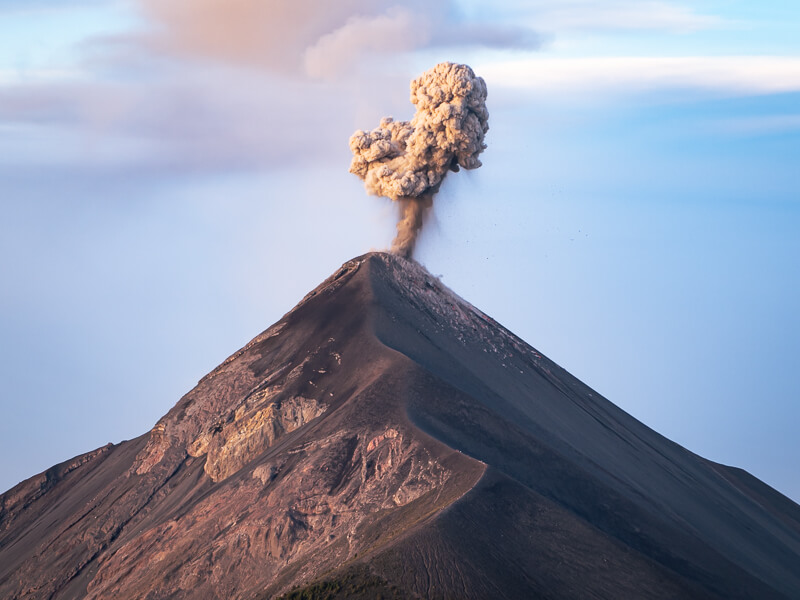 ---
How to get around Guatemala
Even though Guatemala is quite small, you should be aware that it takes a long time to get around. This is due to heavy traffic around the cities and poor road conditions in some parts of the country.
Your main transportation options are renting a car, using shuttles or public buses (chicken buses). To get to Tikal in the northern part of the country, it is better to take a domestic flight, since the driving time would be very long.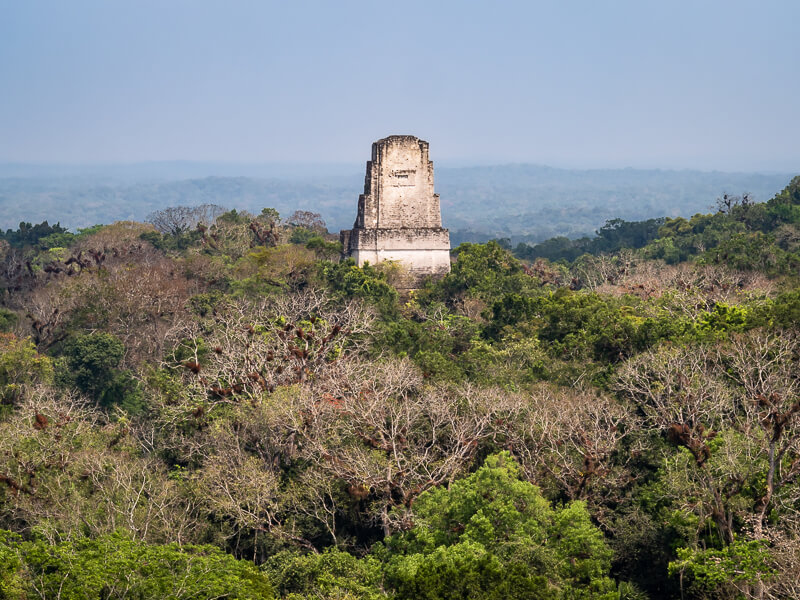 In general, the best way to get around Guatemala is to use tourist shuttles. Not only are they convenient, reliable and safe but also reasonably priced. In a shuttle, you can just sit back and enjoy the ride without having to worry about the traffic. We used them many times during our trip and always had a pleasant experience.
There are a lot of companies offering shuttle services between the main tourist destinations in Guatemala. You can pre-book your shuttle online or through your accommodation or local travel agencies. In most cases, you have the option of taking either private or shared shuttles. The former gives you more flexibility in terms of time whereas the latter is significantly cheaper.
Getting around by chicken buses is by far the cheapest option but I wouldn't recommend them since they're not considered safe, they're very slow and unreliable. If you only have 10 days in Guatemala, you shouldn't waste it sitting on a bus.
Getting around by rental car can also be a good option but I only recommend this if you're a very confident and experienced driver. Traffic in Guatemala can be pretty chaotic.
---
Guatemala 10-day itinerary map
On the map below, you can see where this 10-day Guatemala itinerary will take you and where the main attractions and points of interest are located. Click on the icon in the top left corner of the map for more details.
The itinerary covers Guatemala's major highlights, such as Antigua, Lake Atitlan, Volcan Acatenango and El Paredon in central and southern Guatemala as well as Tikal in the northern part of the country. Note that in order to fit Tikal into this itinerary, you'll have to take a domestic flight there and back from Guatemala City.
---
10-day Guatemala itinerary: Best places to visit
Day 1: Arrive and travel to Lake Atitlan
You will most likely arrive by flying into La Aurora International Airport in Guatemala City, the capital of the country. If you only have 10 days in Guatemala, I recommend not spending your time in the capital since there are much better places to visit in Guatemala.
As soon as you arrive, take a shuttle from the airport to Lake Atitlan, a scenic blue lake surrounded by volcanoes and green mountains. The journey there takes about three hours but I promise it will be worth it!
The shuttles usually take you to Panajachel, the gateway town to Lake Atitlan. From there you can take a public boat (lancha) to the other charming and characterful Mayan towns around the lake.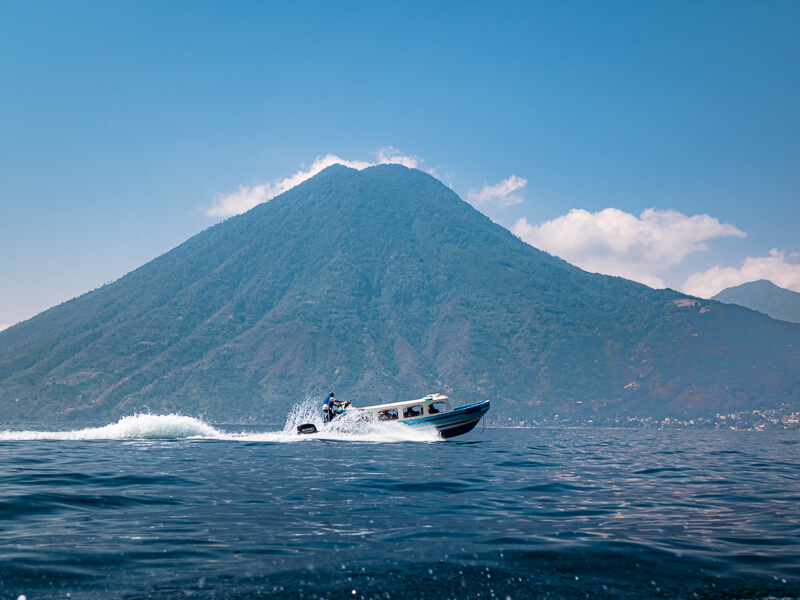 I recommend staying either in the town of San Juan La Laguna or San Marcos La Laguna (see my hotel recommendations below). These two were my favorite towns at Lake Atitlan. They're both conveniently located for visiting the main attractions around the lake and for doing a sunrise hike on the morning of day 3.
Spend the evening exploring San Juan or San Marcos, depending on which town you decide to stay at.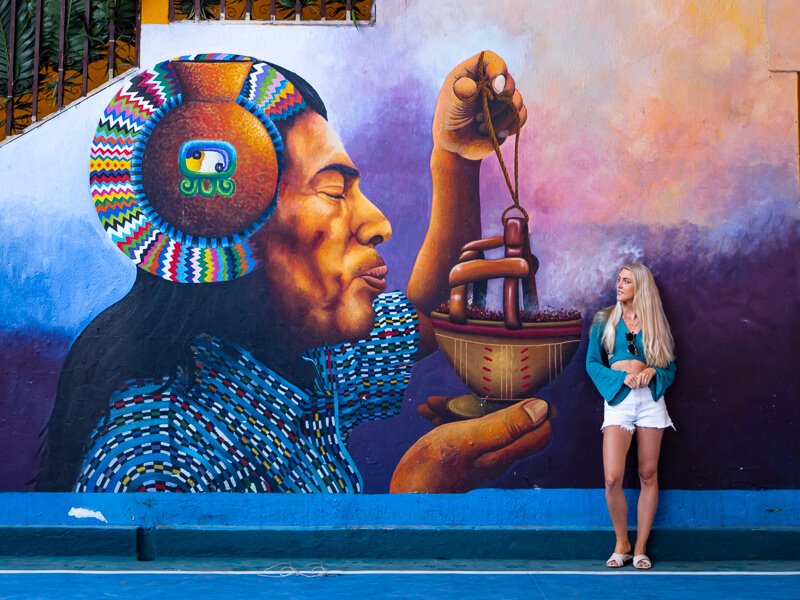 Where to stay
Spend the next two nights at Lake Atitlan, in San Marcos or San Juan.
Hotels in San Marcos:
MID-RANGE: Lush Atitlán. A family-run eco-boutique hotel with a strong focus on sustainability. The property features lush gardens full of tropical vegetation and rooms with breathtaking lake views.
LUXURY: Kula Maya. The most beautiful and luxurious hotel in San Marcos. It's a new hotel with an infinity pool overlooking the lake, gorgeous rooms with boho-chic tropical decor and an on-site spa.
Hotels in San Juan:
BUDGET: Eco Hotel Mayachik. Colorful and eco-friendly hotel with cute bungalows built in harmony with nature. They have both dorms and private rooms.
MID-RANGE: Eco Hotel Uxlabil Atitlán. Another eco-hotel with rustic rooms and a beautiful garden. There's a sauna, jacuzzi with a lake view, and free kayaks for guests to use.
---
Day 2: Lake Atitlan
The second day of this Guatemala travel itinerary will be all about exploring Lake Atitlan and its surrounding Mayan towns.
The easiest way to get around is to use public boats. They have frequent departures and are very affordable (1-3$). Tuk-tuks can be used to get to neighboring towns.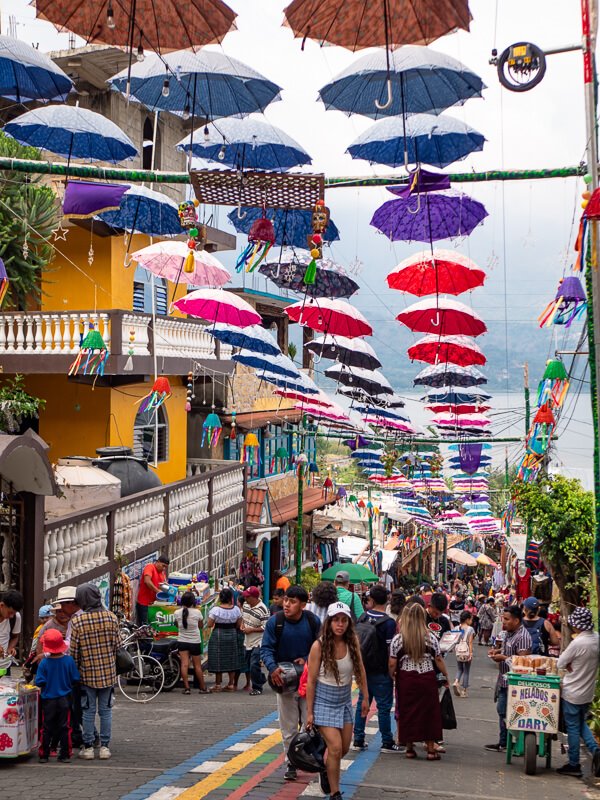 Each of the Lake Atitlan towns has its own character and appeal. Here are the most popular ones to visit:
San Juan La Laguna – Authentic little town famous for its colorful street art, craft shops and weaving cooperatives. Visit the Mirador Kaqasiiwaan viewpoint, stroll along the bustling Calle de las Sombrillas, join a coffee tour or take this

Mayan cooking class

.
San Marcos La Laguna – Known as the hippie town of Lake Atitlan and the hub of all things wellness and spirituality. Take a yoga class, get a massage or try some holistic therapies. Visit the Cerro Tzankujil Nature Reserve for some swimming, cliff jumping and nature walks.
Santa Cruz La Laguna – A small village with a peaceful and laid-back vibe and a great spot for SUPing or kayaking on Lake Atitlan. You can also learn to make authentic Mayan dishes in

this cooking class

or hike the Lower Maya Trail to San Marcos.
San Pedro La Laguna – A party town popular among backpackers and younger travelers. Stroll along the main street lined with restaurants and bars, visit the Los Termales 'spa', have a drink at Cafe Panorama in the hills above the town or take this guided kayaking tour.
Santa Catarina Palopó – a traditional village known for its houses painted with bright colors and Mayan motifs.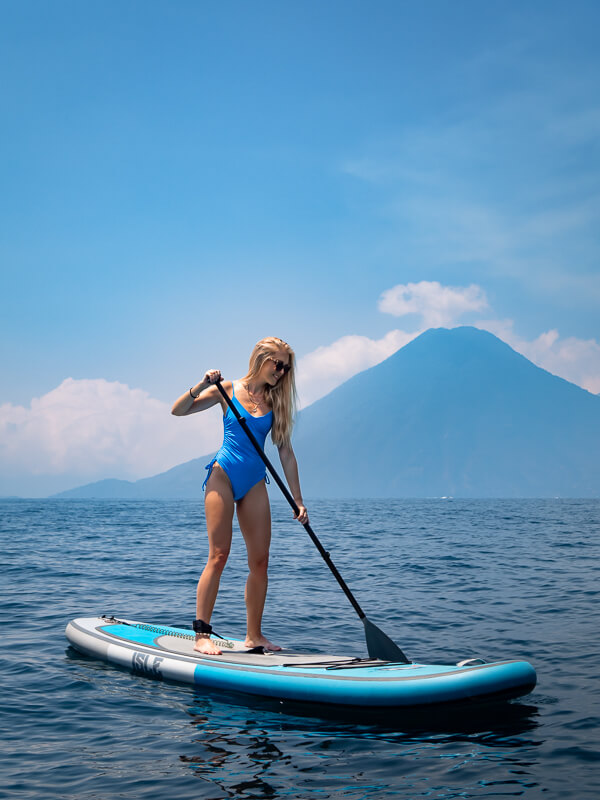 Where to stay
Spend another night at Lake Atitlan, either in San Marcos or San Juan. See my hotel recommendations under day 1.
---
Day 3: Lake Atitlan & Antigua
Kick off the third day of your Guatemala 10-day itinerary with a sunrise hike to the Indian Nose mountain. It's one of the must-do experiences at Lake Atitlan and definitely worth the early alarm!
The hike is relatively short and leads you to one of the best sunrise viewpoints in all of Guatemala.
Read my detailed blog post on the Indian Nose sunrise hike for all the information you need to do this hike, including which trail to take, what to wear, what to expect at the summit and whether you need a guide.
After the hike, it's time to check out of your hotel and take the boat back to Panajachel. From there, take a shuttle to Antigua. I recommend pre-booking your shared shuttle or private shuttle.
Located in a valley surrounded by volcanoes, Antigua is the former capital of Guatemala. It is home to colorful colonial architecture, cobblestone streets, fascinating ruins and an abundance of cool restaurants. No Guatemala itinerary is complete without a visit to this charming historic town and a UNESCO World Heritage Site.
Spend the afternoon and evening strolling the streets of Antigua and enjoy some dinner or drinks at one of the lovely restaurants or bars. I recommend Sobremesa for food and Antigua Brewing Company for drinks.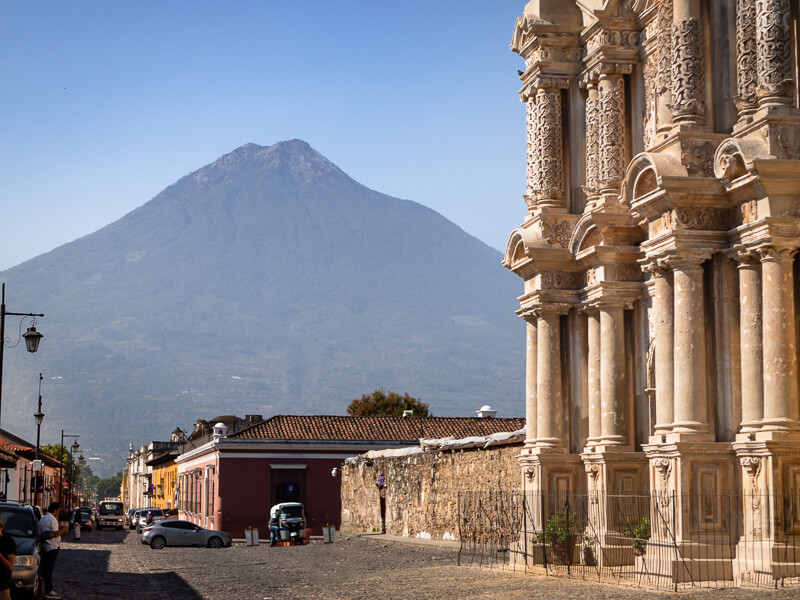 Where to stay
Spend the next two nights in Antigua.
BUDGET & MID-RANGE: Barbara's Boutique Hostel. A beautiful historic property with both spacious private rooms and dorms, a shared kitchen and nice common areas. They also serve free cake every day!
LUXURY: Hotel Casa Santo Domingo. The most famous 5-star hotel in Antigua. I had the opportunity to spend two nights here and it exceeded all my expectations. The hotel is set in the ruins of an ancient convent and has the most incredible mystical ambience.
Read my blog post on my stay at Hotel Casa Santo Domingo, where I go into detail about everything you can expect from this iconic hotel.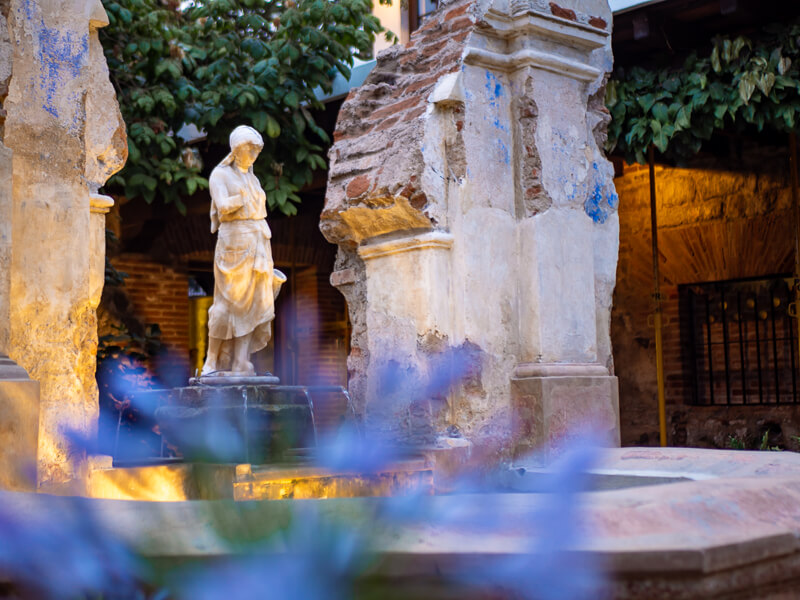 ---
Day 4: Antigua
Today is entirely dedicated to getting to know Antigua. There are tons of fun things to do in Antigua so you definitely won't get bored.
Snap a photo with the famous Santa Catalina arch, visit the ruins of Antigua Cathedral and marvel at the Iglesia de la Merced church. Enjoy the hustle and bustle of Antigua's main square Plaza Mayor, visit the Nim Po't shop for a wide selection of local crafts and enjoy a panoramic view of the town from the Hill of the Cross viewpoint.
You might also want to join a chocolate workshop at ChocoMuseo or take a coffee farm tour since Antigua is known for its high-quality coffee. Just outside Antigua, you'll find Hobbitenango, a hobbit-themed eco-park with adorable hobbit houses and sweeping views of the mountains around Antigua.
Last but not least, you should visit Hotel Casa Santo Domingo even if you're not staying there. The hotel is situated on the ruins of an old convent and its beautiful grounds, gardens, courtyards and museums are open for anyone to visit.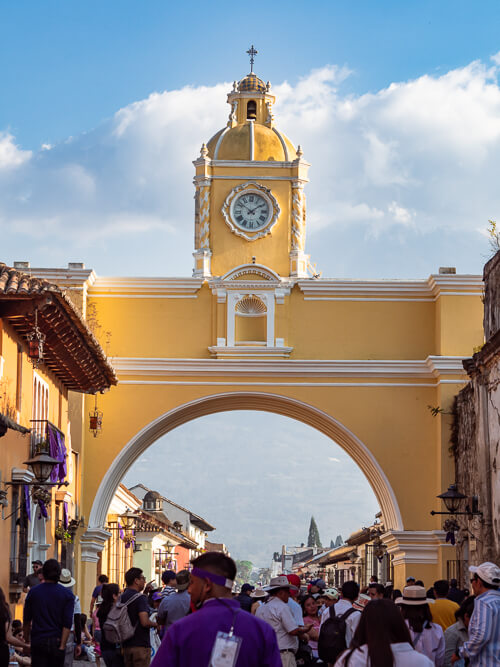 Where to stay
Spend another night in Antigua. See my hotel recommendations under day 3.
---
Day 5: Acatenango Volcano hike
On day 5 of your Guatemala 10-day itinerary, get ready for one of the most amazing hikes you'll probably ever do – the 2-day trek to the summit of Acatenango Volcano at 3,976m (13,000 ft). It's quite a challenging hike which most people do with a guided tour.
The steep uphill trail takes you through four different ecosystems before you reach your camp on Volcan Acatenango, where you'll stay overnight. There you'll be rewarded with a surreal view of the eruptions of the neighboring Fuego volcano and an epic sunrise view the next morning.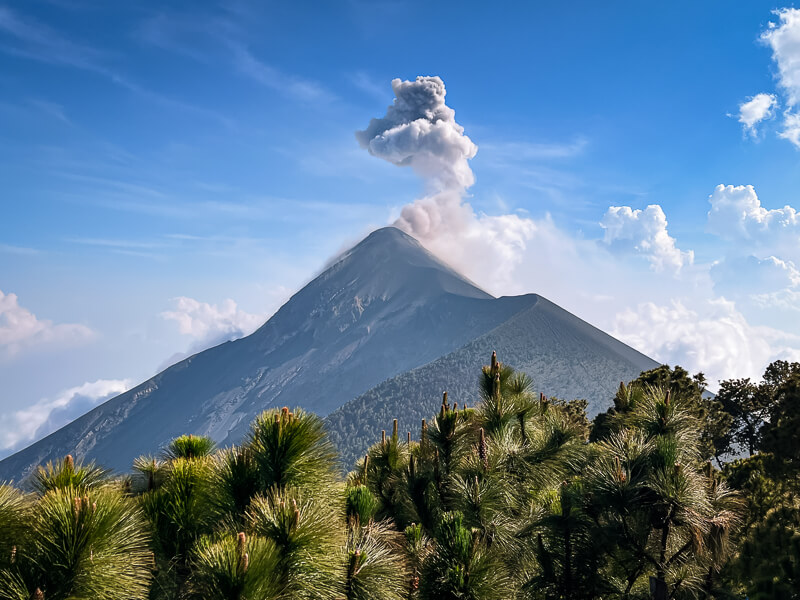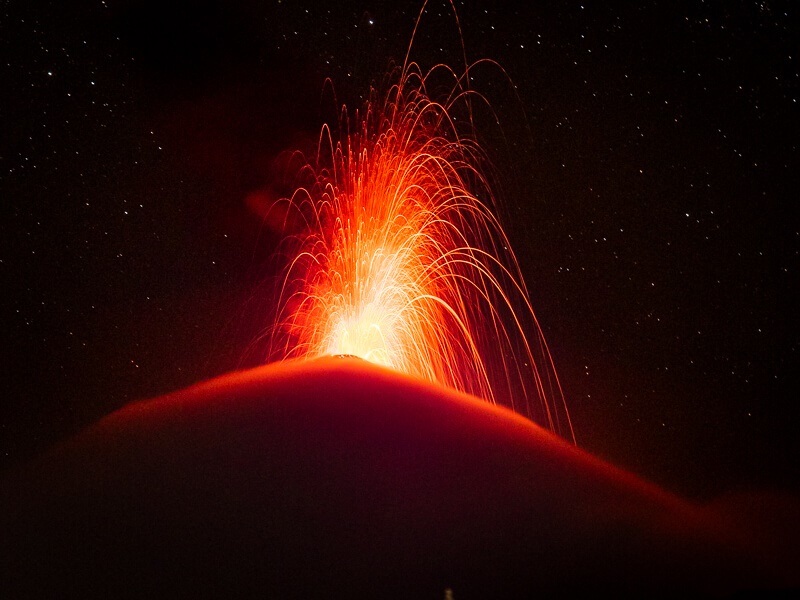 It's a bucket list-worthy experience and definitely one of the highlights of this 10-day Guatemala itinerary.
If you think that hiking Acatenango might be too tough for you, it is also possible to get to the top of the volcano by a 4×4 car.
Alternative option: If the Acatenango hike sounds like too big of an endeavor and you don't want to spend the night in a cabin on the volcano, consider doing the much shorter and easier Pacaya Volcano hike instead.
Where to stay
You'll be spending the night at your camp on Acatenango Volcano. The cabin, mattresses, sleeping bags etc. are usually all included in the tour price.
---
Day 6: Acatenango & Antigua
On the second day of your Acatenango tour, you'll wake up in the middle of the night and start your ascent to the summit of Acatenango, where you can watch an incredible sunrise. It's not mandatory to do this part of the hike but I highly recommend it.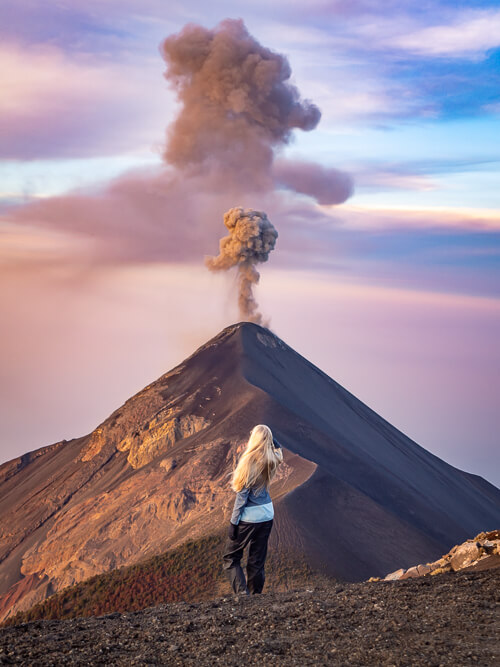 After having breakfast at your camp, you'll hike back down from the volcano and return to Antigua by around 1pm.
You'll most likely just want to rest, shower and eat a big meal after this epic but demanding adventure.
Once you've regained your energy, spend the rest of the afternoon doing the things in Antigua that you didn't have time to do on day 4.
Where to stay
Spend the night in Antigua, at Barbara's Boutique Hostel or at Hotel Casa Santo Domingo.
---
Day 7: Tikal National Park
Today it's time to fly to the northeastern part of Guatemala to explore one of the most famous attractions in the country – Tikal National Park.
It takes about an hour to get from Antigua to Guatemala City airport, where you can catch a flight to Flores (the gateway town to Tikal). The flight also takes roughly an hour.
Hidden deep in a tropical rainforest, Tikal is an ancient Mayan city full of thousands of years old ruins. This mystical place was the heart of the Mayan empire and is now a UNESCO World Heritage Site.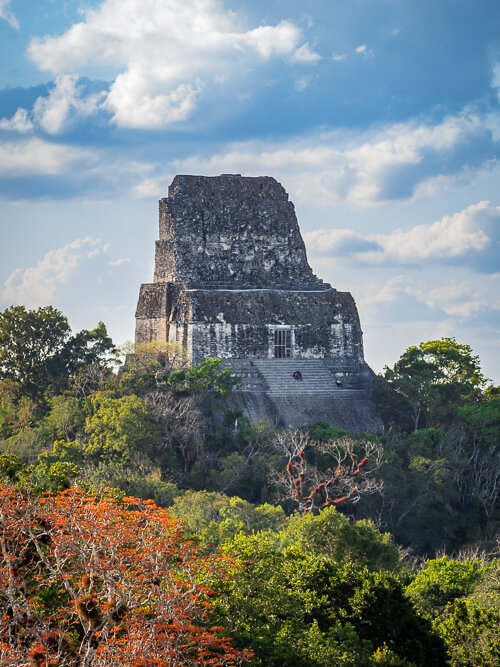 The park is so large that you can easily spend several days exploring its spectacular temples and pyramids and spotting the beautiful exotic wildlife that lives in the national park. It is definitely one of my favorite archaeological sites I've ever visited and an absolute must on any Guatemala itinerary!
Be sure to check out my complete guide to Tikal for everything you need to know to plan your visit, including how to get there, the most interesting ruins to visit, what type of wild animals you can expect to see and more.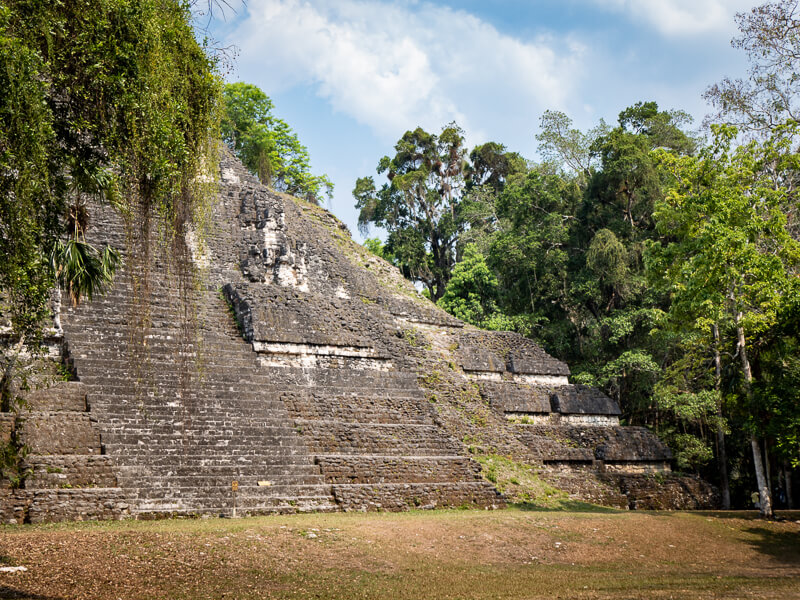 Where to stay
Spend the night in one of the hotels in Tikal National Park.
MID-RANGE/LUXURY: Jungle Lodge Tikal. This is where I stayed and I loved everything about it. Nestled in the lush rainforest and surrounded by the sounds of wildlife, this beautiful hotel is like a dream come true for those who love nature. The hotel has a variety of gorgeous bungalows to choose from, some of which even have a private garden and a jacuzzi!
BUDGET: Hotel Tikal Inn. A small hotel with simple, rustic bungalows and a swimming pool. A great option for those looking for a cheaper alternative to the Jungle Lodge.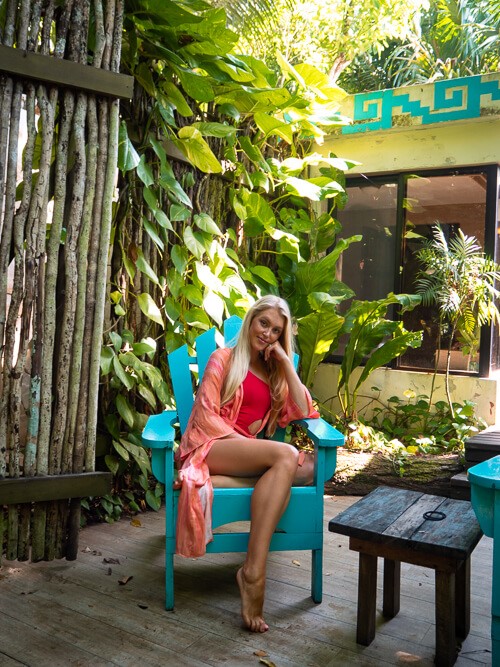 ---
Day 8: Tikal National Park
Start your day with a guided sunrise tour of the Tikal ruins. You'll need to get up before 4am but it will be worth it! The tour can be arranged by both Jungle Lodge and Hotel Tikal Inn.
The tour starts with a walk through the misty, pitch-black forest with your guide, followed by a climb to the top of the tallest pyramid in Tikal. From there, you can watch the sunrise over Tikal's temples and hear the roars of howler monkeys as the jungle slowly wakes up.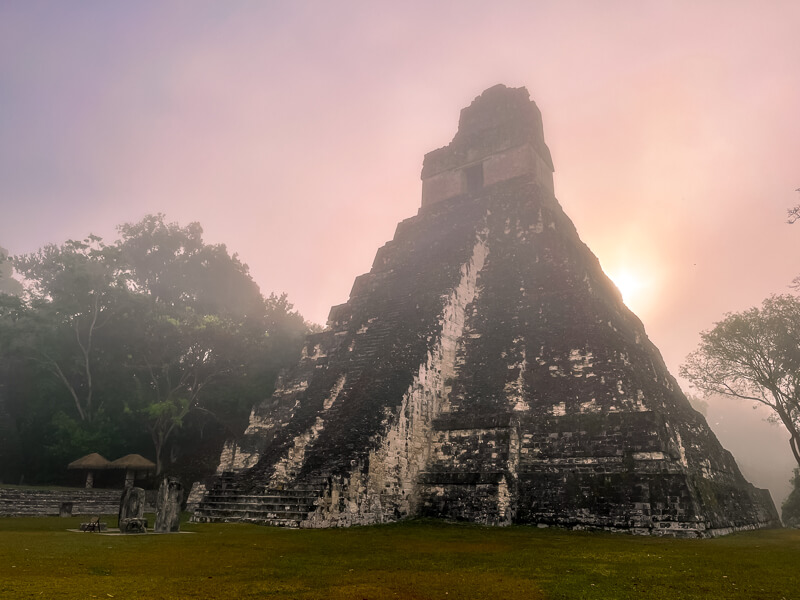 After your guided tour, you can stay in the park to explore it on your own and visit the parts that you didn't get a chance to see yet. The site is huge and you definitely won't run out of temples to visit! Alternatively, you can head back to your hotel for some breakfast and relaxation.
After that, it's time to say goodbye to Tikal and fly back to Guatemala City.
Where to stay
Spend the night in Guatemala City.
MID-RANGE: Good Hotel Guatemala City. A modern hotel with stylish rooms and a beautiful rooftop restaurant; located in a lively neighborhood just a short drive from the airport.
---
Day 9: El Paredon
On day 9 of your Guatemala itinerary, take a shuttle to El Paredon – a small laid-back beach town on Guatemala's Pacific coast. You can also consider renting a car and driving there yourself if you're a confident driver. The distance is just 125 km (77 mi).
In El Paredon, you'll find a long beach with volcanic black sand, rustic hotels with a tropical vibe, cool beach bars and mesmerizing sunsets. However, the biggest reason why people come to visit this little town is surfing. El Paredon is home to some pretty powerful waves and is known as the best surf spot in Guatemala
For more travel tips and ideas for what to see and do in El Paredon, take a look at my blog post on the best things to do in El Paredon.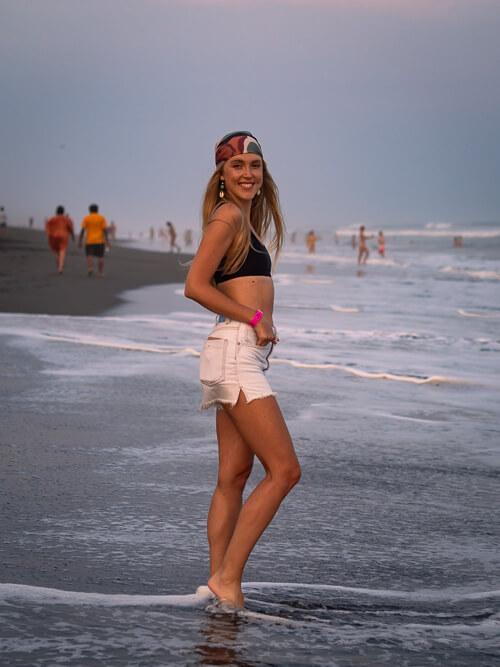 Where to stay
Spend the night in El Paredon.
MID-RANGE: Cocori Lodge. A gorgeous beachfront lodge with a fantastic swimming pool, sea views and lively atmosphere. They have both shared dorms and private rooms. We really enjoyed our stay here, especially relaxing in the beautiful pool!
LUXURY: Swell Surf & Lifestyle Hotel. A more upscale and quiet boutique hotel with boho-chic decor, a large pool and a tropical garden.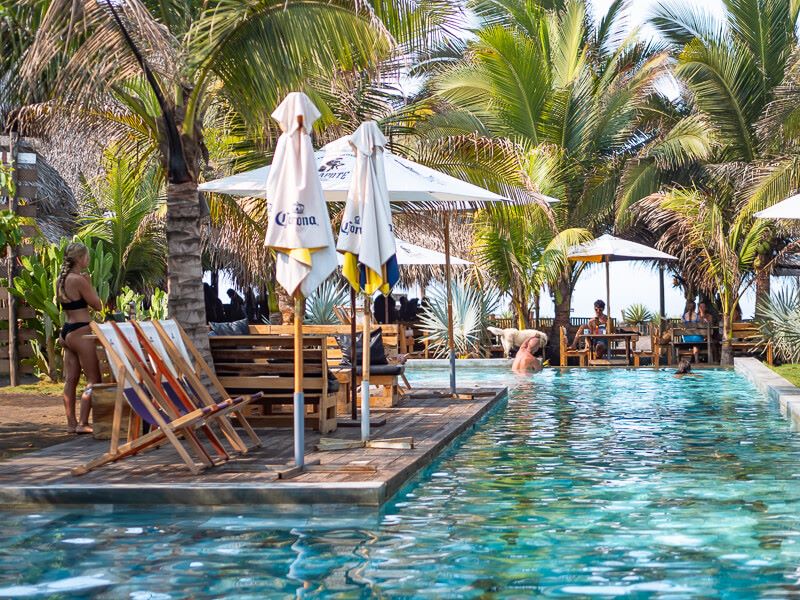 Alternative option: If you're not interested in surfing and lounging on the beach, you can easily leave El Paredon out of your Guatemala travel itinerary. Instead, you can spend an extra day or two in northern Guatemala after exploring the Tikal ruins. There, you can discover the charming lakeside town of Flores or visit other Mayan ruins in the region, such as Yaxha or Uaxactun.
---
Day 10: Return to Guatemala City
On the final day, go for an early morning walk along El Paredon beach to see the sunrise. It's such a wonderful way to start your day as you get to enjoy the peaceful atmosphere, the cooler temperatures and watch the first rays of the sun light up the scenery.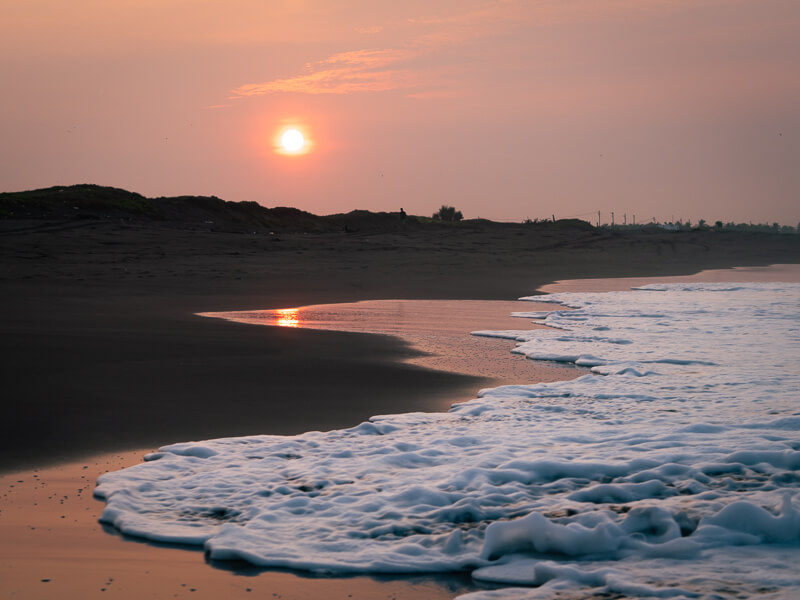 And then it's time to wrap up your 10 days in Guatemala and head back to Guatemala City to catch your flight home. Unless you rented a car and drove yourself, you can book your shuttle to Guatemala City via Roadrunner.
---
Other destinations to include in your Guatemala itinerary
In case you have more than 10 days to spend in Guatemala or you're just looking to add other stops to your itinerary, here are some destinations to consider:
Semuc Champey – A remote nature reserve home to caves, waterfalls and natural pools with turquoise water.
Flores – A small lakeside town full of colorful colonial architecture, great restaurants and cobblestone streets. It's mainly known as the gateway to the Tikal ruins but is also worth a visit if you have the time.
Chichicastenango – A traditional town known for its indigenous Maya culture and a large open-air market where locals trade vibrant textiles, handicrafts and more.
Quetzaltenango (also called Xela) – Guatemala's second-largest city known for its colonial-era historic center with interesting architecture.
Guatemala City – Guatemala's capital is not exactly famous for its beauty but there are still some charming spots to visit, such as Plaza Mayor and the upscale district Cayala.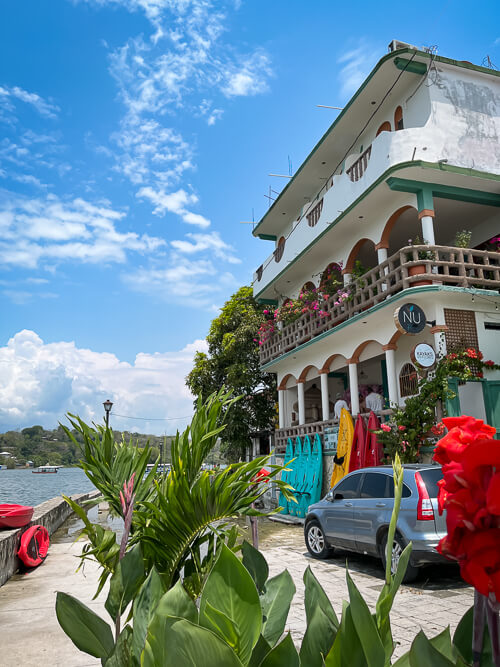 ---
Guatemala itinerary: Final thoughts
As you can see, Guatemala has a lot to offer. During my time there, I made some amazing memories that will last a lifetime and I have no doubt that you will too! I hope that you found this Guatemala travel itinerary helpful for planning your own perfect trip.
Be sure to also read my other blog posts for more Guatemala travel tips:
Planning to explore other countries in Central America as well? Then check out my posts on Costa Rica and Panama:
Enjoyed this 10-day Guatemala itinerary? Pin it!
READ MORE: