Situated in the idyllic countryside of southern Denmark, Thorseng Nature Resort is a place to unwind and pamper your body and soul. It's an excellent weekend getaway destination for those that enjoy being in nature and is one of the most beautiful places for glamping in Denmark.
This autumn, we were looking to take a relaxing weekend trip somewhere in the Danish countryside, away from the hustle and bustle of Copenhagen (our home base). So when I started searching for potential places to visit and came across Thorseng Nature Resort, I instantly knew that this is the type of place we would love!
What makes this resort unique is their one-of-a-kind Wellness Glamping concept designed to leave their guests feeling recharged and rejuvenated. It's basically like a health and wellness sanctuary combined with the element of luxurious glamping.
In case you're not familiar with the term 'glamping', it's derived from 'glamorous camping' aka you'll sleep in the middle of nature but with the comfort level of a hotel room.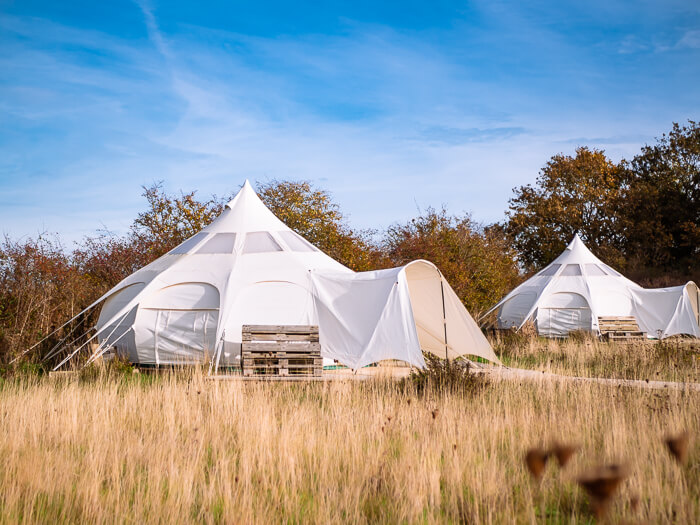 From the various activities and treatments offered at Thorseng to the surrounding environment, the spa and the food, every detail about the experience is carefully thought through and aligns with the goal of supporting your well-being.
On top of that, the warmth and friendliness of the people working at the resort create such a welcoming atmosphere that you won't want to leave. If you're looking to get away from the crowds, enjoy the silence in unspoiled nature, sleep underneath the stars and pamper yourself in a spa, Thorséng Nature Resort is for you!
In this post, you'll find my detailed review of our stay at Thorseng Nature Resort, including the different tents we slept in, the wonderful food we ate and the various activities we did. Below, I'm also sharing my discount code that will give you 15% off your booking at Thorseng!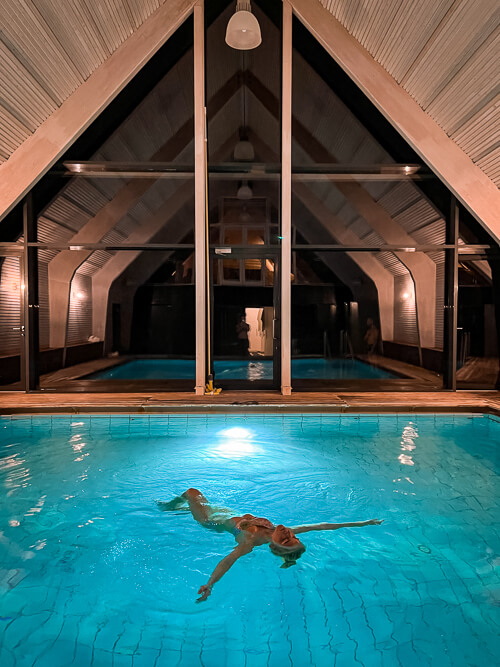 ---
Getting to Thorseng Nature Resort
Thorseng Nature Resort is located on the small island of Tåsinge in Denmark's South Funen Archipelago. Surrounded by tranquil forests and meadows, the property is situated in a beautiful natural setting by the sea.
If you're coming from Copenhagen, it takes a little over 2 hours to drive to Thorseng, which includes driving over the Great Belt Bridge, one of the longest suspension bridges in the world!
If you're traveling by public transport, it takes around 2.5 hours to get from Copenhagen to Svendborg, which is the closest town to Thorseng Nature Resort. The resort can arrange a pick-up for you from Svendborg, which is roughly 10 km (6 mi) away.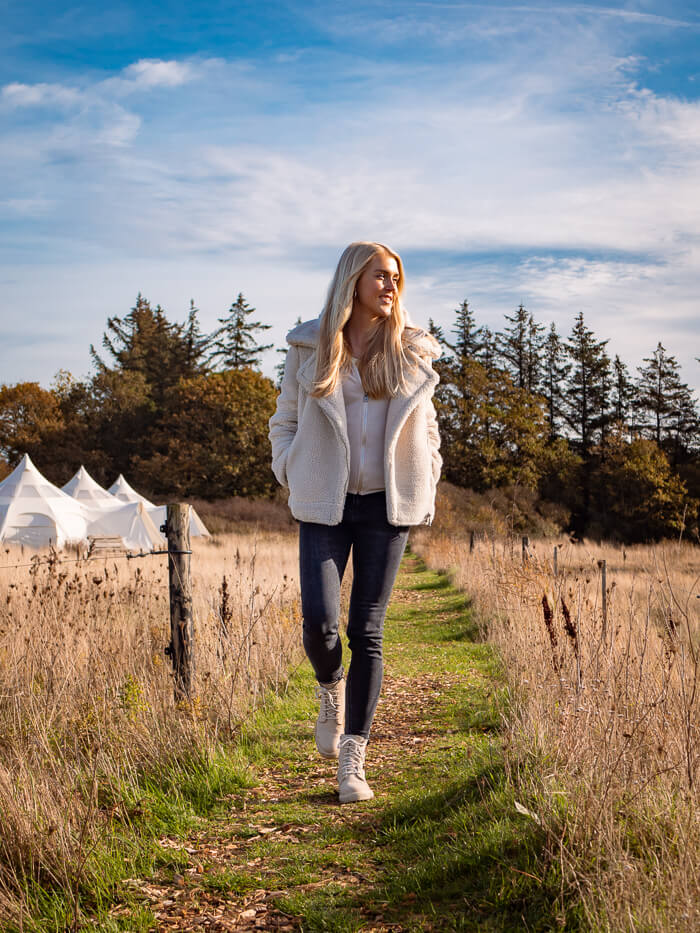 ---
The accommodation
You can stay in two different types of tents at Thorseng – Luxury Suites and Tree Tents. We spent one night in each, which was great since they offer quite a different experience.
Luxury Suites
The Luxury Suites are beautiful spacious bell-shaped tents furnished with a comfy double bed, a table, chairs, a clothes rack, a lamp and a mini fridge. The rustic furnishing and carpet-covered floors give the glamping tents a really cozy atmosphere. In the ceiling of the tents, there are windows from where you can gaze at the sky. There are also power outlets where you can charge your electronics.
We visited the resort in October, so we were a little concerned about whether it would be cold to sleep in a tent like this. The answer is not at all! The tent has a heater and there are also thick duvets and electric mattress covers to keep you nice and toasty. We didn't even feel the need to turn on the electric mattress covers though.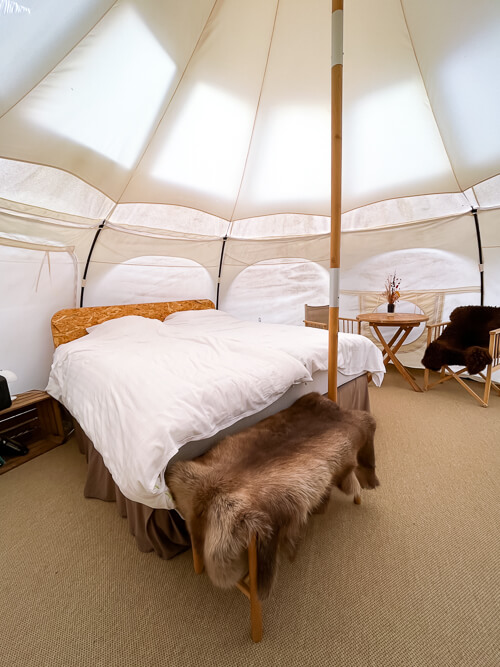 In front of the tent, you have your own private terrace with a fire pit and a bench. It's the perfect spot for enjoying a glass of wine next to a campfire, sipping a cup of coffee or reading a book.
Some of the luxury tents are located on a meadow on the beach and some are in the resort's garden area between holly trees.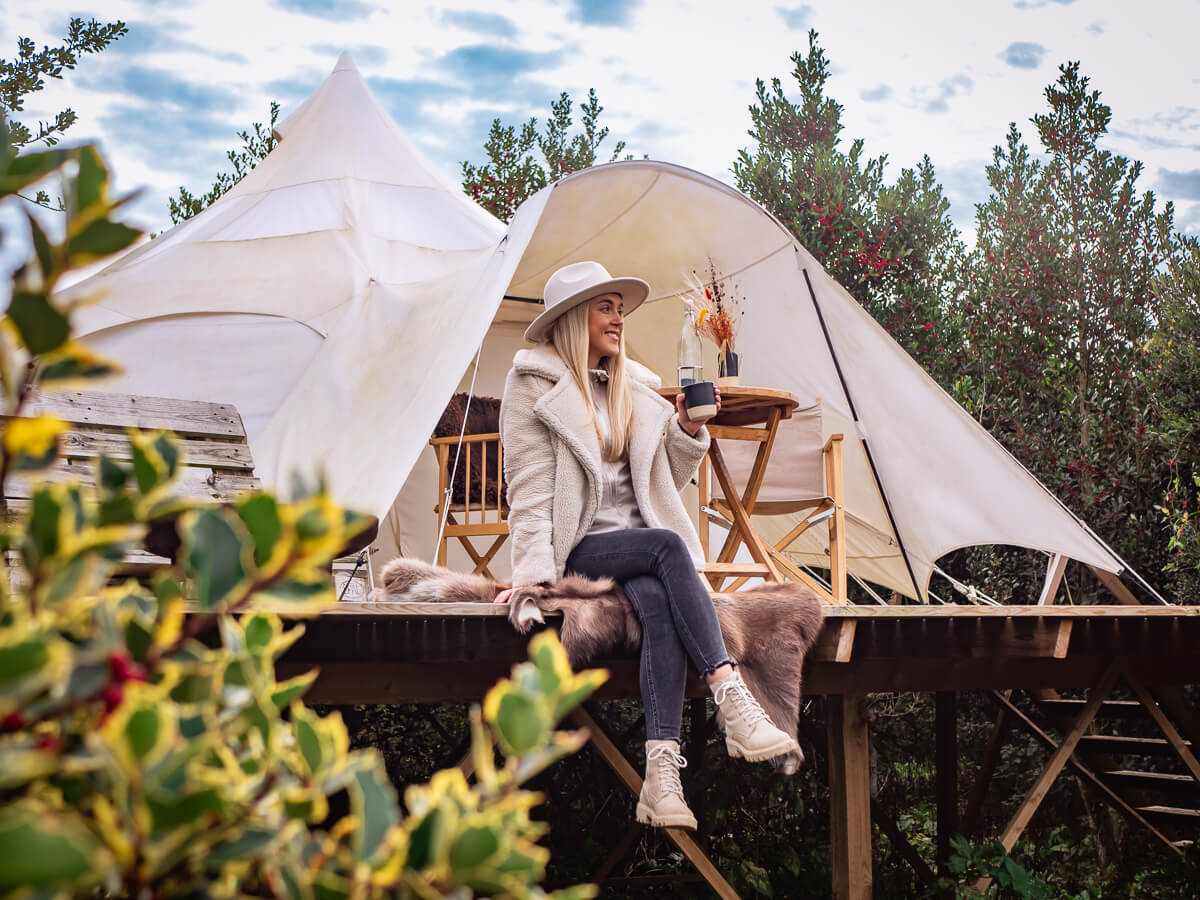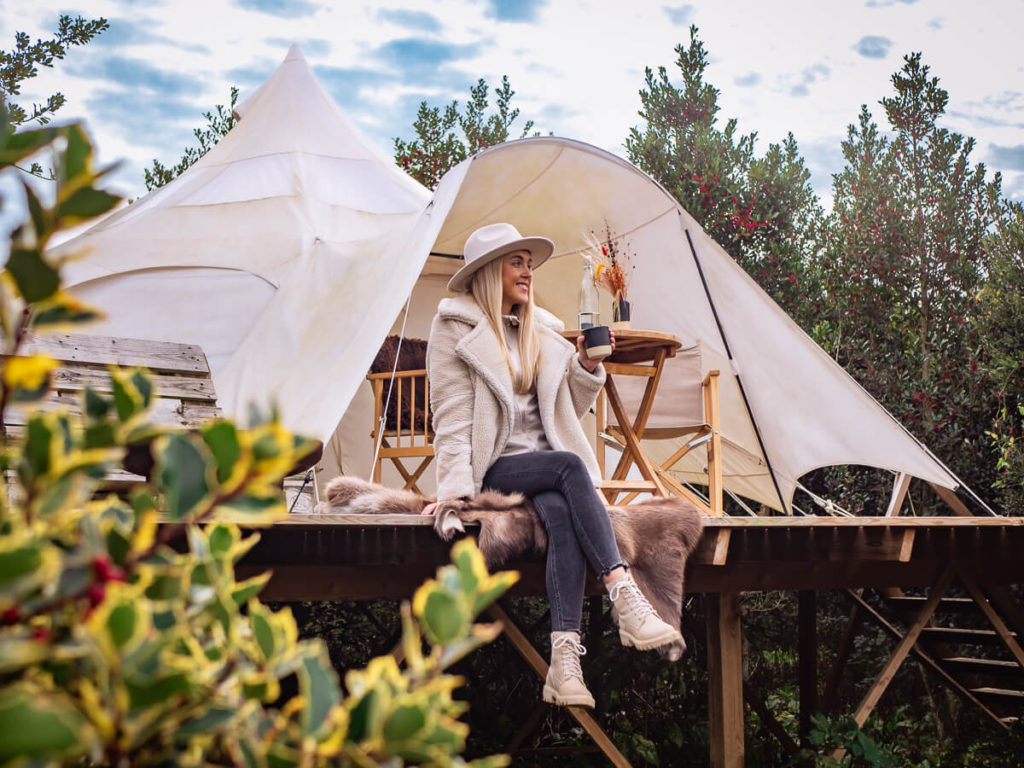 Tree Tents
The Tree Tents offer an experience that's closer to traditional camping but are still very comfortable. Located in a dense forest, the tents are suspended between trees and form a small camp. In the middle of the camp, there's a covered area with a fire pit and wooden benches.
The Tree Tents come with high-quality sleeping bags and reindeer skins to keep you warm at night. Here you'll be totally immersed in nature and get to wake up to the sound of singing birds. It's a wonderful option to spend a night in the great outdoors and enjoy the serenity of the forest.
Again, I was initially worried that we might get cold in a tent like this in October but it wasn't a problem at all.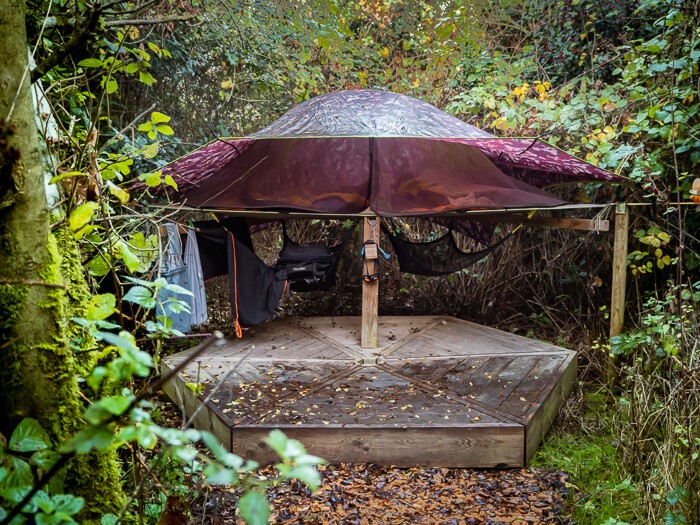 You can get 15% off your booking at Thorseng by using my discount code THESMOOTHESCAPE.
The code is valid until June 24, 2023. Note that the resort will open for overnight stays again in April 2023 but the Spa & Wellness facilities are open all year round.
---
The spa
You simply can't visit Thorseng and not go to their lovely little spa! All guests have free access to the spa facilities, which consist of a sauna, a steam room and a hot water pool with a view of the resort's garden. You can also join wellness activities like Saunagus or Floating Therapy.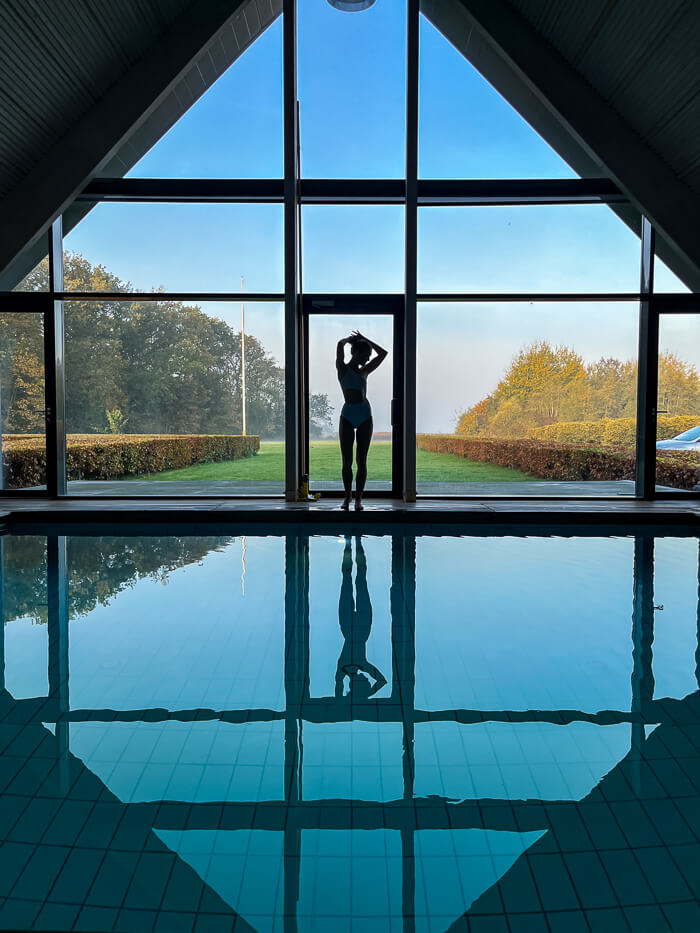 Saunagus (or Aufguss as it's known internationally) is a multi-sensory wellness ritual combining aromatherapy, heat and meditation. You will be guided through the Saunagus session by a 'gus-master' who will use a variety of essential oils on the hot stones of the sauna and circulate the fragrant air with a towel to give you a pleasant experience.
You should definitely participate in these sauna sessions when you're at Thorseng! I have tried Saunagus dozens of times in many different places and absolutely love it. It's kind of addictive!
Floating Therapy is apparently an Icelandic tradition and is something I hadn't tried (or even heard of) before visiting Thorseng. A therapist will guide you through the hour-long session in the hot water pool where you'll effortlessly float with the help of floatation equipment.
You'll experience the feeling of weightlessness and enter a state of deep relaxation. It's a really unique sensation and unlike any wellness experience I've ever tried before.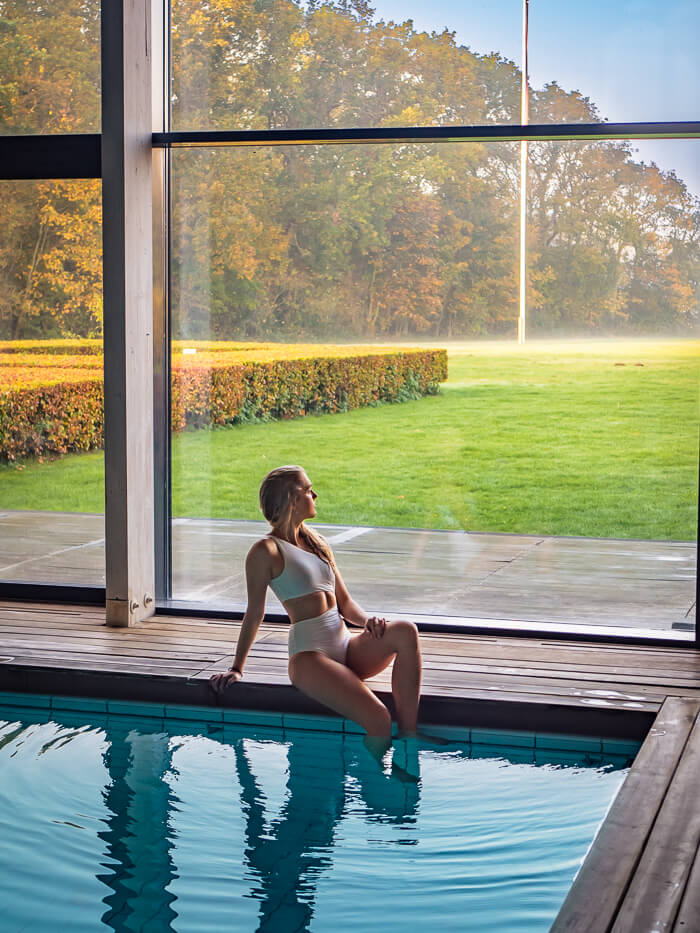 ---
The food
Another thing I loved about Thorseng Nature Resort is the food that they offer. For breakfast, lunch and dinner, which are all included in your stay, you can enjoy beautiful anti-inflammatory meals designed to support the well-being of your body.
All meals at Thorseng are plant-based, organic, sugar-free and gluten-free – it really can't get much healthier than this. From breakfast waffles and chia porridge to a hearty pumpkin soup and vegan cake, everything we ate was absolutely delicious. The resort works with local producers to find the best vegetables and fruits to use in their dishes and they also sell local artisanal food products.
You can choose to have your meals at their cozy little café/dining area or take them to your tent and enjoy the them on your private terrace.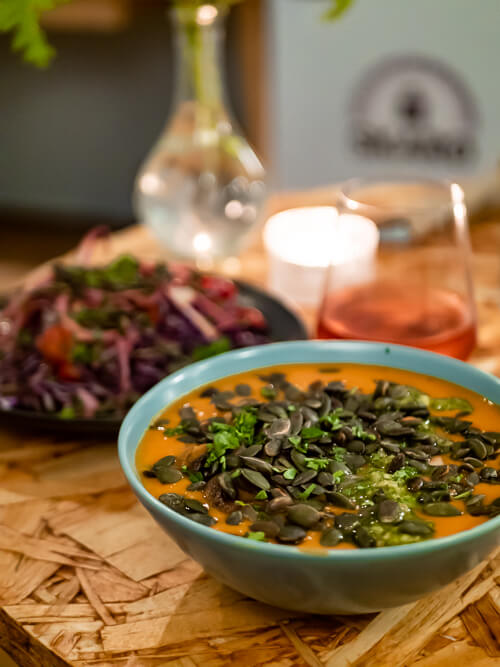 ---
Other activities at Thorseng Nature Resort
Training classes
Every morning you can join a training class called Fusion, which combines elements of pilates, yoga and barre. The morning classes are included in your stay. It is also possible to purchase personal training sessions in pilates or ballet for an additional fee.
Swim in the sea
As Thorseng is located next to the beach, you should start your days with a swim in the sea, no matter what time of the year it is! We visited in late October and the people running the resort convinced us to join them for a morning dip, which I was initially a bit anxious about since the sea is already pretty cold by this time of the year!
They shared useful tips on the right breathing techniques and it ended up being an amazing experience. There is no better way to wake up your body and feel energized than dipping yourself into cold water!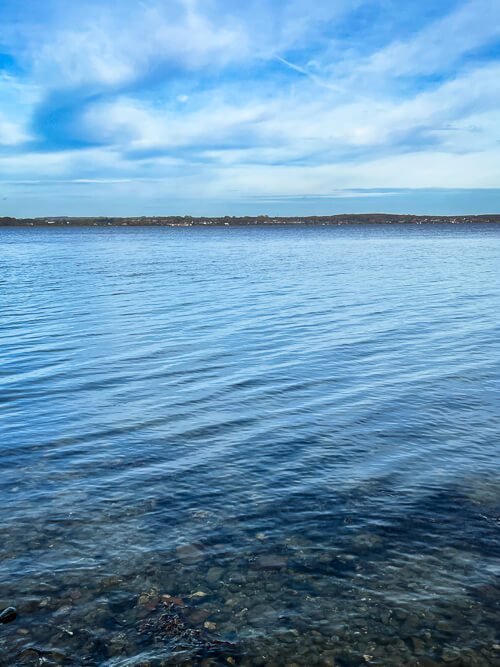 Watch the sunset on the beach
The beach at Thorseng is facing west which makes it the ideal spot for watching the sun drop behind the horizon. Unfortunately, because of clouds we didn't see any sunsets during our stay but we did get to witness an epic sunrise – see the photo below!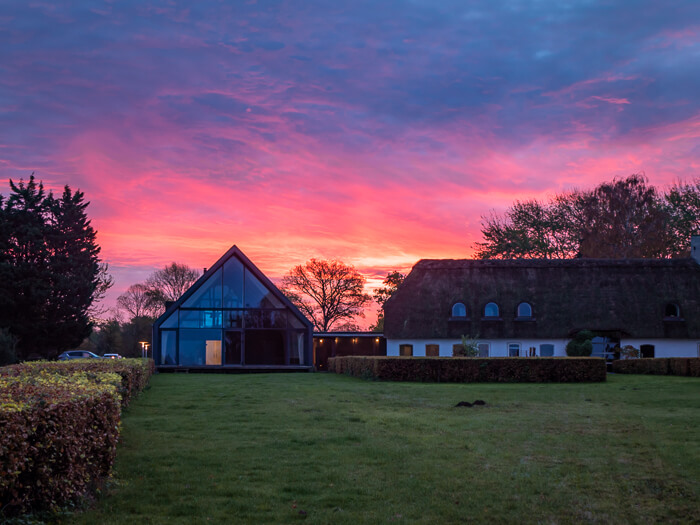 Take a walk in the nature
Around the property, there are several walking trails winding through a peaceful forest, a meadow and along the beach. The resort grounds are also home to some adorable friendly horses who will run straight up to you to say hi.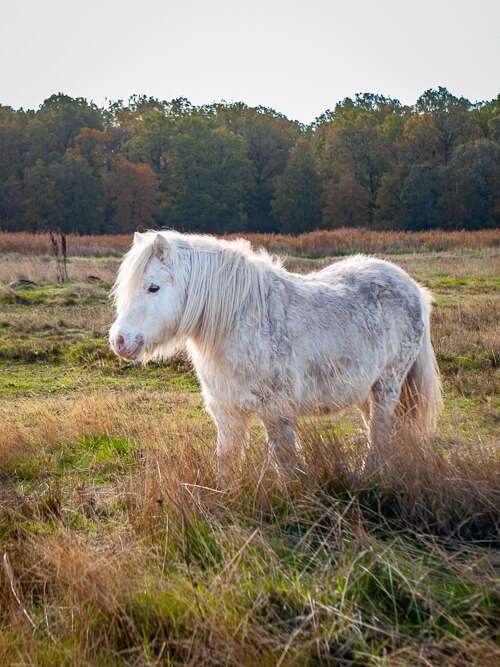 Kayaking and SUP
You can rent SUP boards and kayaks and go explore the waters around the resort either with or without an instructor.
Treatments
The resort also offers treatments, such as acupuncture, wellness massage, physiotherapy and dietary guidance.
Explore Svendborg
Just 10 km (6 mi) from the resort lies the charming seaside town of Svendborg, which has a beautiful historic center, lovely cafes and a laid-back vibe. You can rent a bike at Thorseng to get around.
---
Final thoughts on glamping at Thorseng Nature Resort
Overall we had such a great time at Thorseng Nature Resort and I highly recommend it if you want to experience glamping in Denmark.
From falling asleep in the fabulous glamping tent and enjoying the fantastic wellness activities to taking an exhilarating dip in the cold sea, it was definitely a weekend to remember! It's the perfect place for a romantic couples' getaway, a girls' trip or even a family vacation. Remember to use my discount code THESMOOTHESCAPE to get 15% off your booking!
This post was made in collaboration with Thorseng Nature Resort but as always, all opinions are my own.
You might also be interested in my other posts about Denmark:
Enjoyed reading about Thorseng Nature Resort? Pin it!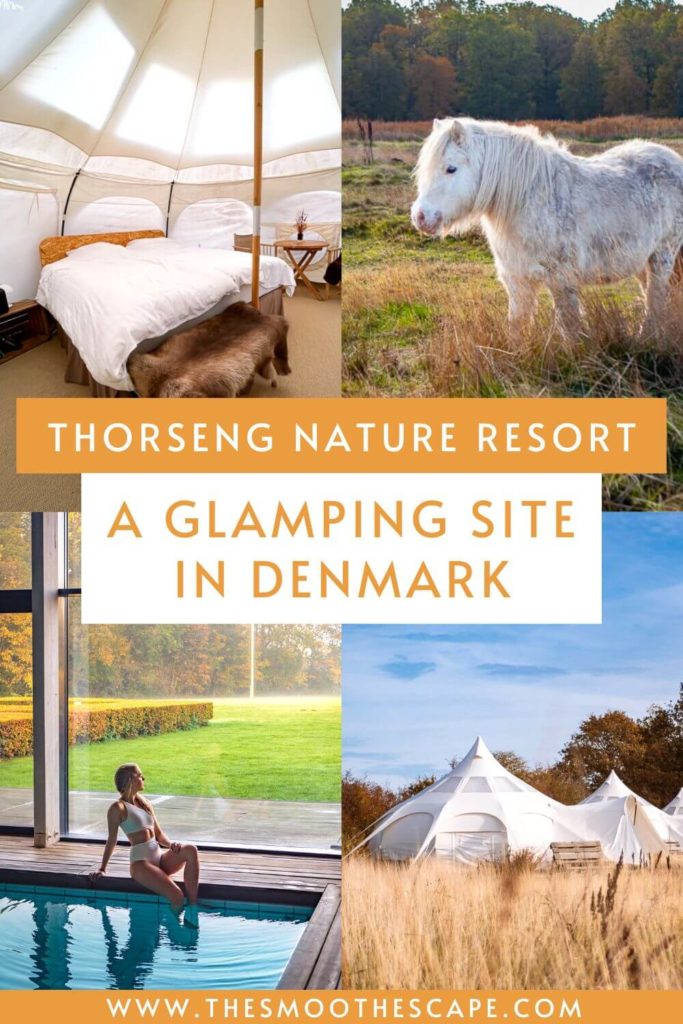 READ MORE: