If you're visiting Lake Atitlan in Guatemala, the Indian Nose hike has to be on your to-do list! Shaped like a reclined face, the Indian Nose is a scenic mountain peak and the best place to watch the sunrise over Lake Atitlan.
It offers spectacular views of the Mayan towns and the chain of volcanoes around the lake and can be reached by a short hike. Watching the sunrise from this viewpoint was definitely one of my favorite experiences at Lake Atitlan and is well worth adding to your Guatemala itinerary!
To help you prepare for the Indian Nose hike, I put together this hiking guide which includes lots of practical information, including which trail to take, what to bring with you, whether you need a guide, what you can expect to see on the trail and much more.
Disclosure: This article contains affiliate links from which I may make a commission at no additional cost to you if you make a purchase.
General info about the hike
The Indian Nose viewpoint is located in the mountains at the western end of Lake Atitlan in southern Guatemala. It overlooks the beautiful lake which was created by a volcanic eruption 85,000 years ago.
Not only is the Indian Nose hike considered one of the best hikes at Lake Atitlan but also one of the most amazing sunrise viewpoints in all of Guatemala.
Several different names are used to refer to this mountain peak, such as Indian Nose, Nariz de Indio (Spanish for Indian Nose), Rostro Maya (Spanish for Maya Face) or Cerro Cristalino.
The mountain is situated between the towns of Santa Clara La Laguna and San Juan La Laguna, which both have access to the peak. The towns of San Marcos, San Pedro and San Pablo are also nearby.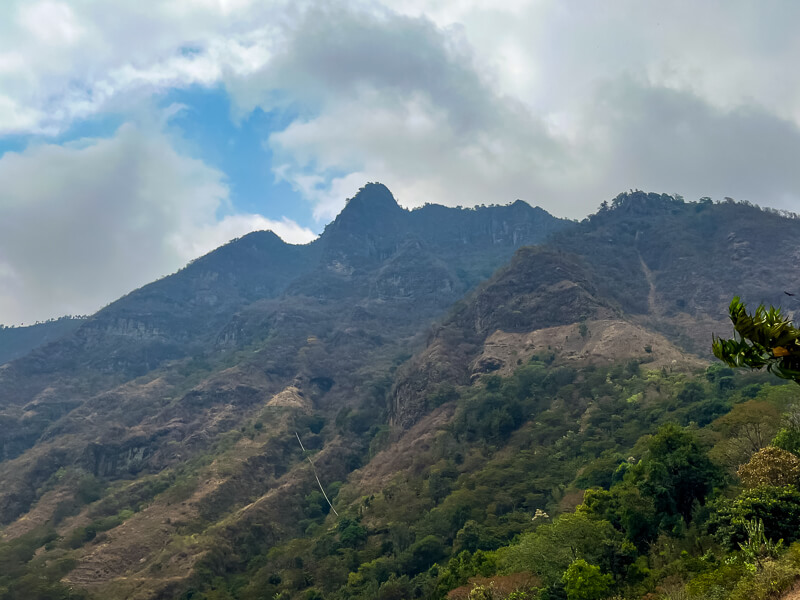 ---
How to do the Indian Nose sunrise hike at Lake Atitlan, Guatemala
There are two main trails leading to the top of the Indian Nose mountain – one starting in the town of San Juan and the other in Santa Clara. The trail starting in Santa Clara is a much more popular route and one that most guided tours take, since it's a much shorter and easier option.
However, if you're someone like me who enjoys challenging hikes, you might want to consider taking the steeper and longer trail up the mountainside from San Juan.
Another thing to consider is whether you want to hike with or without a guide. I recommend going with a guide and I'll explain why later in this blog post.
Finally, you also have to decide what time of the day you want to hike. The most popular option is to do the sunrise hike to Indian Nose. You'll get to enjoy a magnificent show of colors as the sun rises above the lake and paints the volcanoes around it with orange and pink hues. However, this is also the busiest time of the day since all the tour groups will be there at the same time.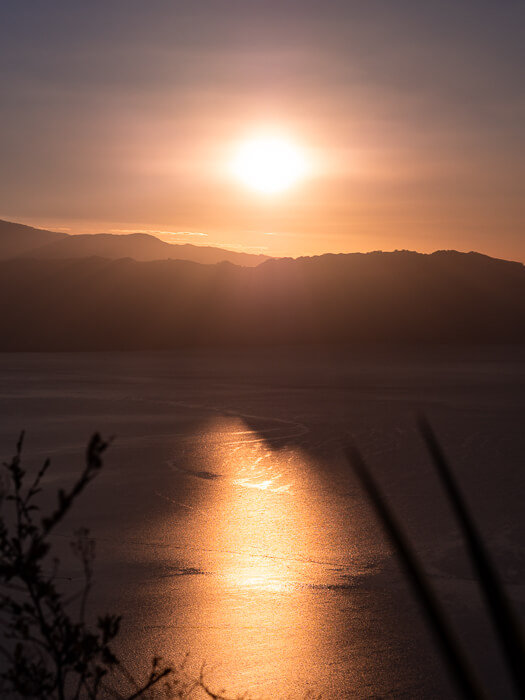 Alternatively, you could hike during the day or just before sunset. During midday or afternoon, the sky usually gets more cloudy though so you might not get as clear views. And if you're considering doing a sunset hike to Indian Nose, be aware that the sun will set behind the mountains, not over the lake, so it's not nearly as spectacular as the sunrise.
We opted for a guided sunrise hike from San Juan along the longer and steeper trail and really enjoyed it! I've listed my recommended tours later in this post.
How long is the Indian Nose hike?
From San Juan, the total distance of the Indian Nose hike is around 5.5 km (3.4 mi) out and back, so about 2.75 km (1.7 mi) each way. It takes 1.5-2 hours to hike up and about 1 hour to go back down.
If you choose the shorter route starting in Santa Clara, the total length of the hike is only 3 km (1.9 mi). It takes just 30-45 min to get to the peak and a bit less to go back down.
You should also expect to spend about an hour at the top to wait for the sun to rise and take in the views.
How tall is Indian Nose, Guatemala?
The summit of Indian Nose has a height of 2200 m (7218 ft). To put this into perspective, Lake Atitlan's altitude is 1550 m (5085 ft).
If you start from San Juan, which sits just next to the lake, it's a pretty intense climb to the top of Indian's Nose with an elevation gain of about 650 m (2133 ft).
However, if you start hiking from Santa Clara, you'll gain most of the elevation by driving as the town is located on a hill at a bit over 2000 m (6562 ft) in altitude. From there, the elevation gain to the summit is only 175 m (574 ft).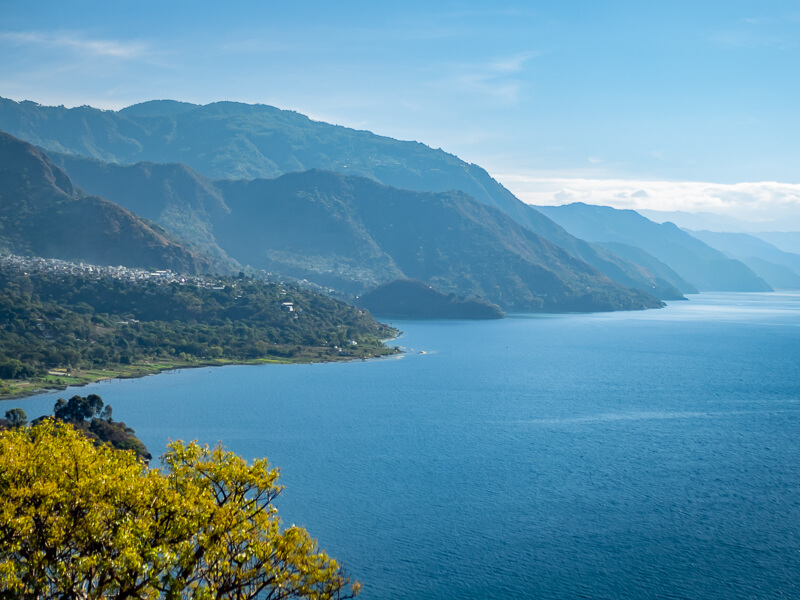 Indian Nose trailhead
Whether you choose to hike from San Juan or Santa Clara, below you'll find my tips on how to find either of the trailheads and what to expect on the trails. I've also marked the exact locations of the trailheads on the map at the end of this blog post.
From San Juan
If you're starting in San Juan La Laguna, the Indian Nose hike begins at the stairway leading to the popular Mirador Kaqasiiwaan viewpoint. During the day, you'll have to pay a 30 GTQ entrance fee to use the stairs (unless it's included in your tour price) but if you're doing the sunrise hike, there won't be anyone at the ticket booth at such an early hour.
After about 15 minutes, you'll reach the top of the stairs, where you'll find the Kaqasiiwaan viewpoint on your right and the trail to Indian Nose on your left. The viewpoint is definitely worth visiting on your way back down when it's not pitch black anymore and you can actually see the views.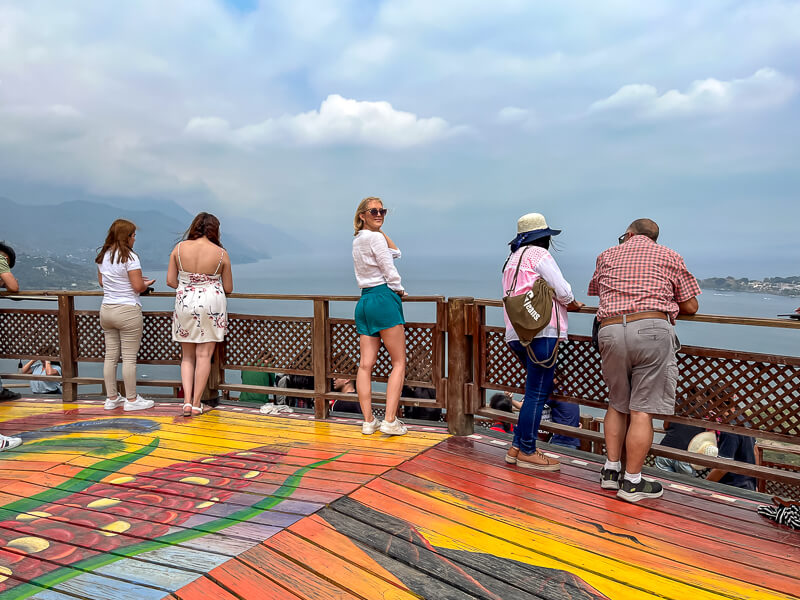 From here on, it's a steep steady ascent through coffee plantations, corn fields and the forest up to the Indian Nose peak.
At the main viewpoint at the top, you'll likely encounter a guy that will ask you for a 50 GTQ entrance fee to let you access the viewing platform. As the guys that guard the viewpoints often wear machetes on their belts, many tourists get scared and think they're being robbed by bandits. In reality, these are just landowners asking for a fee, since you're walking through their private land.
If you're hiking Indian Nose with a guide, you won't have to worry about this as your guide will handle the payment for you.
From Santa Clara
For those starting the hike from Santa Clara La Laguna, there are a few different dirt trails southeast of the town, which all lead to Indian Nose. The trails pass through farmlands and corn fields before ascending to the summit of the mountain.
Just like on the trail starting from San Juan, here you're also likely to meet landowners asking for payment to let you cross their private land. These are not robbers but just locals trying to make a living and they usually charge 50 GTQ per person. Again, if you're there with a guide, you won't have to worry about this.
What to expect at the summit
If you're doing the guided sunrise hike, you'll usually reach the summit of Indian Nose well before sunrise when there's only a slight orange glow above the horizon. You can expect to see lots of other people up there with you since it's a highly popular hike, especially at sunrise.
There are 3-4 different viewpoints at the summit but the views are basically the same from all of them, so it doesn't really matter which one you visit. We stayed at the main viewpoint that had a small shack where we were served tea, coffee and bread as we waited for the sun to rise.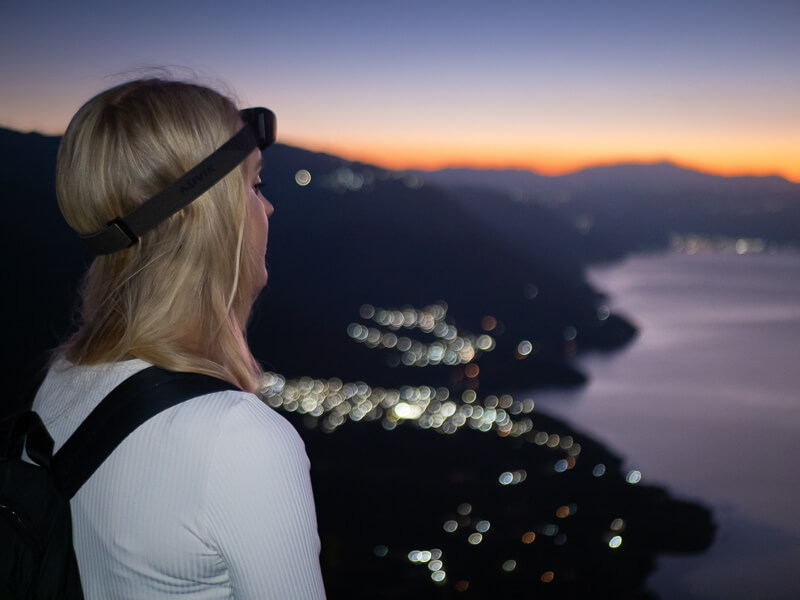 Soon the sky will start changing colors and the sun will peek above the horizon, lighting up the lake and the landscape around it. It's a breathtaking sight and one you really shouldn't miss when you're at Lake Atitlan!
On a clear morning, you can see an entire row of volcanoes from Indian Nose. These volcanoes are Agua, Acatenango, Fuego, Atitlan, Toliman and San Pedro. You might even see small eruptions from Volcan Fuego in the distance.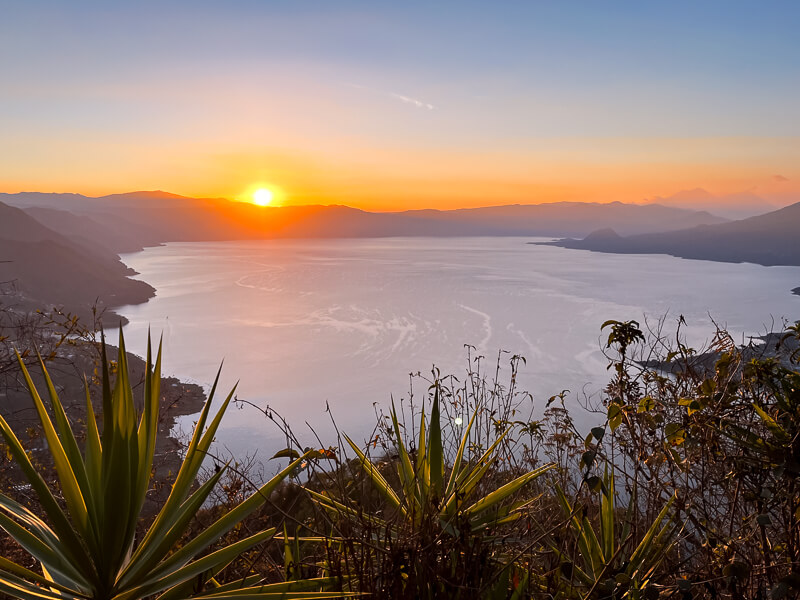 Besides the volcanoes, you can also see several of the towns around Lake Atitlan such as San Marcos, San Juan, San Pedro and others.
Just a few minutes hike downhill from the viewpoint, there's a big rock jutting out from the ground. It's the perfect spot for taking photos with the lake in the background.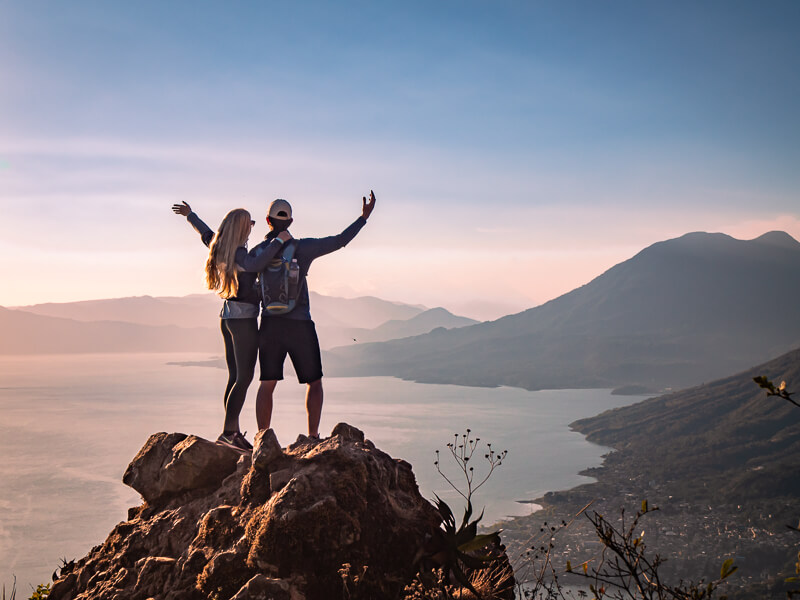 RELATED POST: Want to see a volcanic black sand beach and try your hand at surfing while in Guatemala? Then read my blog post about El Paredon, a chill beach town on the Pacific coast.
---
Indian Nose hike difficulty
If you're doing the Indian Nose hike from San Juan, I'd say the difficulty level of the trail is medium. The high elevation gain makes the hike quite demanding but if you take plenty of breaks for resting, it's definitely doable.
Also, if you're planning to do the famous Acatenango hike later during your Guatemala trip, hiking Indian Nose from San Juan is a great way to train for it (though Indian Nose is much easier than Acatenango).
On the other hand, the hike starting in Santa Clara is considered an easy hike since the distance is very short and there's not much elevation gain. This option is suitable for families with kids and anyone with a moderate fitness level.
Also, if you're worried about altitude sickness, it's very unlikely that you'd get it on this hike. That's because altitude sickness symptoms are more likely to occur at above 2500 m (8200 ft) and the Indian Nose peak is below that at 2200 m (7218 ft). You might just get out of breath a little quicker than usual.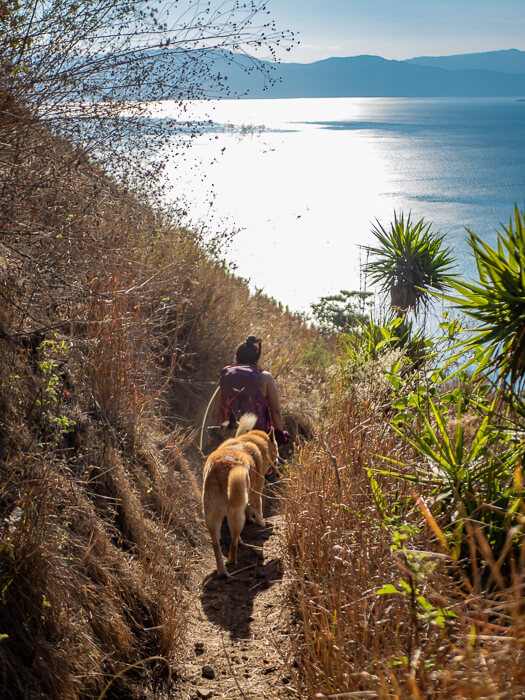 ---
Indian Nose hike tour cost
You can easily book your Indian Nose tour by visiting one of the many tour agencies in the towns around Lake Atitlan, especially in San Juan and San Pedro.
However, if you'd like to book your tour in advance for a little extra peace of mind, take a look at the options below. I've listed the highest-rated tours from the different towns around the lake as well as the specific tour that I took.
Note that on all of the guided tours below, except the one that we took, you'll be hiking along the shorter and easier trail (the one starting in Santa Clara):
From San Juan along the longer trail (the tour we took):
We did our Indian Nose hike tour with a local guide Andrea who runs the lovely Chirris Hostel in San Juan La Laguna. We started our hike with Andrea (and her two adorable dogs) at around 4am and made it to the summit by 5.30. We had a very positive experience with her and can definitely recommend choosing her as your tour guide!
Note that you need to have a good fitness level to do this hike as you'll be hiking up the steeper and longer trail (as opposed to the trail from Santa Clara, which other tours take).
The price of the hike is 200 GTQ per person and a part of it is donated to a charity supporting local women in the Atitlan region. You can contact Andrea on WhatsApp: +502 47484834.
Can you hike Indian Nose without a guide?
It is certainly possible to hike Indian Nose without a guide. The trail leading to the top of the mountain is quite straightforward, especially if you use a hiking app which will show you the exact route, like this AllTrails map.
However, taking a guided tour to the Indian Nose is the better option for several reasons. Firstly, if you want to be at the summit for sunrise, it would be difficult to find your own transportation to the trailhead in the middle of the night, unless you're staying in San Juan or Santa Clara from where you can just walk to the trailhead.
Secondly, since you'll be crossing private lands, the landowners will usually ask you for payment and they'll likely overcharge you if you're a tourist without a guide. If you're joining a tour, these fees are already included in the price and they're likely to be lower.
Thirdly, while Indian Nose is considered one of the safest hikes at Lake Atitlan, there have been some reports of bandits robbing tourists on the mountain. With a tour group, the chances of being targeted by robbers are lower. There's safety in numbers.
If you still prefer to hike Indian Nose without a guide, here are some things to keep in mind :
For safety reasons and for a lower chance of getting lost, hike during the daytime instead of dawn.
Don't bring a lot of cash with you. Although it's not very likely that you'll encounter robbers, in case it does happen, you don't want to lose all of your money.
Don't hike alone. For a safer experience, it's better to hike together with other people.
---
What to bring to the hike
You don't need to bring a lot to your hike to Indian Nose Atitlan but the following items are handy to have:
Good shoes – If you're hiking the trail from San Juan, hiking shoes are recommended. For the trail from Santa Clara, trainers are good enough.
Head torch or flashlight – On the way up, you'll be hiking in the dark. Having a head torch or a flashlight is essential to see the path.
Sunglasses – On the way down, it will be warm and sunny. Also, bring sunscreen if you're hiking the longer route down.
Warm clothes – It can get windy and chilly at the top of the mountain, so bring a sweater or jacket.
Water and snacks – Stay hydrated and reward yourself with some snacks at the summit.
Rain jacket – Good to have if you're visiting Lake Atitlan in the rainy season (May to October).
Camera – You'll definitely want to capture some shots of the epic sunrise over the lake.
Cash – It's good to have a bit of cash with you in case you are asked to pay a fee somewhere or if you want to buy some snacks on your way down (for example, at Mirador Kaqasiiwaan).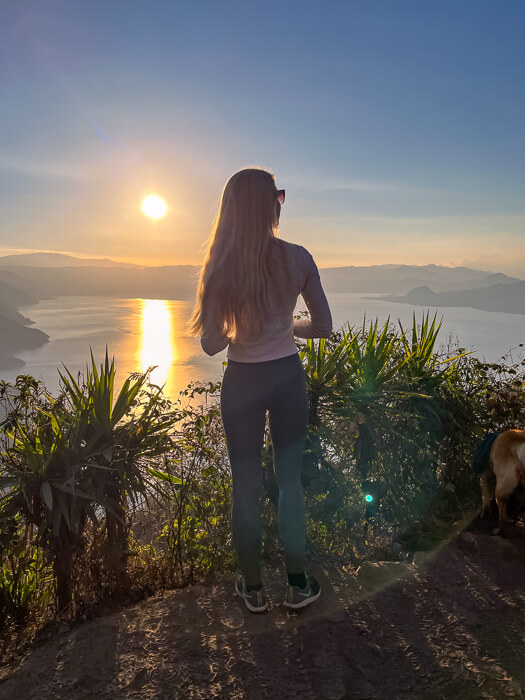 ---
Indian Nose hiking trail map
On the map below, I've marked the trails from both San Juan and Santa Clara. Click on the icon in the top left corner of the map for more details.
---
In case you have any questions about the hike, drop them in the comments below.
For more tips and inspiration for planning your trip, read also my other Guatemala travel guides:
Enjoyed reading about the Indian's Nose hike? Pin it!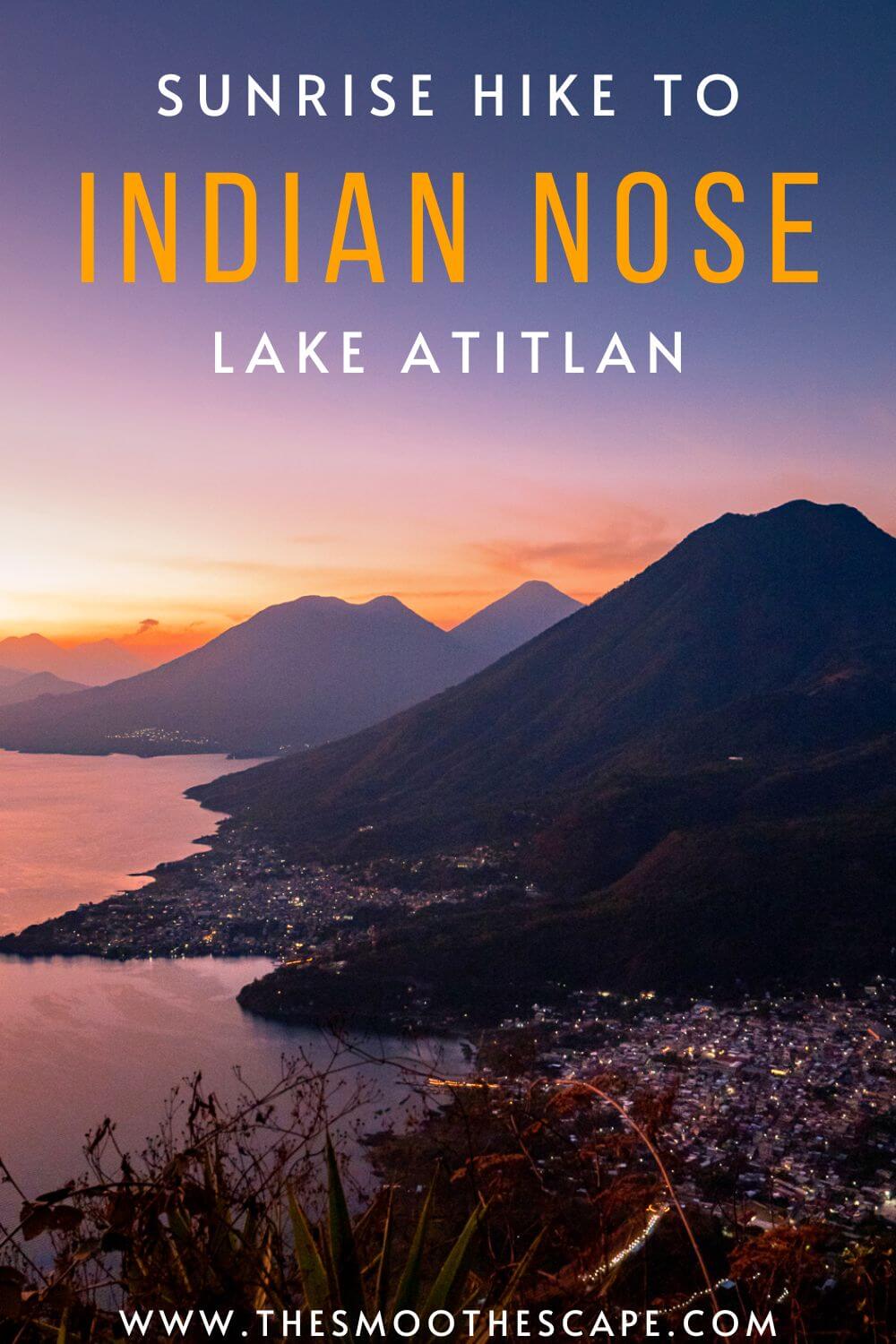 READ MORE: