Situated on the Pacific coast of Guatemala, El Paredon is a small beach town and an up-and-coming holiday destination. Known for its long black sand beach, great surfing conditions and laid-back atmosphere, it should definitely be a part of your Guatemala itinerary if you enjoy this kind of vibe! In this El Paredon travel guide, you'll find everything you need to know to plan your trip to this chill beach town.
Also known as El Paredon Buena Vista, this place was only a few years ago just a tiny village with very little infrastructure, barely any internet access and a few hotels and restaurants. Now, thanks to its growing popularity, it's a destination that attracts surfers, beach bums, backpackers and yogis, who all come here to soak up the town's relaxed vibes.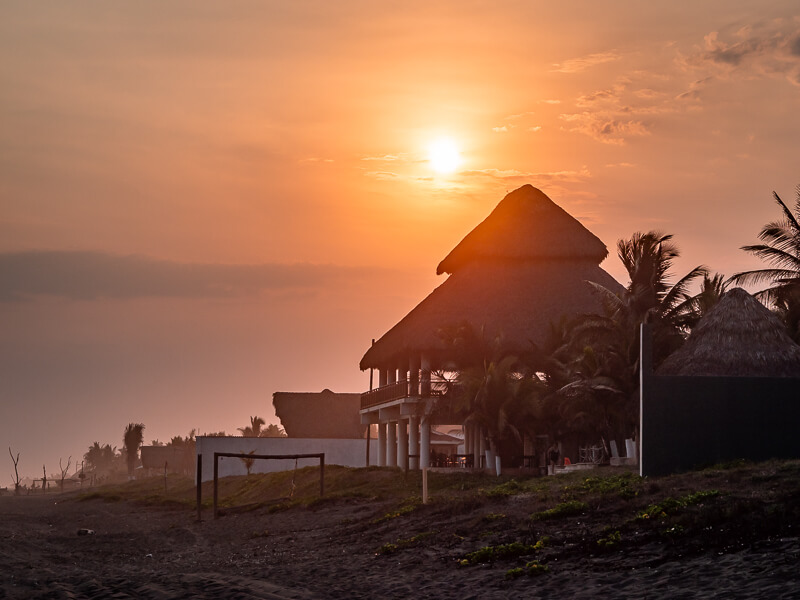 Although El Paredon now has a variety of accommodation options, more places to eat and decent internet, it still maintains its rustic charm and a remote feeling – think dirt roads and thatched-roof buildings. Although the town is just a few hours' drive from Antigua and Guatemala City, it feels like a world away from the crowds and the crazy traffic of the bigger cities.
In this blog post, I've compiled all of my best travel tips for visiting El Paredon, including how to get there, where to stay, where to eat and the best things to do in El Paredon, Guatemala.
Disclosure: This article contains affiliate links from which I may make a commission at no additional cost to you if you make a purchase.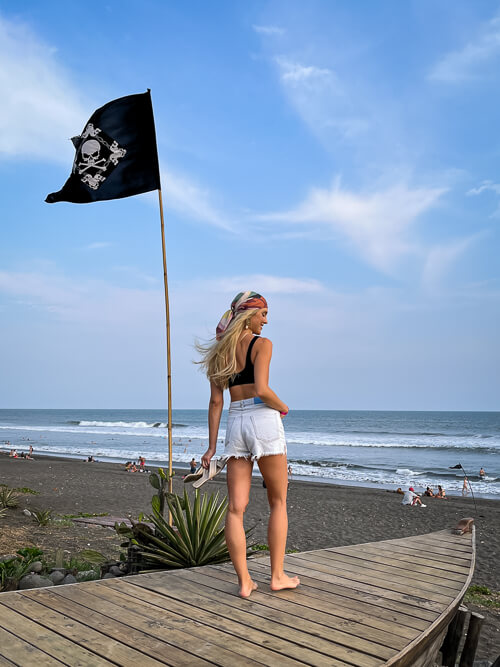 Is El Paredon safe?
Since Guatemala doesn't have the best safety reputation, let's get this question out of the way. Yes, El Paredon is very safe, probably one of the safest places to visit in Guatemala. The town is really small and we felt safe even when walking around at night.
The biggest safety concern in El Paredon is the strong rip currents at the beach. These are currents that can drag you from the shoreline out to deep water. If you end up in one of them, the most important thing to do is to stay calm and not try to swim directly towards the shore. Instead, you should swim parallel to the shoreline until you get out of the current's pull.
Therefore, you should be very careful when going swimming at El Paredon Beach and never do it alone. I only dared to go as deep into the water as my hip height. Be aware that there are no lifeguards at the beach in El Paredon.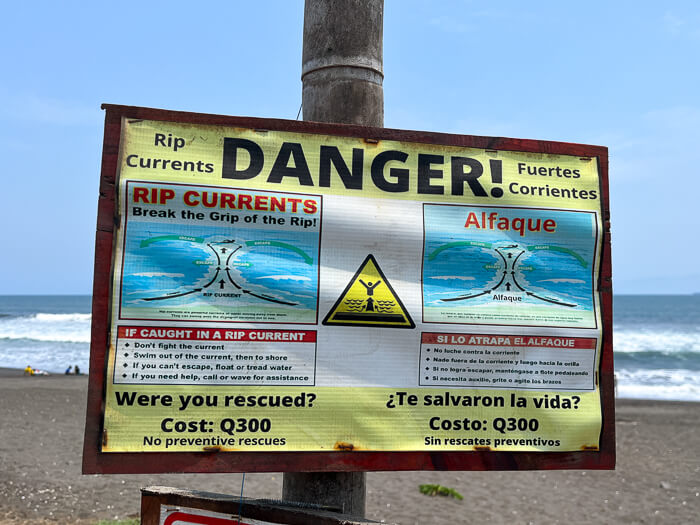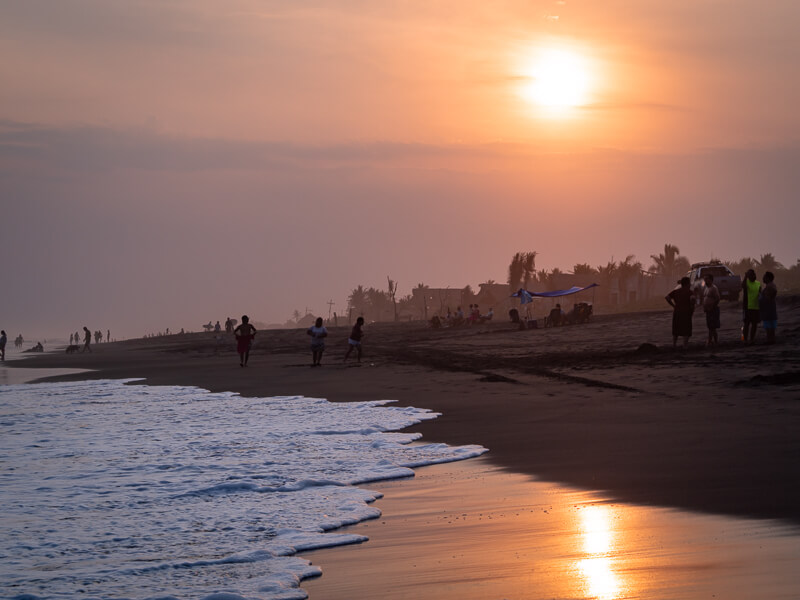 ---
Best places to stay in El Paredon
Despite its small size, El Paredon has some pretty cool accommodation options for all kinds of budgets. You won't find any resorts or large hotel chains here. Instead, you can expect to find laid-back hostels and small hotels with a tropical vibe.
Be aware that since El Paredon is tiny, accommodations tend to get fully booked very quickly. When we visited in April, we booked our room a week in advance and 99% of the hotels and hostels in El Paredon were already sold out by that time. Book your accommodation well in advance, especially if you plan to visit on a weekend.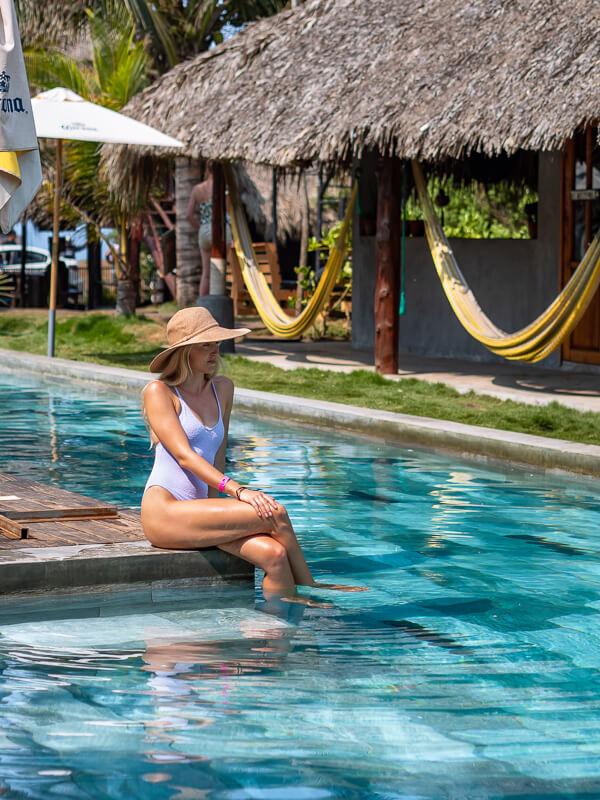 One thing to note about El Paredon is that the main hostels host parties almost every night (and sometimes during the day). If you're looking for peace and tranquility or you're a light sleeper, choose a hotel that's away from Cocori Lodge and Driftwood Surfer Hostel.
Also, I highly recommend choosing a place with a pool because you'll definitely want to use it to cool down in the scorching heat. Alternatively, you could buy a day pass in the hotels/hostels that have a pool.
Below I've listed the best hostels and hotels in El Paredon.
Mid-range options
Cocori Lodge: This is where we stayed and we loved it! It's a beautiful beachfront lodge with shared dorms, private rooms and individual bungalows. There's also an amazing swimming pool surrounded by palm trees. It is one of the main party spots in El Paredon and a great place for socializing with other travelers. The lodge also offers yoga classes, surf lessons, SUP tours and more.
Driftwood Surfer Beach Hostel: Another one of the top party hostels in El Paredon, just a few blocks from Cocori, located also on the beachfront. They have private rooms and dorms, a pool, a rooftop restaurant and even a mini pig that you can hang out with! Their minimum stay is 2 nights.
Paredon Surf House: This stylish and quiet boutique hotel features beautiful Bali-style bungalows with thatched roofs and is also located on the beach. You can choose between dorms or private rooms.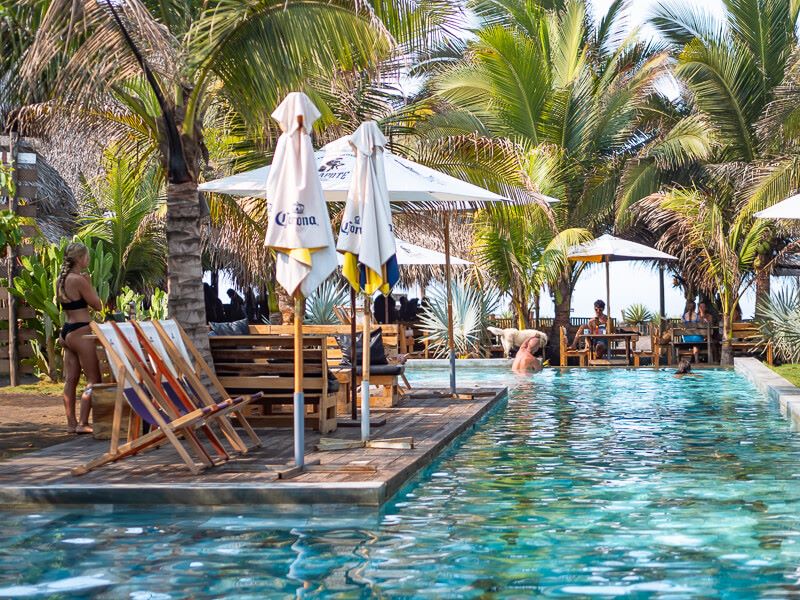 Luxury options
Ka'ana Surf Hotel: A more high-end and quiet hotel. There's a beautiful pool, hammocks and a lush garden. The rooms are rustic yet modern and some even have a private plunge pool.
Swell Surf & Lifestyle Hotel: A stylish upscale boutique hotel with a boho-chic vibe, a gorgeous pool and a tropical garden. It's the perfect option for those looking for a relaxing and comfortable stay.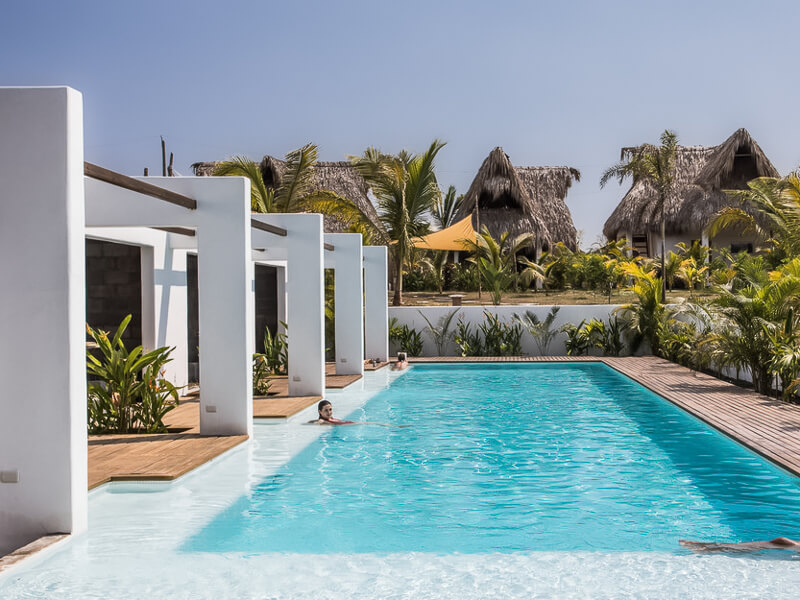 ---
Best things to do in El Paredon, Guatemala
Whether you're interested in learning about the local culture, doing water sports, exploring nature or simply relaxing, you can do all of that and more in this little beach town. Here are the best things to do in El Paredon, Guatemala.
1) Go surfing in El Paredon
There's no doubt that one of the most popular things to do in El Paredon is surfing. Not only is El Paredon considered the best place for surfing in Guatemala, but The Guardian also listed it as one of the best surfing destinations in the entire world.
As the waves here can be really powerful, the best time of the day to go surfing, especially if you're a beginner, is early morning or late afternoon when the water is calmer. The best months to surf are November to April, which corresponds to Guatemala's dry season.
Because of the strong currents and powerful waves, you should definitely book a class with an instructor if you're new to surfing.
Most of the surf camps, hostels and hotels in El Paredon offer surfboard rental and surf lessons. The prices for surfboard rentals start from 60 GTQ per hour whereas surf lessons cost around 150-180 GTQ per person.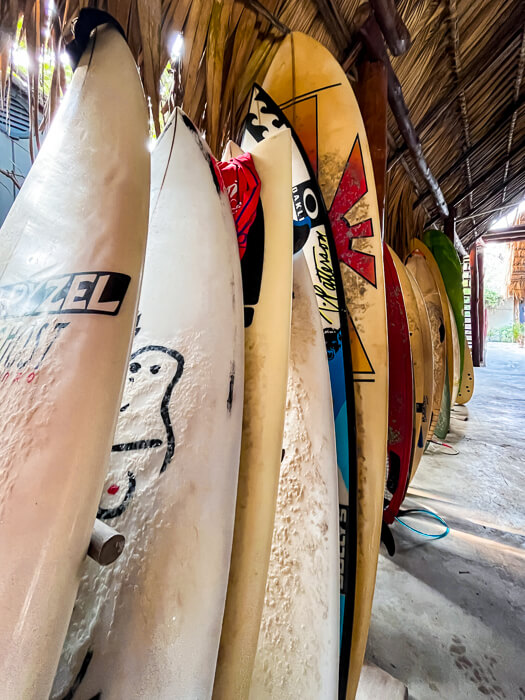 2) Watch the sunset and sunrise at the beach
As the Playa El Paredon beach faces south, you can watch both sunrises and sunsets from here – and they are both spectacular!
Every evening, people gather at the beach to enjoy a few beers or snacks and watch the sun dip behind the horizon. Some even go surfing. The hour before the sunset is also the perfect time for taking photos because of the soft golden light, so remember to bring your camera or phone.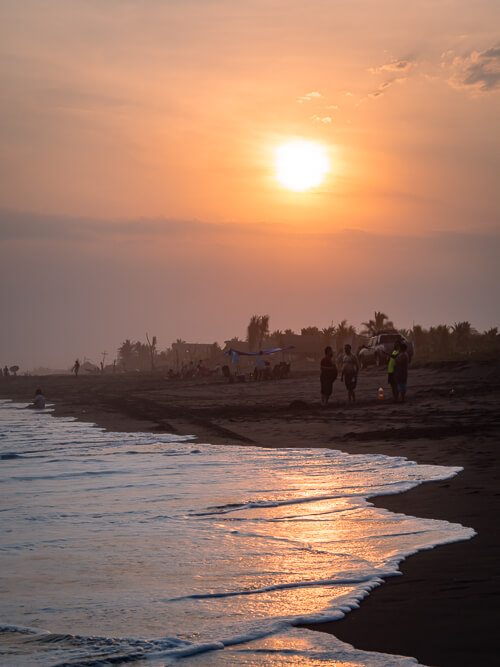 Sunrises are quieter, though equally (if not even more) beautiful. I went on a solo sunrise walk along the beach and really enjoyed the peaceful atmosphere, the cooler temperatures and watching the first rays of the sun paint the sky pink. It was such a wonderful way to start the day.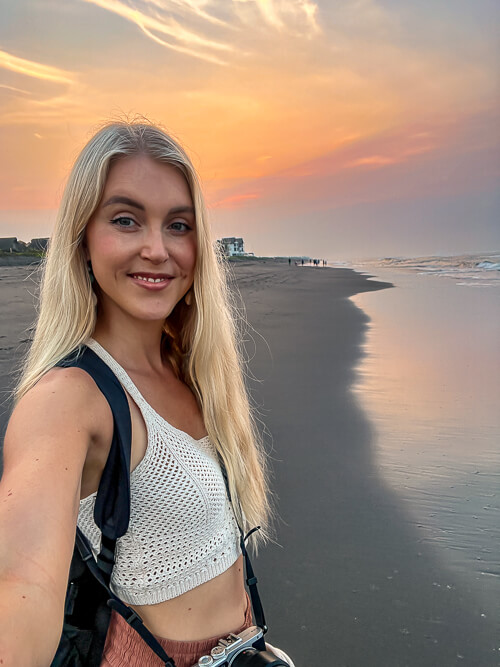 3) Take a mangrove tour on a SUP or kayak
Another popular thing to do in El Paredon is to go kayaking or SUPing along the mangrove-lined river in Sipacate-Naranjo National Park. On a tour through this nature reserve, you will paddle along a slow-moving river where you can expect to see a wide variety of bird species and, if you're lucky, also iguanas.
I did a 1-hour SUP tour, which I booked through my hotel (Cocori Lodge) and to be honest, I found it a little boring. Perhaps if you take a kayak tour, you can cover more ground and see more wildlife. I did enjoy paddling through the mangrove tunnels though.
You can usually book the kayak or SUP mangrove tours through your accommodation or through Black Sand Kayaks.
4) See turtles and salt farms with La Choza Chula
La Choza Chula is a social enterprise whose aim is to provide education and employment to the local communities of El Paredon and to preserve the local environment. It's a non-profit organization that relies on donations and earnings from tour bookings.
La Choza Chula offers a handful of different tours in El Paredon and one of the most popular ones is their Turtle tour. During this 2-hour boat tour, a local guide will take you to a beautiful spot in the mangroves which a large colony of sea turtles use as their feeding ground all year round.
Here you'll be able to see the turtles' heads as they come up to the surface for air. Along the way, you can also observe a variety of birds that live in the mangroves around the river. At the end of the tour, you'll visit the Las Salinas salt farm where you can see how the locals produce and extract sea salt.
RELATED POST: Wondering which other places to add to your Guatemala bucket list? Then read my guide to visiting the ancient Mayan ruins of Tikal in northern Guatemala. It's an unforgettable experience that you don't wanna miss!
5) Take a Guatemalan cooking class
Another fun activity offered by La Choza Chula is an authentic Guatemalan cooking experience.
During a 2-hour class, you'll learn to make Guatemalan tortillas, empanadas and other dishes in a local family's kitchen. Afterwards, you'll sit together with the family and enjoy all the food you made. It's a nice way to get a glimpse of the local culture and support the community.
6) Go for a long walk along the beach
Walking along the beach might not sound like an actual 'activity' but it ended up being one of my favorite things to do in El Paredon. There's just something so soothing about feeling the soft sand between your toes and listening to the waves crash against the shore. It's the perfect opportunity to slow down and soak up the beautiful scenery.
The beach here seems to go on forever and you could spend hours strolling along the pristine volcanic sand.
Be aware though that the black sand gets extremely hot in the sizzling midday sun. So hot that you'd probably burn your feet if you tried to walk barefoot on it. Be sure to stay on the wet part of the sand so you wouldn't burn yourself!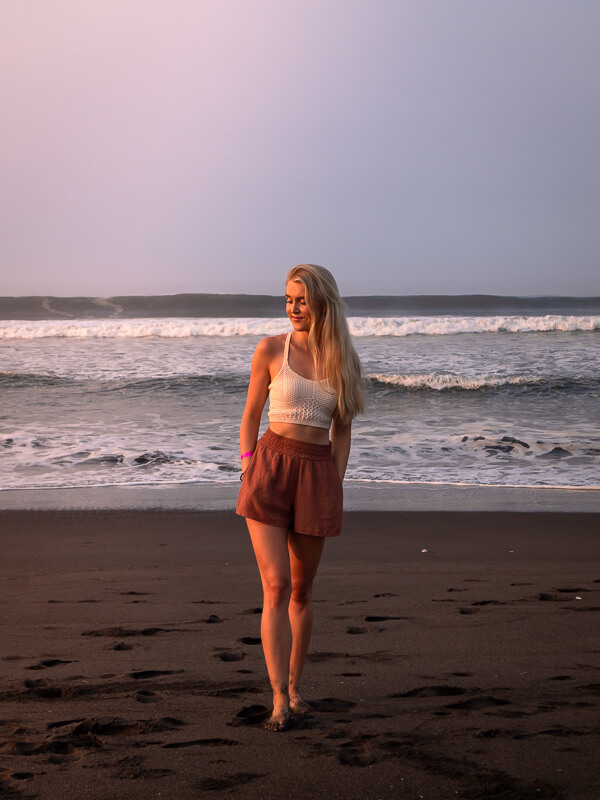 Note: I've seen many people mention that there are lots of mosquitoes and sandflies in El Paredon that will attack you in the evenings and leave behind super itchy bites. During our visit in April, we didn't have this issue at all so it might be seasonal. To be on the safe side, bring mosquito repellent and/or cover up in the evenings.
7) Take a beach ATV tour
Those looking for something slightly more adventurous should take this 2-hour ATV tour of the beach and the areas around El Paredon.
You'll get to try some freestyle driving on the wide strip of sand on the beach, see the spot where the river meets the ocean, visit the Sipacate-Naranjo nature reserve, see a giant Ceiba tree and go for a dip in a local swimming spot by the river. The tour includes ATVs, helmets and an English-speaking tour guide.
8) Enjoy El Paredon nightlife
Despite being a very small town, El Paredon has a surprisingly vibrant nightlife and parties are taking place pretty much every night.
The main hostels take turns in hosting events on different nights and everyone is welcome to attend these events even if they're not staying at that hostel.
The main party spots in El Paredon are The Driftwood Surfer and Cocori Lodge. During our stay at Cocori Lodge, there was a more relaxed pool party with a nice DJ and a beer pong tournament during the day and a bigger party during the night.
9) See the baby turtle release
If you're visiting El Paredon between September and December, you can attend a daily baby sea turtle release in front of the Driftwood Surfer Hotel. During these months, every morning at 5.45am, you will have the opportunity to witness a magical moment as the newly hatched turtles make their way to the ocean.
This is an initiative created by the Driftwood Surfer Conservation Project. They purchase the turtle eggs which would otherwise be sold on the black market for human consumption. The eggs are then placed in their hatchery and when the time is right, the baby turtles are released.
For those interested in ethical wildlife tourism, seeing the turtle release is definitely one of the best things to do in El Paredon.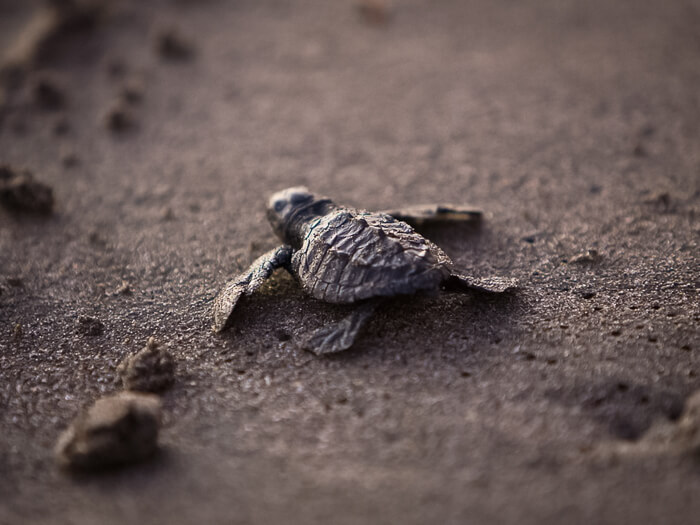 10) Join a yoga class
Another fun thing to do in El Paredon is to take a yoga class. Connect with your mind and body in beautiful tropical surroundings with the sound of the ocean in the background.
Swell Hotel and Cocori Lodge both have their own outdoor yoga decks and offer daily yoga classes.
11) Relax at Playa 14 Beach Club
A few kilometers east of El Paredon, you'll find the Playa 14 Beach Club. There's a beautiful infinity pool with a view of the ocean, sun loungers, a restaurant and a bar serving artisanal beer by the Cerveceria 14 brewery.
It's the perfect place for a lazy beach day with some music, refreshing drinks and delicious food. It's also a great spot for watching the sunset.
The day pass to Playa 14 is 75 GTQ from Wednesday to Friday and 125 GTQ from Saturday to Sunday. The beach club is closed on Mondays and Tuesdays.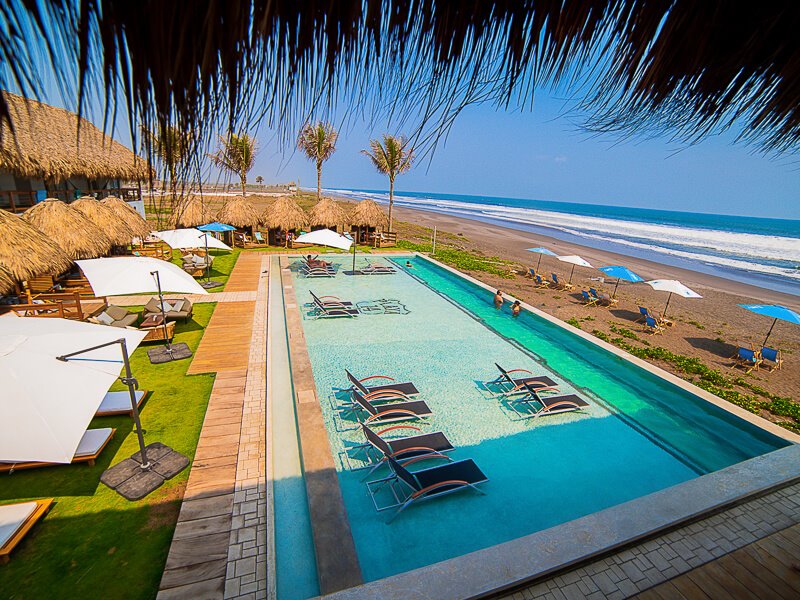 ---
Where to eat in El Paredon
Being a very small town, El Paredon doesn't have a huge range of restaurants to choose from but you can still find some nice spots to eat. Here are the cutest cafes and best restaurants in El Paredon:
Be Good & Cafe – A small French cafe with a lovely garden. I had their croissant and a smoothie and they were both delicious.
Zicatela – Tasty Mexican food, cool colorful decor and quick service.
Soul Food Kitchen – A nice restaurant serving Thai, Indian and Malaysian dishes. Lots of vegan options are available.
Cafecito Del Mar – This place is known as the best breakfast and lunch cafe in town and serves smoothie bowls, avocado toasts, paninis and more.
Chef in Flip Flops – The most upscale restaurant option in El Paredon and also the priciest one but apparently the food they offer is incredible and worth the money.
Cocori Lodge – A cool beachfront restaurant & bar offering a wide variety of breakfast, lunch and dinner options. Their fish tacos are amazing.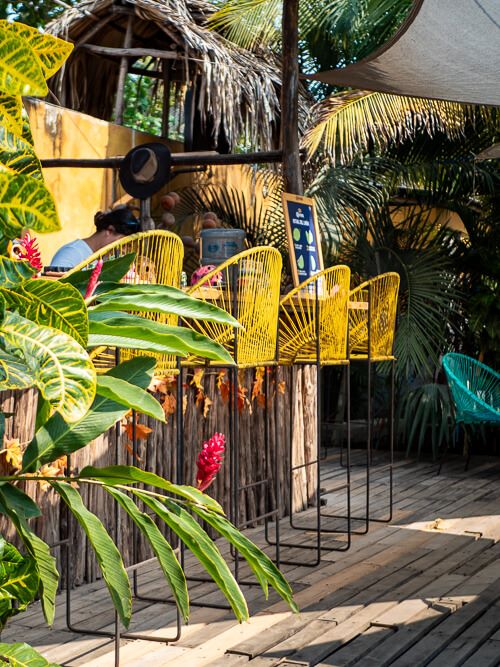 Note: Although card payments are becoming more common, many businesses in El Paredon still only accept cash. There's currently only one ATM in El Paredon (inside the Super 24 store) and it's not always working. It's better to bring cash with you.
---
How to get to El Paredon, Guatemala
The full name of the town is El Paredon Buena Vista and it's located in the department of Escuintla in southern Guatemala. The easiest way to get there is to take a shuttle or drive yourself if you're willing to tackle Guatemala's notoriously chaotic traffic.
You can also take an Uber or a taxi, which would be a great option if you're traveling with a group. In general, Uber tends to be a lot cheaper than taxis in Guatemala. Keep in mind though that you won't be able to use this option on your way back from El Paredon since there won't be any Ubers or taxis there.
The shuttles, which can either be shared or private, are quite comfortable and usually offer door-to-door service which makes it very convenient if you have a lot of luggage. You can book your shuttle through Viator (if traveling to/from Antigua) or Roadrunner.
We ended up driving on our own from Guatemala City to El Paredon and I would only recommend it if you're an experienced and confident driver.
It is also possible to get to El Paredon by chicken buses (low-cost public transportation used mostly by locals) but it takes a lot longer, is more uncomfortable and is not considered a safe option.
Antigua to El Paredon
The drive from Antigua to El Paredon takes about 2.5 hours and costs around 145 GTQ per person for a shared shuttle.
Lake Atitlan to El Paredon
From Lake Atitlan, the shuttles to El Paredon usually depart from Panajachel and San Pedro La Laguna. The journey takes around 4 hours and the shuttle price is around 180-215 GTQ per person. Apparently, it's a pretty bumpy ride so bring some anti-nausea medication with you if you tend to get motion sickness.
Guatemala City to El Paredon
From Guatemala City, it takes about 3 hours to drive to El Paredon on a good day. However, if you're doing the trip during the weekend as we did, it can easily take 5 hours because of the huge traffic jams along the way.
The price for a shared shuttle from Guatemala City to El Paredon is around 225 GTQ per person and in most cases, there is a stopover in Antigua.
---
FAQ about visiting El Paredon
Is El Paredon worth visiting?
El Paredon is definitely worth visiting if you're into surfing and you like to spend time at the beach. It's one of the best surf spots in Guatemala and the entire Central America! Besides surfing, this little beach town is a great destination for backpackers that want to meet and party with other travelers.
It is also worth visiting if you're looking for some peace and quiet, and want to get away from the crowds since there's a variety of quiet and more secluded accommodation options available.
On the other hand, if you're looking for a place with lots of tourist attractions, upscale hotels and fancy restaurants, El Paredon is probably not for you since you won't find these things there.
How long to spend in El Paredon?
I would say three days is a good amount of time to spend in El Paredon. This will give you enough time to relax on the beach, take a surfing lesson, enjoy the nightlife, perhaps take a yoga class and do a few of the tours I listed above.
With that said, if you're not short on time, you could easily spend a week just relaxing in a hammock, chilling in a pool and taking in the tropical vibes.
El Paredon weather and best time to visit
The best time to visit El Paredon is during Guatemala's dry season, which runs from November to April. If you visit during the rainy season, which runs from May to October, you can expect to see heavy downpours daily. However, these downpours are usually short and happen in the evening or at night.
The temperatures in El Paredon are consistently high throughout the year, with daily highs between 32-34°C (90-93°F) and lows at around 25°C (77°F). The sea temperature also stays stable at a very warm 29-30°C (84-86°F).
In terms of surfing, the best time to visit El Paredon is also the dry season as the waves are too big throughout the rest of the year.
---
A map of the town
On the El Paredon map below, you'll find the main points of interest as well as the hotels and restaurants I mentioned in this blog post. Click on the icon in the top left corner of the map for more details.
---
And that's it! I hope this El Paredon travel guide gave you an idea of what to expect when visiting this cool surf town. It's very different from any other place you're likely to visit in Guatemala and if you're a beach bum like me, I highly recommend adding it to your itinerary!
Be sure to also check out my other Guatemala blog posts:
Enjoyed reading about El Paredon, Guatemala? Pin it!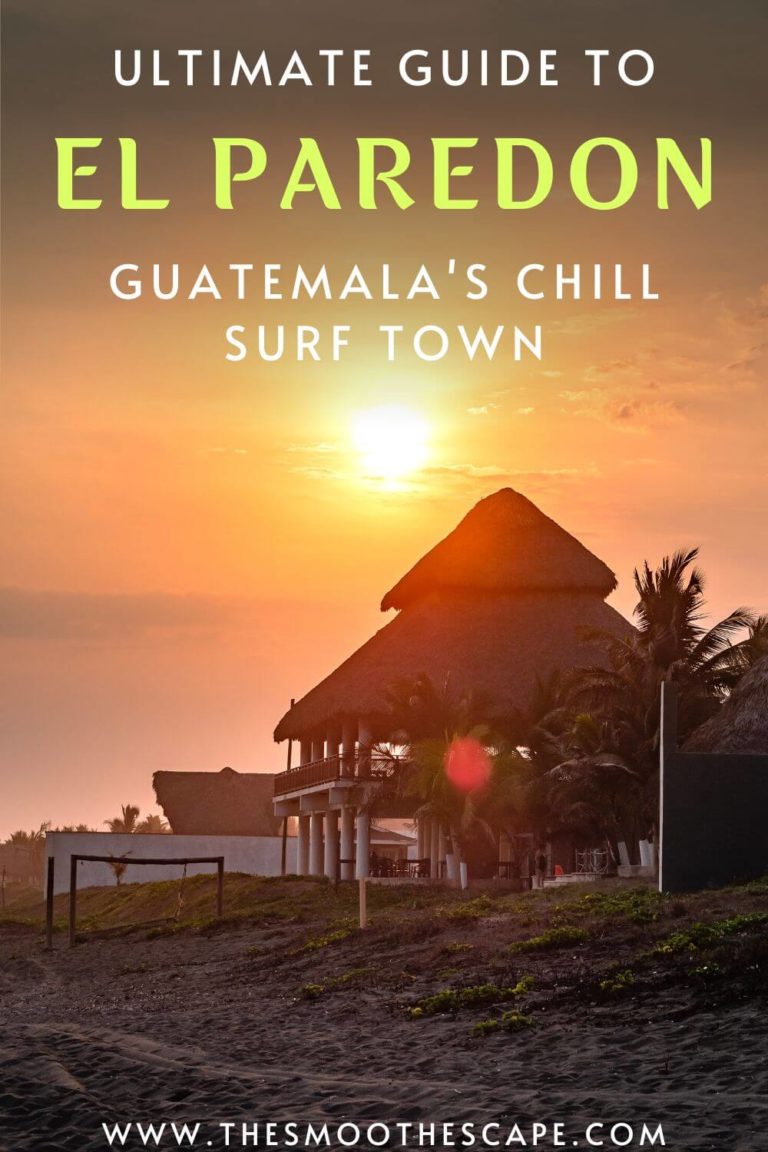 READ MORE: