Hidden deep in the jungles of northern Guatemala, the ancient Mayan city of Tikal is a fascinating archaeological wonder and a UNESCO World Heritage Site. It was the heart of the Mayan Empire and is home to an array of awe-inspiring temples and pyramids.
No trip to Guatemala is complete without visiting Tikal. Walking among these thousands of years old ruins amidst a spectacular wildlife-filled rainforest is an experience that will be etched in your memory forever. It was without a doubt one of the highlights of my Guatemala trip and I'm so glad that I made the journey to visit this magical place.
In this blog post, you'll find everything you need to know to visit Tikal, including my tips on how to get there, the best time to visit, how much you should expect to pay, where to stay, which tours to take and much more.
Disclosure: This article contains affiliate links from which I may make a commission at no additional cost to you if you make a purchase.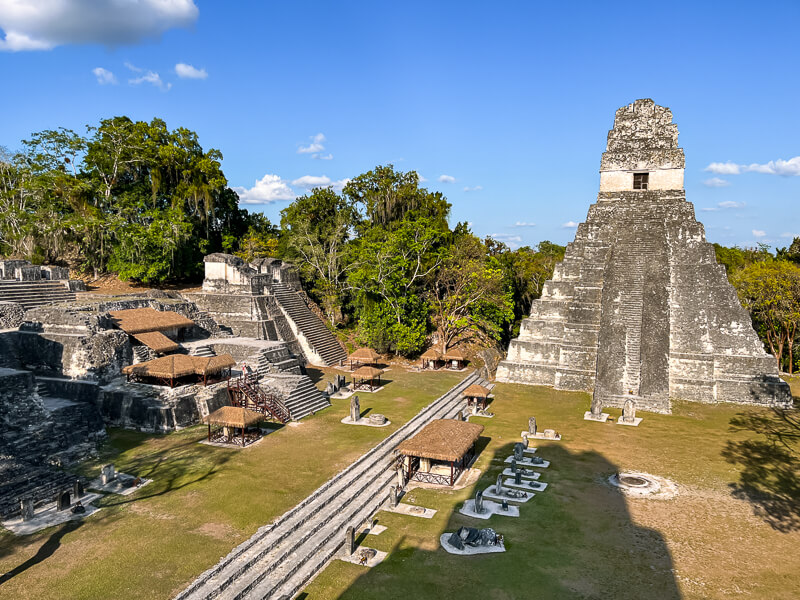 ---
The history of Tikal
In order to truly appreciate the significance of Tikal, it is helpful to know a bit about its history.
Tikal was the capital of one of the most important kingdoms of the ancient Mayan Empire. It is believed that the area was inhabited by the Maya as early as 900 BC whereas the city reached the peak of its glory in the 8th century AD.
It is believed that at its height, Tikal had a population of up to 100,000, which makes it the largest city of the Maya civilization. By the end of the 9th century, however, Tikal fell into decline and was abandoned by its citizens, likely due to famine, droughts, epidemic diseases and overpopulation.
After its collapse, the city of Tikal was swallowed by the surrounding jungle and its buildings were buried under a layer of thick vegetation. In 1848 – almost 1000 years later – Tikal was officially re-discovered whereas excavation works only started in the 1960s.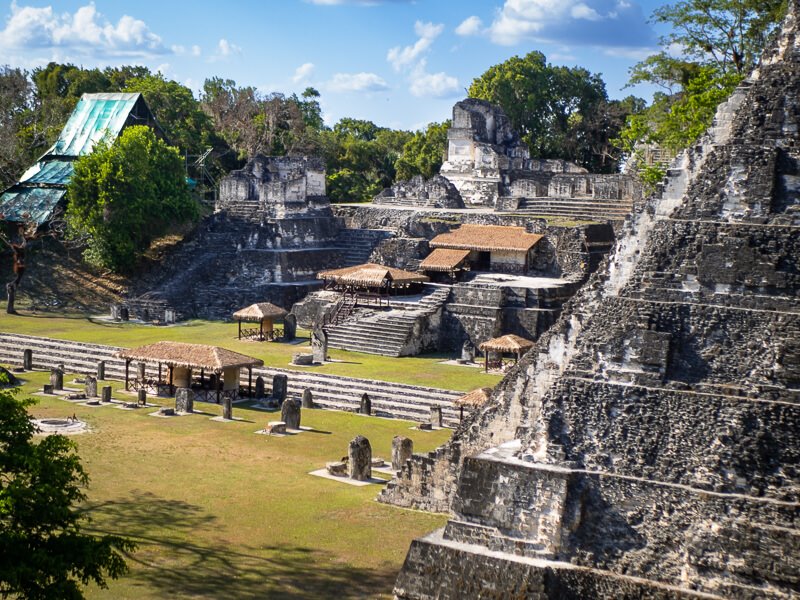 ---
FAQ about visiting Tikal
Is Tikal worth visiting?
100% yes! Tikal is definitely worth visiting and should be on every traveler's bucket list. There are many Mayan sites in Guatemala but Tikal is without a doubt the most impressive one. It was one of the most important cities of the Mayan world after all! With its ancient ruins, lush rainforest teeming with wildlife and the mystical aura that fills the air, Tikal is a place that will leave you awestruck.
It's easily one of my favorite archaeological sites in the entire world and I've been to quite a few of them.
Is Tikal safe?
Yes, Tikal is very safe to visit. During my visits, there wasn't a single moment where I felt unsafe. It's probably one of the safest places to visit in Guatemala. Even if you're a solo traveler, you'll be totally fine.
The main thing to be aware of regarding safety in Tikal is that you shouldn't wander off the beaten path into the thick jungle without a guide. It's easy to get lost in the forest if you venture off the trail and unfortunately, there have been some cases where tourists went missing in Tikal.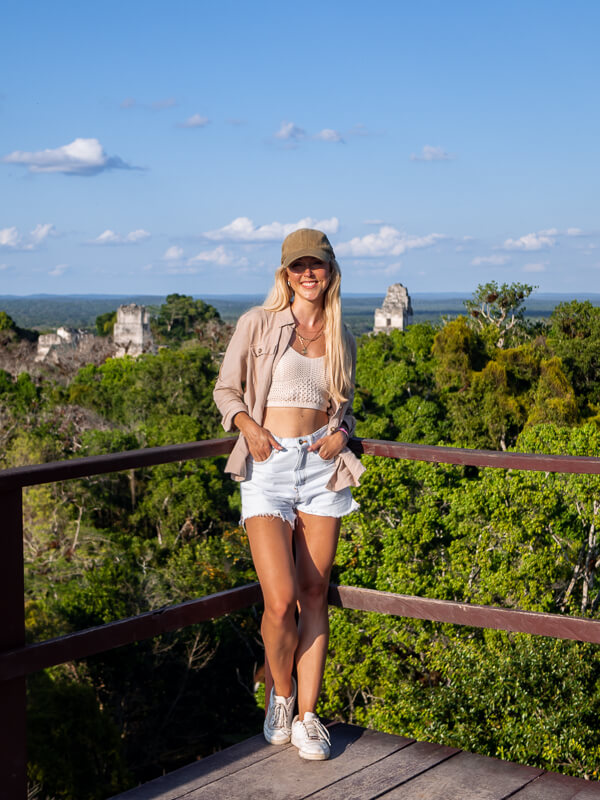 How many days should I spend in Tikal?
I highly recommend spending at least two days in Tikal. The park is huge and there's so much to see. Although some people say that you can easily visit the ruins of Tikal in a day, I felt that after one day I only scratched the surface of what this magnificent site has to offer.
In fact, I enjoyed Tikal so much that I visited it three times over the course of two days and I still wished I had even more time to explore it. Every time I went to the park, I discovered something new – a hidden pyramid buried under vegetation, a wild animal wandering around the forest or a new trail I hadn't walked yet.
If you want to spend several days in Tikal, the best way to do it is to stay at one of the hotels inside Tikal National Park. I will go into more detail on where to stay in Tikal later in this post. If you can only spend one day in Tikal though, it's still worth it!
Take a look at my 10-day Guatemala itinerary to get an idea of how to include Tikal in your travel plans.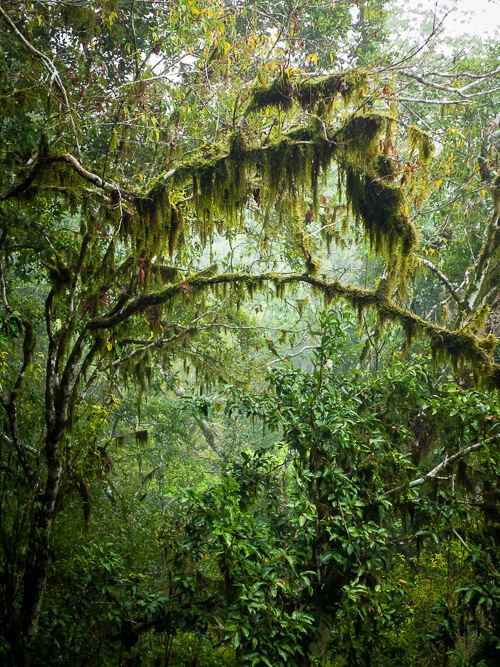 Can you climb the Mayan ruins of Tikal?
Yes, you are allowed to climb some of the Mayan pyramids in Tikal. Just pay attention to the signs in front of each temple that indicate whether you're allowed to climb it or not. They are there both for your safety and to preserve the fragile ruins.
In the past, you had to climb up narrow limestone steps on the side of the temples but now wooden staircases have been built which not only makes it easier but also safer to climb the temples.
Although there are a lot of steps to reach the top of some of the temples, it's a wonderful experience and one of the best things to do in Tikal. You'll get to enjoy fantastic views of the ruins and the seemingly endless jungle around you.
The temples that you can climb in Tikal are Temple II, Temple IV and the Lost World Pyramid (Mundo Perdido).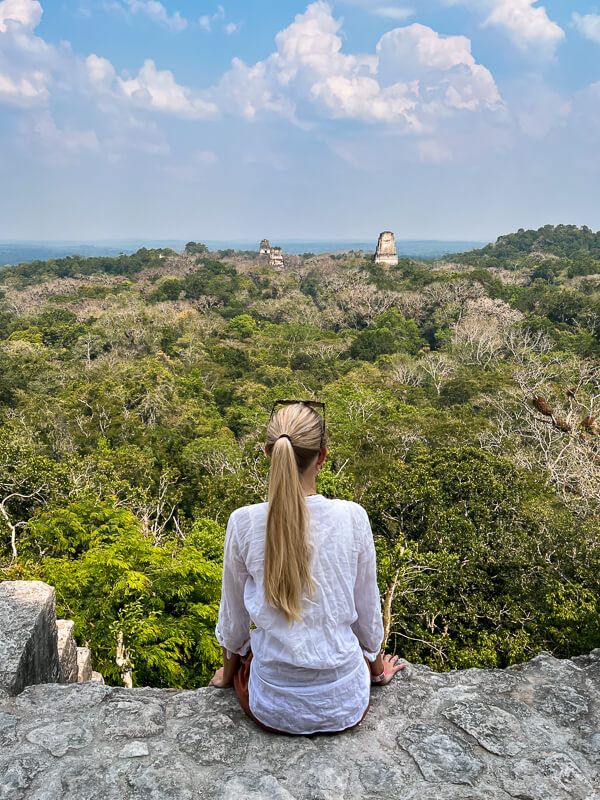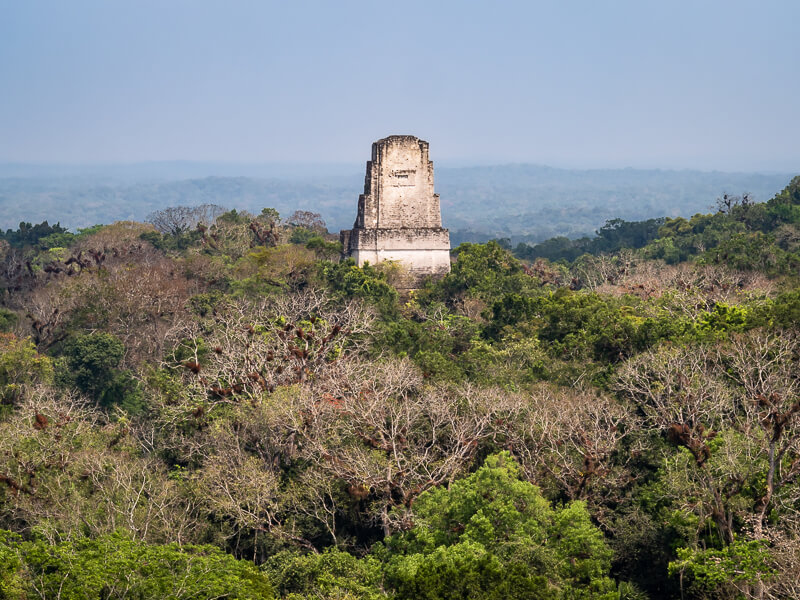 ---
Best time to visit Tikal
One of the most important factors to consider when deciding when to visit Tikal National Park is the weather. Guatemala has two distinct seasons – rainy and dry. If you want to avoid the rain, the best time to visit Tikal is during the dry season which runs from the beginning of November to the end of April.
While the weather in Tikal is hot and humid throughout the year, the rainy season brings daily long showers, which is not ideal as you'll be outside the entire time. Christmas and Easter are the busiest times of the year when accommodation prices are likely to be higher.
I visited Tikal in April, which is the hottest month of the year. During the day the heat was very intense, with the temperature reaching 37°C (99°F). I enjoyed it though!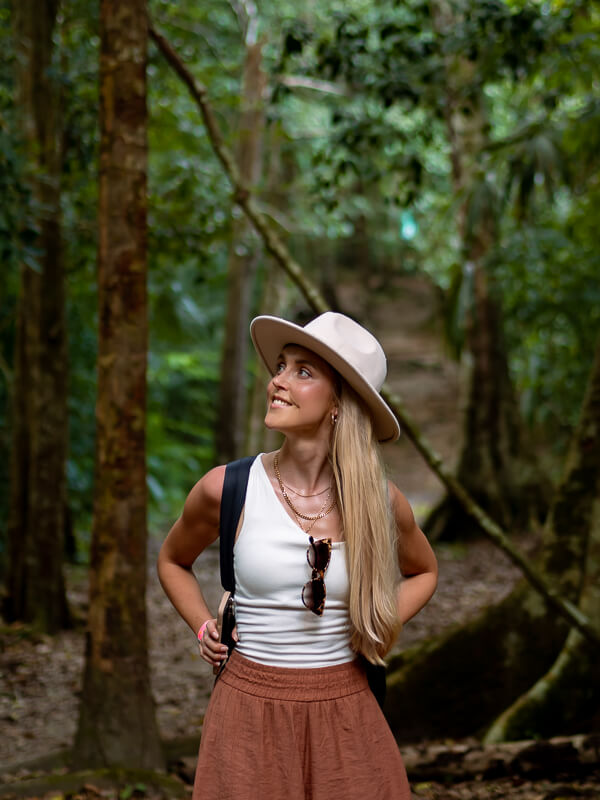 If you're someone that doesn't do well in heat, the best time to visit Tikal for you is from November to February when the weather is slightly cooler. Also, avoid the midday heat by visiting the site early in the morning or late in the afternoon before the park closes.
On Sundays, locals have free access to the Tikal ruins so you can expect to see slightly bigger crowds. However, I don't think Tikal ever gets super crowded – not even close to what it's like at Chichen Itza in Mexico – so it shouldn't be a problem to visit on a Sunday. It really surprised me how few people there were in Tikal during my visits.
---
Tikal entrance fee
The entrance fee to Tikal is 150 GTQ, which is roughly 20 USD. If you'd also like to visit the park during sunrise or sunset (which are both outside of the park's opening times), you have to buy an additional ticket for 100 GTQ and you have to have a guide. I will explain more about the Tikal sunrise and sunset tours later in this post.
From 2023, you can finally buy Tikal tickets online, which saves you time and is a lot more convenient than queuing at a ticket booth. The site is in Spanish but with the help of Google Translate, it's pretty easy to figure it out. You'll receive the tickets via email and will have to present them when entering the park.
Be sure to buy and download your tickets before heading to Tikal since the cell phone signal around the park is weak. You can also buy tickets in Banrural bank offices across Guatemala, at the airports of Guatemala City and Flores or at the entrance to Tikal National Park.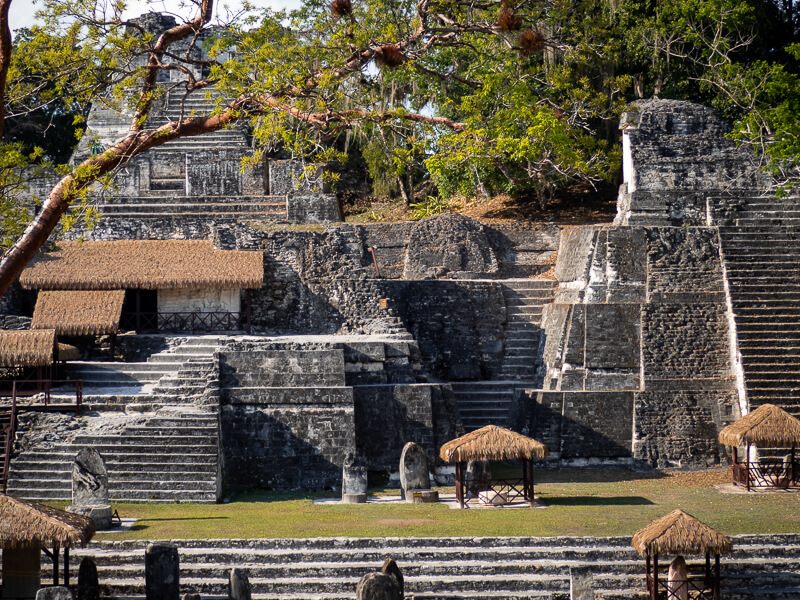 ---
How to get to Tikal
Even though Tikal is situated in quite a remote area in northern Guatemala, close to the border with Belize and Mexico, getting there is not overly complicated.
First, you need to get to Flores, which is known as the gateway town to the Mayan city of Tikal and is located 65 km (40 mi) from the park. Flores has its own airport, Mundo Maya International Airport, which receives several flights per day from Guatemala City. The flight takes just one hour.
Alternatively, you could drive or take a shuttle to Flores, but it takes 9-12 hours from Guatemala City or Antigua.
From Flores, you can get to Tikal by taking a shuttle bus, joining a tour (see my recommendations further down) or driving there yourself. If you'll be staying at one of the hotels in Tikal National Park, they can arrange the transport for you.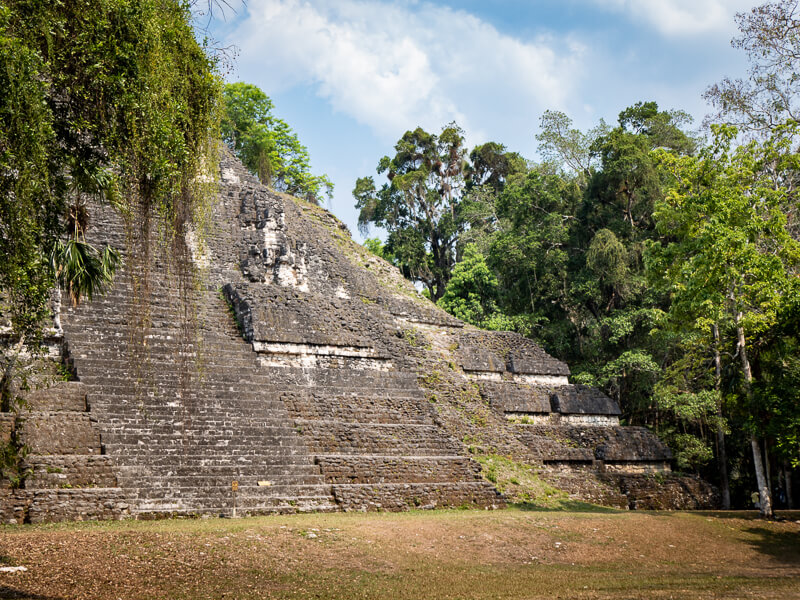 RELATED POST: Want to relax on a beach and perhaps catch some waves with a surf board? Then check out my travel guide to El Paredon, a laid-back beach town on Guatemala's Pacific coast.
---
Do I need to hire a guide for Tikal?
You might be wondering whether it's better to hire a guide to visit Tikal or explore on your own. My recommendation is to do both.
For example, you could take a guided Tikal sunrise tour and then stay in the park after your tour to explore independently. Or you could explore the park on your own during the day and then take a guided sunset tour. Or do a guided tour one day and explore on your own the next day.
By combining these two options, you'll get valuable information about the history of Tikal from your guide but also have the freedom to explore at your own pace and visit any part of the park you want. The best way to do this is to stay at a hotel inside Tikal National Park as this gives you the flexibility to visit the ruins when you want as you won't be dependent on shuttle schedules.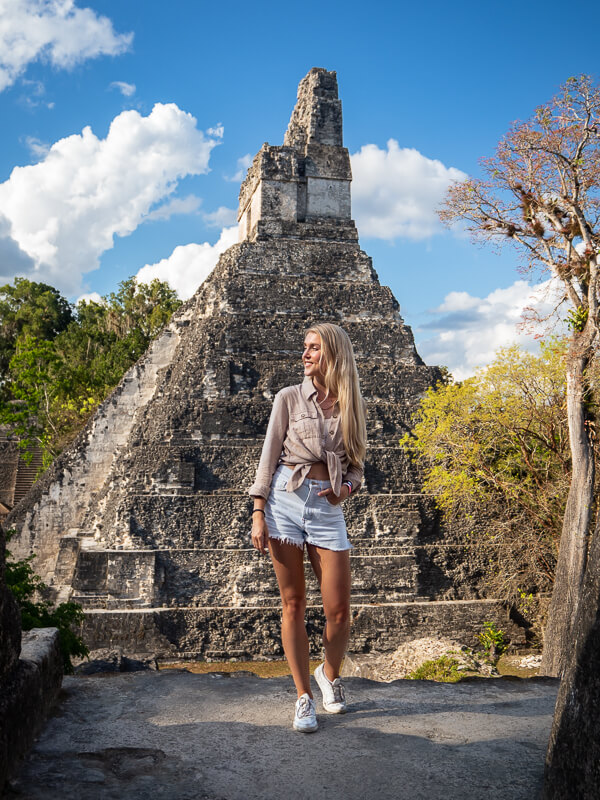 ---
Best Tikal tours
If you prefer to just visit Tikal in one day and can't be bothered to deal with all the logistics, consider taking one of these day tours where everything is organized for you:
Sunset and sunrise tours in Tikal
The sunrise or sunset tours can usually be booked through your accommodation or through any tour agency in Flores. The sunrise tours usually depart around 3am from Flores or 4am if you're staying at a hotel in Tikal. The sunset tours depart around 12pm-2pm. If you prefer to have a private sunrise tour and want to book it online, you can do so here.
I did the sunrise tour, which I booked through Jungle Lodge, the hotel in Tikal that I was staying at. Equipped with flashlights, we started our tour at 4am by walking through the misty pitch-black jungle. On the way, we stopped at a few pyramids where our guide told us about their history and significance to the ancient Mayans.
Then we arrived at the mighty Temple IV, climbed to the top of it and waited for the sun to rise. As we were waiting, we could hear the sounds of the jungle waking up – a mix of the echoing roars of howler monkeys and the calls of various birds.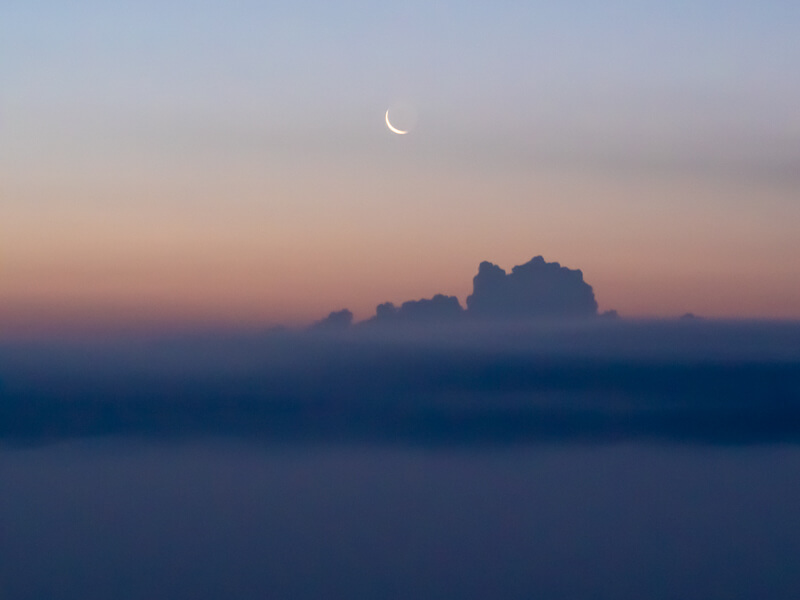 We didn't get to see an actual sunrise because a cloud of mist rolled in and blocked the view, which apparently happens on most of the mornings. Nevertheless, it was such a magical and serene experience to sit on top of this ancient pyramid and hear the rainforest come to life. It made me feel an incredible sense of awe and appreciation for this amazing planet that we get to live on.
On our way back to the hotel, we spotted a toucan, a woodpecker, a fox and an agouti.
All in all, if your main goal is to see a dramatic colorful sunrise over Tikal, the sunrise tour might disappoint you because there will be mist covering the view on most of the mornings. There's a better chance of having clear skies during a sunset tour. Nevertheless, I enjoyed my sunrise tour despite the misty views!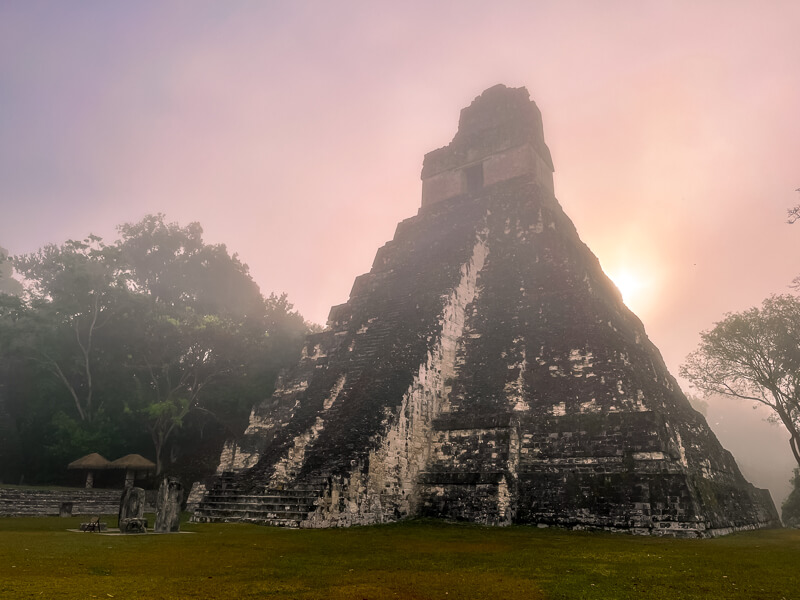 RELATED POST: If you're planning to visit Lake Atitlan and want to see an incredible sunrise over this beautiful lake, read my guide to hiking the Indian Nose mountain.
---
Where to stay when visiting Tikal
Most people that visit Tikal stay in the town of Flores, 65 km (40 mi) from the ruins. There's a variety of accommodation options to choose from in the town, ranging from budget-friendly places (like Los Amigos Hostel) to mid-range options (like Hotel Isla de Flores) and luxury ones (like the stunning Bolontiku Boutique Hotel, just a quick boat ride away from the town).
However, for a more special experience, I recommend staying 1-2 nights at a hotel inside Tikal National Park. There are only three hotels here and they're all located just a short walk from the Tikal ruins. The three hotels are:
Jungle Lodge Tikal – If you love the jungle, this hotel is like a dream come true. I spent two nights here and totally fell in love with this place. Nestled in the lush rainforest, just steps away from the ruins, this hotel has gorgeous bungalows, a swimming pool and a restaurant. My luxurious bungalow even had a private garden with a jacuzzi. They also offer cheaper hostel-style accommodation for those traveling on a budget.
Hotel Tikal Inn – Not quite as pretty as the Jungle Lodge but still looks like a lovely place to stay. There's a swimming pool and rustic bungalows with thatched roofs.
Hotel Jaguar Inn Tikal – A small simple hotel consisting of 13 bungalows. There's no pool though.
There is also the option of camping in Tikal. The campground is located just by the park entrance and it costs 50 GTQ per person. There you can rent a hammock or a tent or bring your own.
---
The highlights of visiting Tikal: Best ruins to visit
There are many impressive Mayan temples, pyramids and other structures to see in Tikal but here are the places you definitely shouldn't miss:
Gran Plaza – This is the main square and the core of Tikal. It is surrounded by Temple I, Temple II, North Acropolis and Central Acropolis:
Temple I – Also known as the Temple of the Great Jaguar, it is perhaps the most famous temple in Tikal and was a tomb for King Jasaw Chan K'awiil I. It has a height of 47m.
Temple II – Another name for it is the Temple of the Masks and it is 38m tall. Be sure to visit the viewing platform on top of it for the best views of Gran Plaza and Temple I.
North & Central Acropolis – A maze of ruins, consisting of tombs, courtyards and smaller temples; the former was the center of funerary activity and the latter was a residential area.
Temple IV – The 70m tall Temple of the Double-Headed Serpent is not only the tallest temple in Tikal but also one of the tallest temples ever built by the Mayans. Climbing up to the viewpoint on top of it is a must.
Mundo Perdido – Spanish for 'Lost World', this complex is also known as the Great Pyramid Plaza and consists of several structures and twin pyramids. The Lost World Pyramid is the oldest in Tikal and offers panoramic views from the top.
Temple V – With a height of 57m, this is the second-highest temple in Tikal and has steep moss-covered steps.
---
Animals in Tikal
The jungles of Tikal National Park are home to a large variety of wild animals and there's a high chance that you'll meet some of them while exploring the ruins!
When I was visiting Tikal, I saw coatis, howler monkeys, spider monkeys, toucans, macaws, woodpeckers, a deer, a fox, an agouti and an ocellated turkey. There are also jaguars and pumas living in Tikal National Park but you'd have to be incredibly lucky to spot them since they're very elusive animals.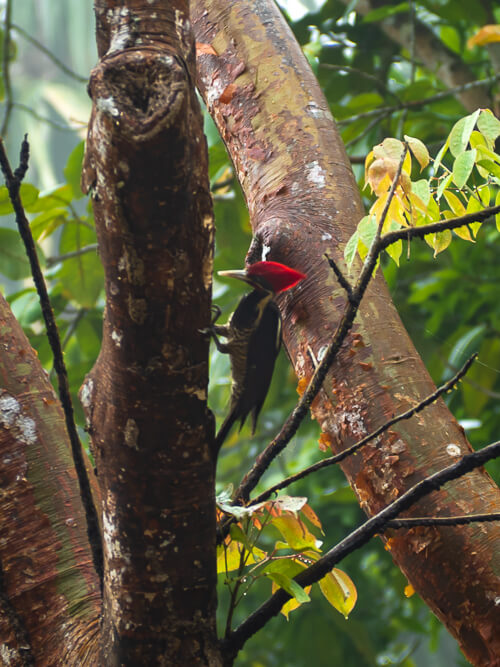 Also, keep an ear out for the incredible call of the Montezuma Oropendola bird! It's absolutely fascinating and sounds like an entire choir of birds, not just one.
Although most articles tell you that the best time to see wildlife is early in the morning (i.e. on a Tikal sunrise tour), my experience was different. Most of the animal encounters I had were during the day.
Also, remember that you shouldn't feed or touch any wildlife in Tikal, especially the coatis who are unfortunately often fed by uneducated visitors and have therefore become habituated to humans.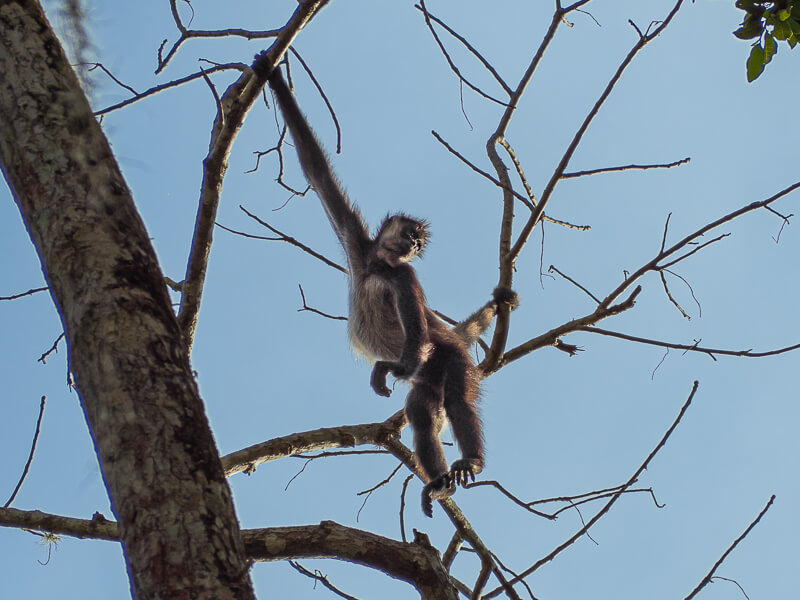 ---
Facts about Tikal
Here are some interesting facts about Tikal:
The original name of Tikal is believed to be Yax Mutal.
The name Tikal was given to the site by archaeologists when it was discovered and it means 'the place of voices' in the Itza Maya language. Another interpretation of the meaning of Tikal is 'at the waterhole'.
Tikal is a part of the

Maya Biosphere Reserve

, which covers 1 million hectares and was created to protect the rainforests of northern Guatemala.
Only 15% of Tikal has been excavated. The vast majority of the structures in Tikal are still covered by a layer of dirt and vegetation.
Tikal was used as the filming location for one of the Star Wars movies (Episode IV – A New Hope).
Thanks to modern technology, a few years ago it was discovered that there are

far more ruins around Tikal

than was previously known and that the city was a part of a huge Mayan metropolis.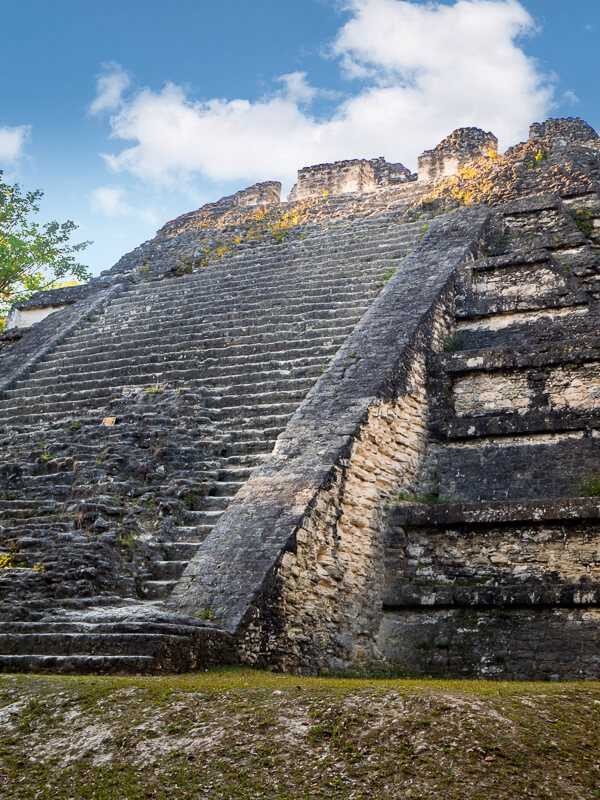 ---
Map of Tikal
On the map below, you'll find the main points of interest in Tikal as well as the hotels inside the national park. Click on the icon in the top left corner of the map for more details.
---
Final tips for visiting Tikal
Wondering what to wear to Tikal? Choose light and breathable clothing because it's very hot and humid. Also, wear comfortable footwear, such as trainers or hiking shoes because the ground is uneven and you'll be doing a lot of walking.
Bring mosquito repellent. Although we didn't see any mosquitoes in Tikal, others have seen a lot. It might be dependent on the season. Better to be safe than sorry.
If you're visiting Tikal without a guide, be sure to have a map with you – either a physical or a digital one (best to have both). Since it's difficult to find cell phone signal in Tikal, download the maps of the area on your phone before entering the park.
Bring your passport or a copy/photo of your passport, otherwise, you might be denied entry.
There are no restaurants inside the park but there are a few just outside the park entrance.
Bring cash! If you're planning to buy your entrance tickets at the park, be aware that they only accept cash. So do the small kiosks and restaurants just outside the park entrance.
If you're looking to visit other Mayan ruins in the area, consider taking a trip to the Yaxha archaeological site or the nearby

Uaxactun ruins

.
Flying drones is not allowed in Tikal. This is to avoid disturbing the bird population in the park.
---
Visiting the Tikal ruins is an unforgettable experience and one you definitely shouldn't skip on your trip to Guatemala! It's an ideal place to get to know ancient Mayan history and immerse yourself in the wonderful tropical nature of Guatemala.
I hope that you found this guide to visiting Tikal National Park helpful and that you'll enjoy your visit as much as I did.
Be sure to also read also my other blog posts about Guatemala:
Enjoyed reading about visiting Tikal? Pin it!
READ MORE: