Located in the Yucatan state of Mexico, Valladolid is a small colonial town and one of the most authentic places I've visited in Mexico! From exploring its picturesque streets and historical landmarks to tasting local food and swimming in otherworldly cenotes, there's no shortage of amazing things to do in Valladolid, Mexico.
Characterized by brightly colored houses and an interesting mix of Mayan and Catholic traditions, Valladolid is an ideal place to experience the genuine Yucatecan culture. It is also one of Mexico's 'Pueblos Magicos' (Magical Towns), a title awarded by the country's tourism department to towns with historical significance, natural beauty or cultural richness. If you're interested in history and culture, Valladolid should definitely be a part of your Mexico itinerary.
Despite its charm, Valladolid has somehow remained untouched by mass tourism. I loved wandering around those peaceful streets with almost no other tourists in sight and having a break from the pushy salesmen that are so common in many other Mexican towns.
If this sounds like something for you, read on to find out about the best things to do in Valladolid, Mexico!
Disclosure: This article contains affiliate links from which I may make a commission at no additional cost to you if you make a purchase.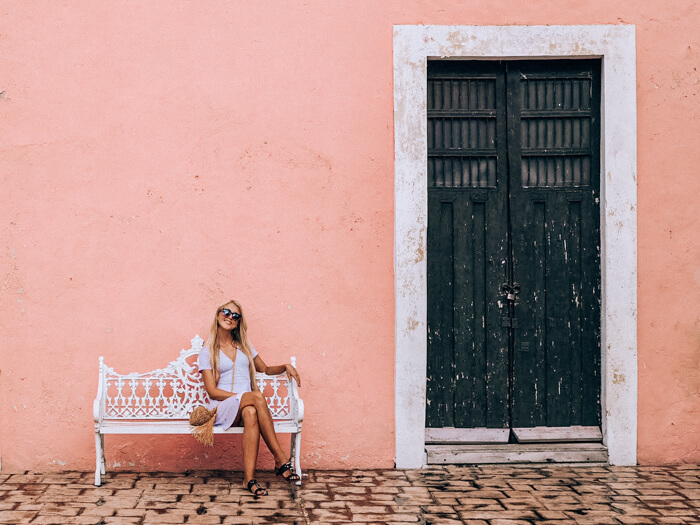 Best things to do in Valladolid, Mexico:
1. Admire the colorful colonial architecture
Since Valladolid is known for its vibrant colonial buildings, taking a stroll around the town to admire this beautiful architecture is surely one of the top things to do in Valladolid. I've even heard it being compared to Havana in Cuba because of all the quaint colorful houses (I've never been to Cuba though so I can't say if I agree or not).
Get lost in the charming cobblestone streets to find some hidden gems, snap Instagram-worthy photos of houses in every color imaginable, and get a glimpse of how the locals live in this magical town.
The Calzada de los Frailes street and the streets around the main square (Parque Principal Francisco Canton Rosado) are the prettiest areas in my opinion. There's something interesting to see around every corner!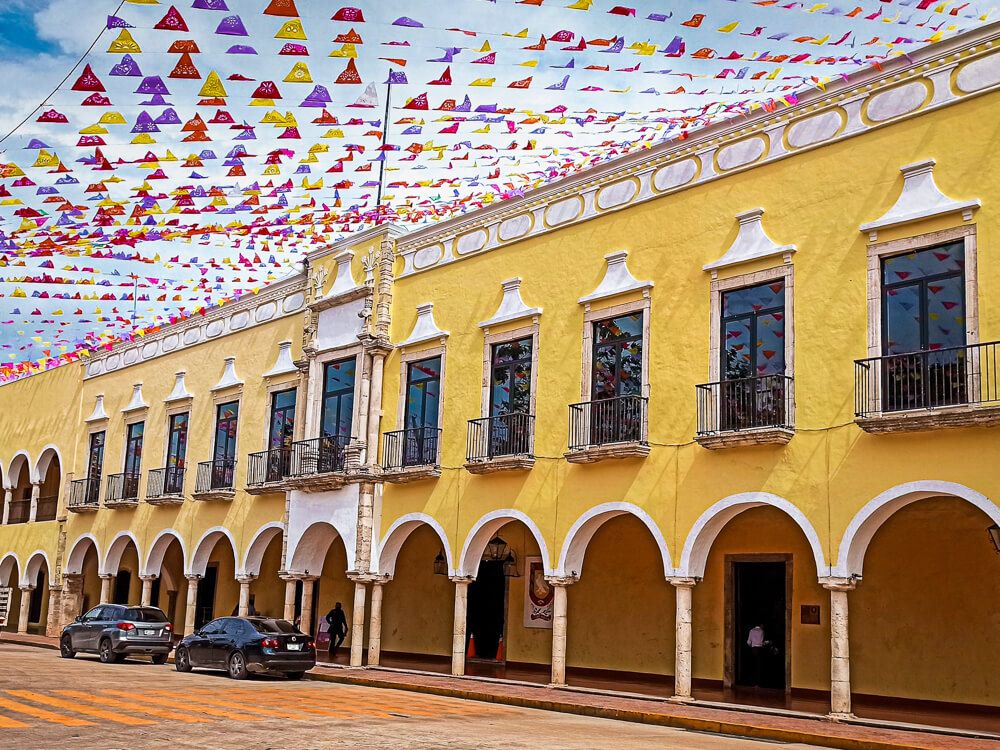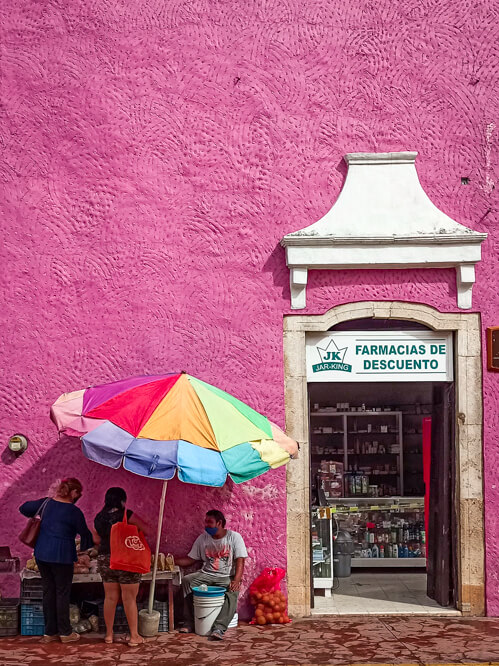 2. Take a dip in Cenote Zaci
Valladolid and its surrounding areas have been blessed with some incredible cenotes. These water-filled sinkholes are some of the most amazing natural phenomena I've ever seen! And Cenote Zaci really took me by surprise. I didn't have high expectations for this cenote since I hadn't seen it featured in blogs or social media but it turned out to be a really cool place!
What makes Cenote Zaci special is that it's located right in the middle of Valladolid town. Since it's a semi-open cenote, one half of it is covered and looks like a cave whereas the other half is open to the sky. Surrounded by beautiful green vegetation, it's like a piece of paradise hidden between city streets.
Due to its great location and super low entrance fee (1-2 dollars), it's a popular place for the locals to hang out. Based on my experience, it's not exactly a peaceful and quiet cenote but more like a place to have fun with your friends.
You can take a dip in the refreshing blue waters, dive from the cliffs (but see where the locals do it first), relax in the shallow man-made pools or simply admire this nature's masterpiece from ashore. Exploring Cenote Zaci is definitely one of the best things to do in Valladolid!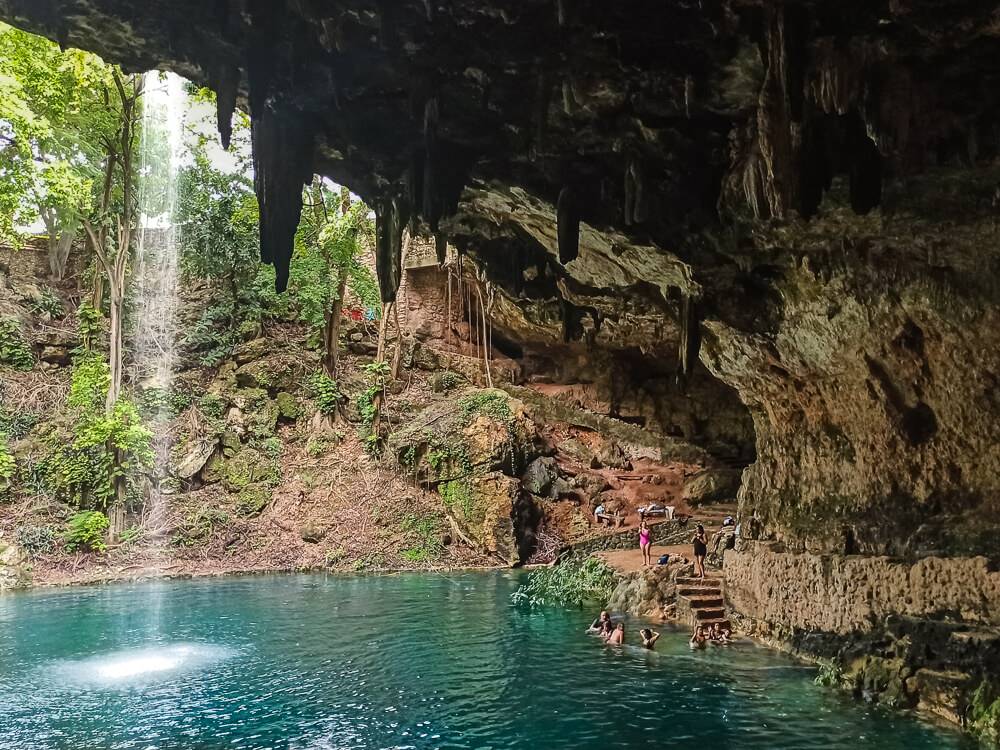 3. Stroll along Calzada de Los Frailes
The historic and colorful Calzada de Los Frailes is one of the most popular and well-maintained streets in Valladolid and a must-see for anyone visiting the town.
Running from the center of Valladolid towards the Convent of San Bernardino de Siena, this street is lined with cute restaurants, handicraft shops and interesting boutiques.
With all the pretty doorways, courtyards and houses painted in red, pink and orange, it's a truly photogenic place so make sure to bring your camera! There's even a restored traditional Mayan hut (Casa Maya) tucked between the picturesque colonial buildings which gives you an idea of how the Maya lived in the past.
Because of its aesthetics and lovely atmosphere, strolling along Calzada de Los Frailes is surely one of the top things to do in Valladolid.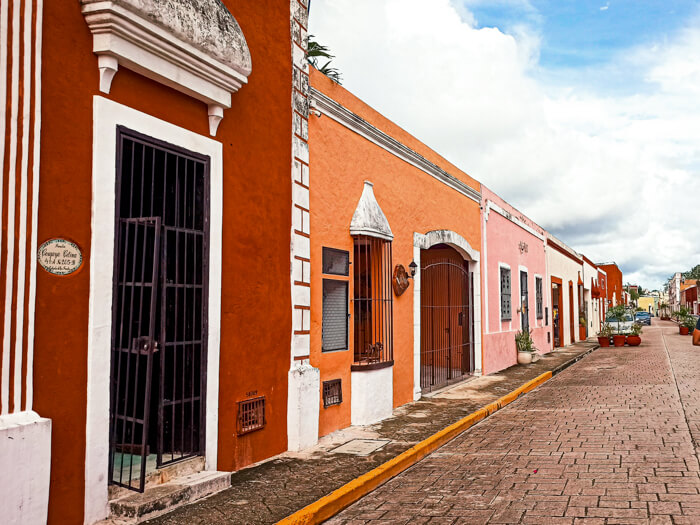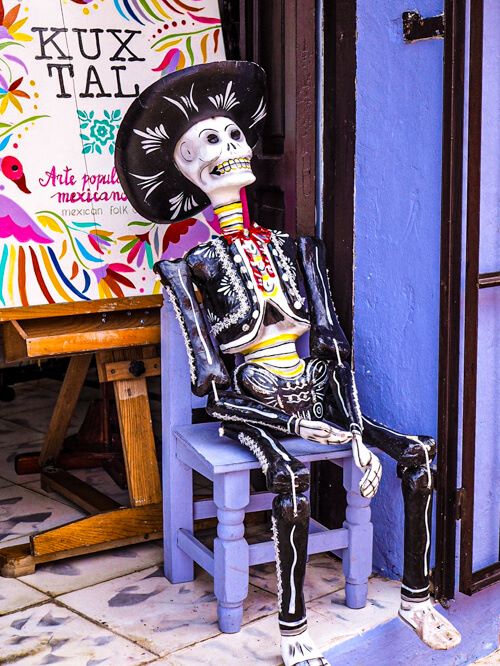 4. Explore the fascinating Cenote Oxman
Cenote Oxman is definitely one of the most beautiful cenotes in Valladolid and a place you really shouldn't miss when visiting this part of Mexico! Located in the grounds of Hacienda San Lorenzo, the cenote is just a 15-minute drive from Valladolid center.
With its beautiful emerald water and tall vertical walls, Cenote Oxman looks like a huge open well. Giant vines and tree roots stretch from the top of the cenote all the way down to the clear water, creating such a magical ambience. You can enter the water by taking a wooden staircase but there's also a cool rope swing which is so much fun and makes for some great photos. The water depth here is about 50 meters so you definitely won't see the bottom!
Like in most cenotes, you are not allowed to wear sunscreen or insect repellent and are encouraged to take a shower before going for a swim in order to preserve the delicate ecosystem.
The entrance fee is 150 pesos (7.5 dollars) per person if you want to visit only the cenote but the property also has a pool and some sunbeds which you can use for an additional fee.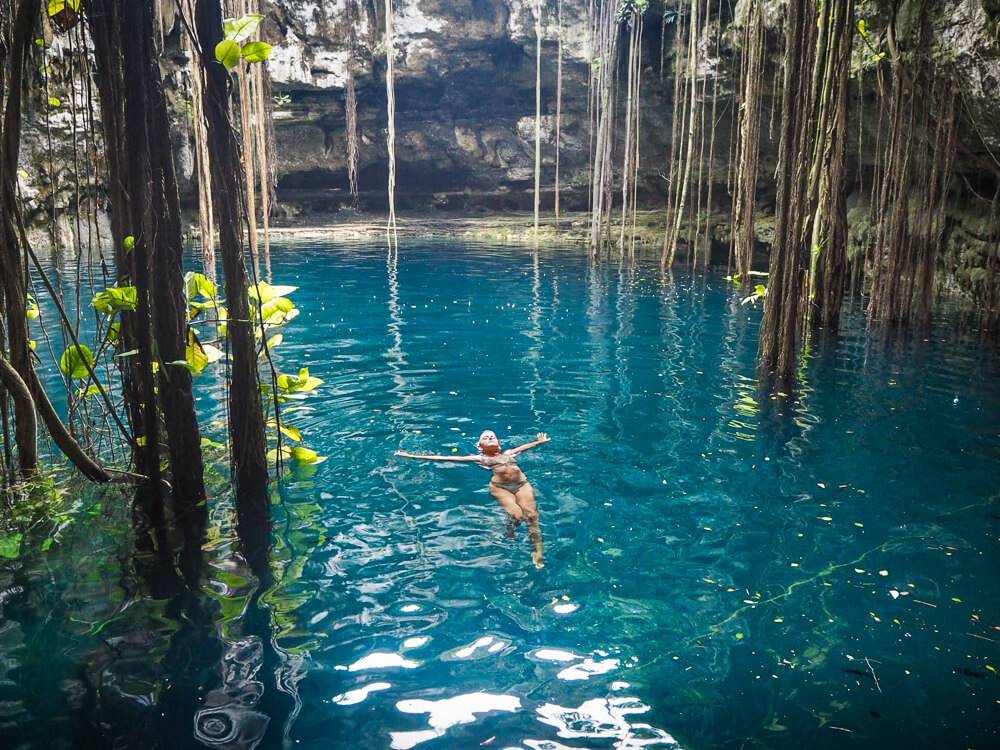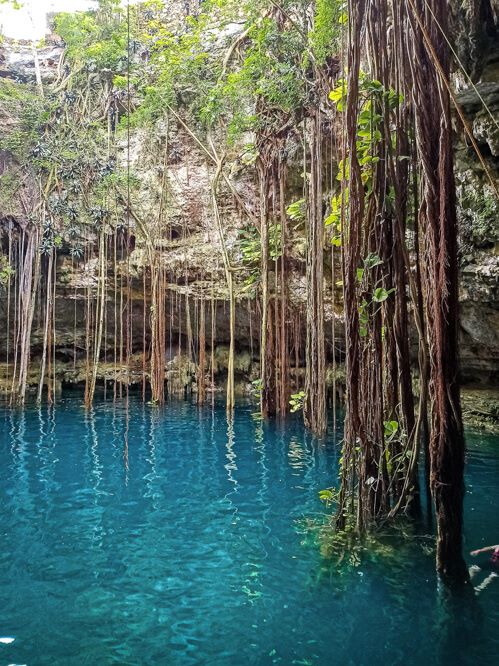 5. Eat your way through Valladolid
One of the best things to do in Valladolid is to indulge in some delicious Yucatecan food. From salbutes, panuchos and papadzules to sopa de lima, huevos motuleños and others, there's a wide variety of local dishes to choose from and vegetarian alternatives are often available as well.
Most of the restaurants are located around the main square (Parque Principal Francisco Canton Rosado) or on Calzada de Los Frailes. I recommend dropping by a cute restaurant called Las Campanas. We found the price-quality ratio there so good that we ended up going there twice during our stay in Valladolid. In general, eating out in Valladolid is much more affordable than in the more touristy areas of Mexico like Tulum or Playa del Carmen.
One of the places that we unfortunately didn't have time to visit but I've heard great things about is Hosteria del Marques restaurant. They offer a variety of regional food at affordable prices and the dining area is in a charming colonial courtyard – definitely one of the more Instagrammable restaurants in Valladolid.
In the evenings, many vendors gather at the main square to sell food that they prepare on the spot in their little carts. There you can buy tacos, corn, tortas (traditional sandwiches), churros and other snacks but the most popular food you'll find are marquesitas – thin crispy crepes filled with nutella and cheese. Odd combo, I know, but it actually tastes great!
P.S. Make sure to drink some agua de chaya, a juice made of a local version of spinach combined with some fruits. It's one of the most refreshing drinks I've ever had.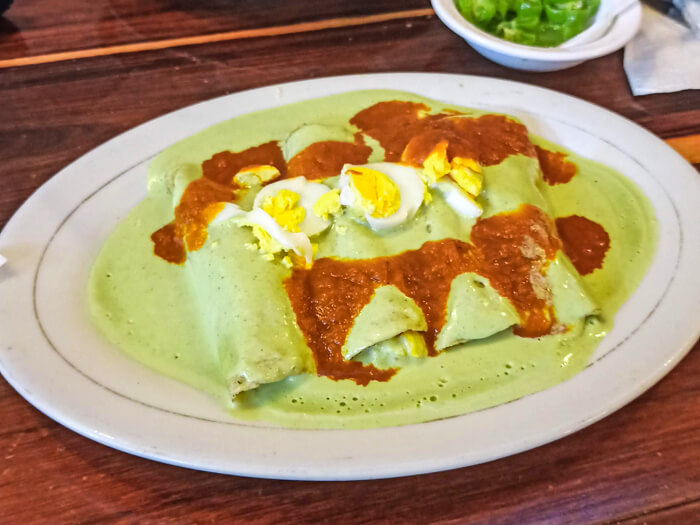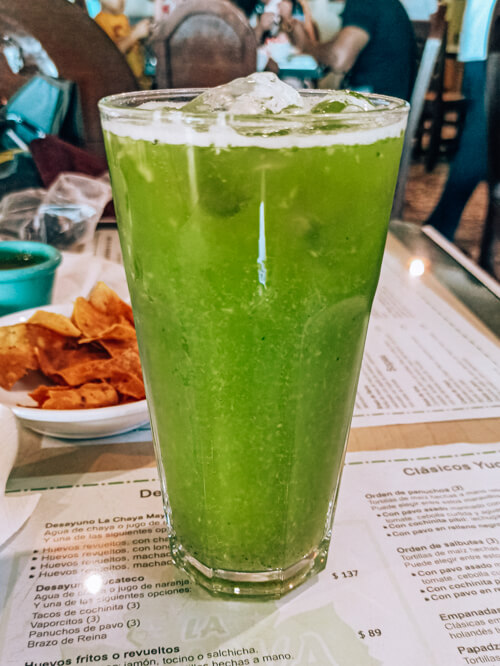 6. Marvel at Cenote Suytun
A 15-minute drive from Valladolid is the mesmerizing Cenote Suytun. Since this cenote is almost entirely covered, it is dark and mysterious with just a small beam of sunlight entering from the ceiling and illuminating the blue water below it.
You might recognize this place from social media because in recent years it has become a bit of an Instagram hotspot. There is often a long queue of people waiting to get the perfect shot. Therefore, it would be a good idea to come here early to avoid the crowds.
In the middle of the cenote, there's a platform, which is a perfect spot for photos but depending on the water levels it might not always be accessible. We were there shortly after the area had been hit by hurricanes and heavy rains, and the platform was about 4 meters underwater!
It is possible to swim in this cenote but you're required to wear a life jacket which is included in the ticket price of 120 pesos (6 dollars).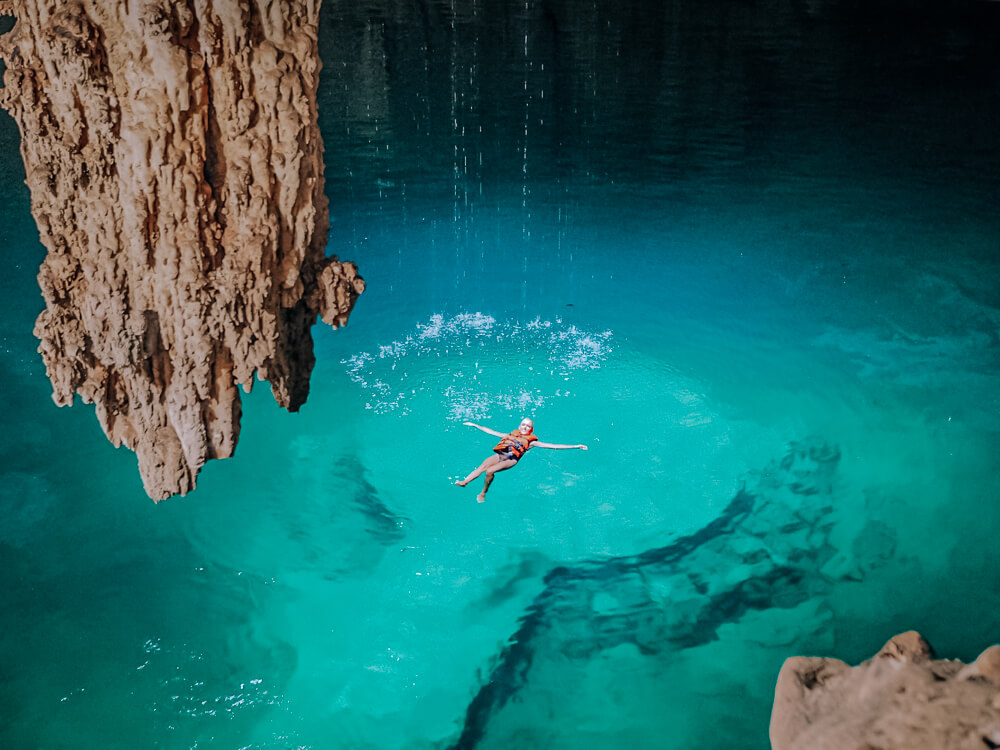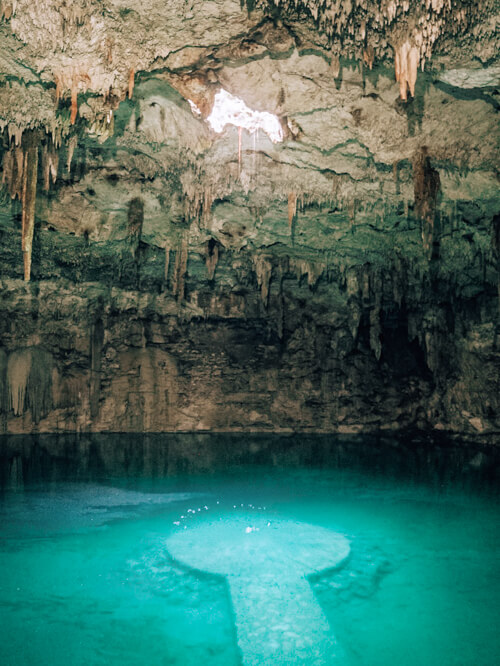 7. Visit Valladolid Municipal Market
For a truly authentic experience, head to the Municipal Market of Valladolid (Mercado Municipal), a place that is certainly off the typical tourist trail. That's where the locals do their shopping and you can expect to find clothes, jewellery, home decor, super cheap fresh fruits and vegetables, spices and many other products.
There's also a wide selection of local sweets made of marzipan, pumpkin seeds, coconut, peanuts, yuca etc. We bought a small bag of these sweets, which to be honest didn't taste amazing (sugar overload!), but it was a fun experience to sample some local food anyway.
In the southern part of the market, there are some taquerias and other inexpensive traditional eateries selling classic Yucatecan food.
P.S. The Municipal Market is located just one block from Cenote Zaci so it would be smart to visit both of them in one go.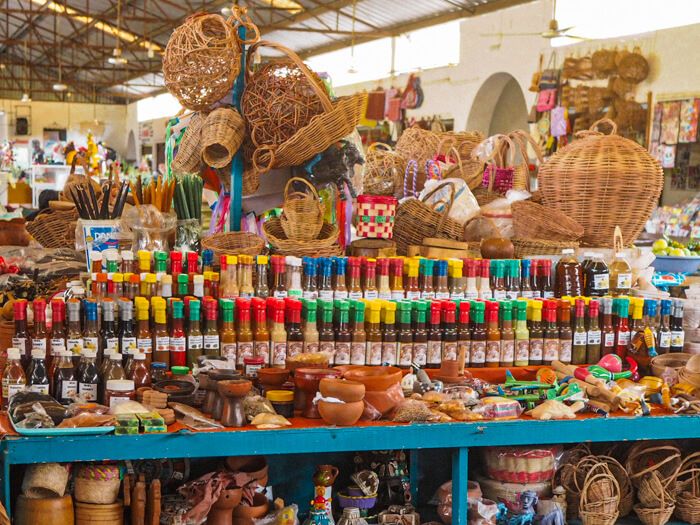 If you'd like to get a deeper understanding of the Maya culture and interact with some locals, you might be interested in this full day bike tour of Valladolid and its surroundings. During the tour, you'll visit the Municipal Market together with a local guide, meet Maya families, learn how to make tortillas and visit some nearby cenotes.
8. See the Convent of San Bernardino de Siena
About a 10-15 minute walk from Valladolid's main square is the former Convent of San Bernardino de Siena. We only admired this historical building from the outside, which I regret because I found out later that it has a beautiful pastel pink interior! The convent is quite big and you can explore its endless corridors, hidden staircases, a museum and a courtyard if you choose to go inside. The entrance fee is only a couple of dollars.
There used to be a sound and light show in front of the convent every evening around 9 pm. However, there was no show when we visited Valladolid. If you're interested in seeing it, I recommend contacting the local Tourism Information center or the convent to find out if and when they are displaying the show.
Also, make sure to snap some photos with the big colorful 'Valladolid' sign in Sisal Park right in front of the convent. Many towns in Mexico have similar signs so it's not something unique to Valladolid but it's a cool photo spot nevertheless!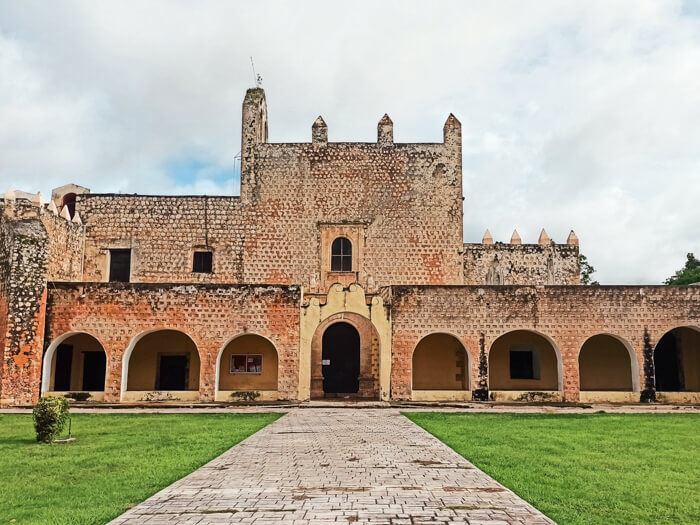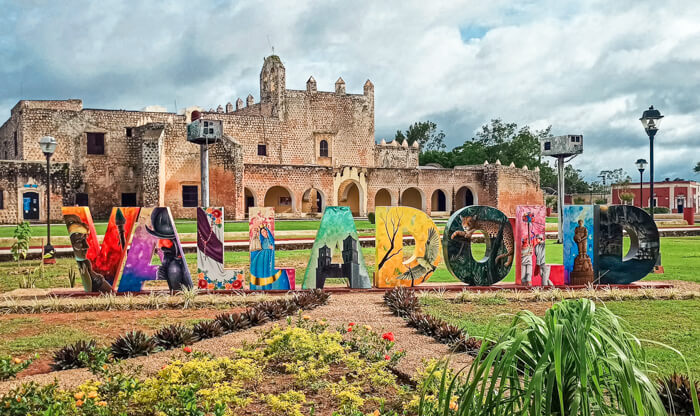 Day trips from Valladolid, Mexico
Due to Valladolid's location, it's a great hub for exploring the Yucatan Peninsula. Here are some ideas for day trips from Valladolid:
Chichen Itza:

Declared one of the New Seven Wonders of the World, this famous site boasts some of the best-preserved Mayan ruins. Visiting Chichen Itza is an absolute must on every Yucatan trip!


Izamal:

Known as the Yellow City, Izamal is a small historical town where all the buildings are painted in the same shade of yellow. It's a truly charming place where every corner is photo-worthy!


Las Coloradas:

This little seaside village is famous for its unique pastel pink lakes. The lakes are a part of a salt production business and the reason for the pink color is a particular type of algae living in the water.

While Las Coloradas looks absolutely stunning in the photos you find online, be aware that the lakes are not always pink – we visited them after the area had been hit by several hurricanes and heavy rains, and as a result, the lakes were grey and ugly without even a hint of pink in them. I recommend figuring out whether the lakes are pink before heading there.


Merida:

Merida is the capital of the Yucatan state and is known for its culture, cuisine and beautiful architecture. There are many museums, traditional markets and a vibrant restaurant scene to explore.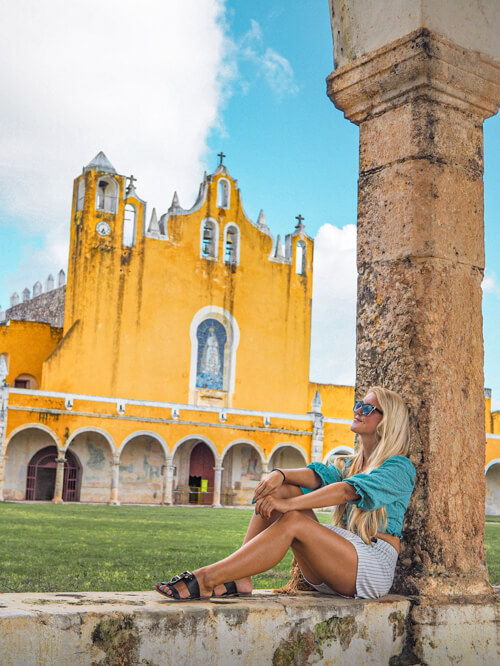 Things to do in Valladolid: final thoughts
I hope that this list of the best things to do in Valladolid inspires you to take a trip to this charming little town and get a taste of the more authentic side of Mexico.
Whether you're interested in historical landmarks, architecture, gastronomy or nature, there's no doubt you'll have a great time exploring Valladolid!
For more videos and photos of our trip to Valladolid, check out my Instagram account. (Look for the highlight called Mexico.)
Enjoyed reading about the best things to do in Valladolid, Mexico? Pin it!
READ MORE: