If you're planning a trip to Mallorca, make sure to spend some time in the beautiful authentic town of Soller. Situated near the northwest coast of Mallorca, the town sits in a lush valley full of orange trees and is surrounded by the UNESCO-listed Tramuntana mountains.
Thanks to its wonderful natural setting, quaint old town and rich history, there's an abundance of fun things to do in Soller. Besides being a charming destination in itself, Soller is also a great place to base yourself for exploring the surrounding towns, mountain villages, hiking trails and beaches on the northwest coast of Mallorca.
The town consists of two parts – Soller and Port de Soller (also known as Puerto de Soller). The former is a more authentic town with old-world charm and lies about 3 kilometers inland from the coast. The latter is a seaside resort town that extends along the shore of a beautiful sheltered bay and features a long sandy beach.
I visited the Soller area during my solo 7-day trip to Mallorca and it turned out to be my favorite part of the island. In this post, you'll find all my travel tips for visiting this lovely town, including the best things to do in Soller, how to get there and where to stay.
Disclosure: This article contains affiliate links from which I may make a commission at no additional cost to you if you make a purchase.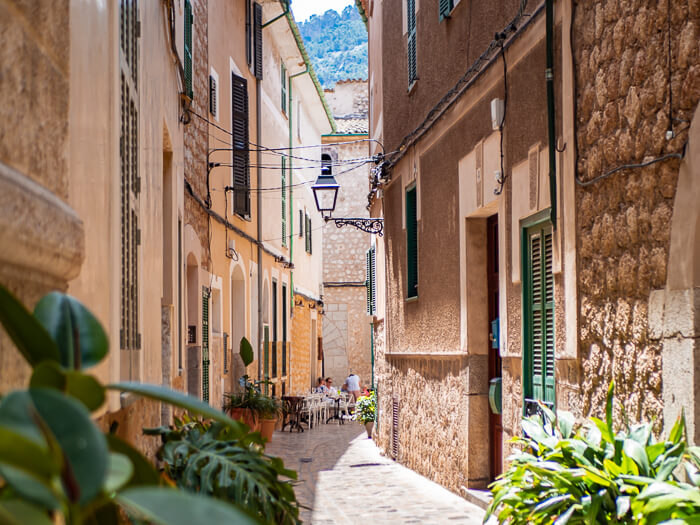 ---
How to get there
The old Soller train
There's no doubt that the most fun way to get to Sóller is to take the 100-year-old wooden train from Palma, the capital of Mallorca.
This historic narrow-gauge railway was opened in 1912 and is known as the Orange Express since it was originally used to transport oranges from Soller to Palma. Today, it is a tourist attraction, where you can experience traveling on board old wooden carriages and enjoy a scenic journey through the Tramuntana mountains.
Along the way, the Soller train passes numerous olive, almond, carob and citrus groves. If you happen to take the trip in February, you'll see the landscapes covered in white almond blossoms.
If you're short on time and want to experience the train ride and the main sights in and around Soller all in one day, consider taking this full-day tour of the Tramuntana region.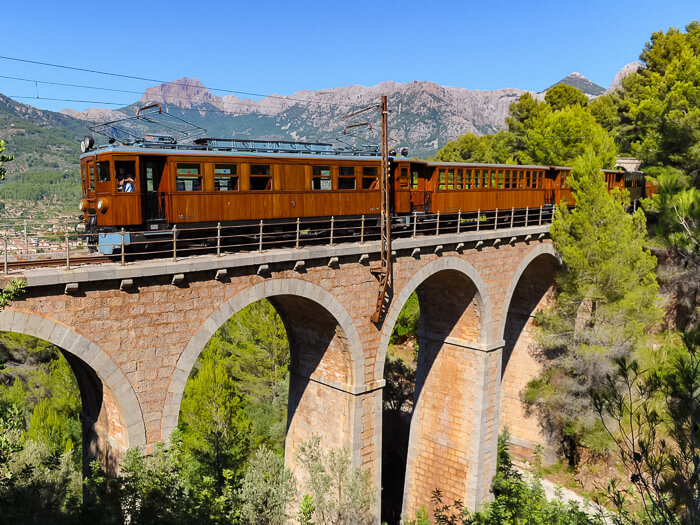 Bus
Getting from Palma de Mallorca to Soller by bus is very easy. Buses depart frequently from the main bus station at Plaça d'Espanya and the trip takes just 30 minutes. The ticket costs about 3 euros and you can buy it by tapping your contactless credit card when entering the bus.
Car
If you decide to rent a car, the drive from Palma to Soller takes a little over 30 minutes along the Ma-11 road. Driving in Mallorca is safe and the roads are generally in good condition. Just be aware that in some of the mountain villages streets can be very narrow and steep. Therefore, it's a good idea to rent the smallest car possible.
---
Best things to do in Soller
1) Explore the old town of Soller
One of my favorite things to do in Soller was to simply wander around the narrow alleyways of the old town and take in its beauty. Its winding cobbled streets are lined with tapas bars, bakeries and quaint buildings in Art Nouveau architectural style.
On the bustling Plaça de la Constitució, which is Soller's main square, you can find a variety of cafes and restaurants as well as the impressive Sant Bartomeu Church, the town's most famous landmark.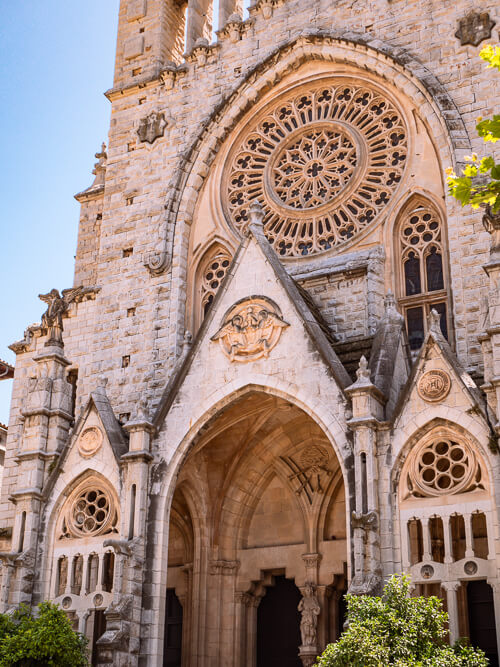 For an upscale dining experience, visit Ca'n Blau or Ca'n Boqueta restaurant. And if you're looking for something more low-key, head to one of the tapas bars such as Casa Alvaro or Sa Butigueta.
Every Saturday morning, the Soller market is held in the town center. Here you can expect to see a wide selection of local products such as fruit, vegetables, cheese, olive oil, jams, handicrafts and more. It's a great place for souvenir shopping in Soller.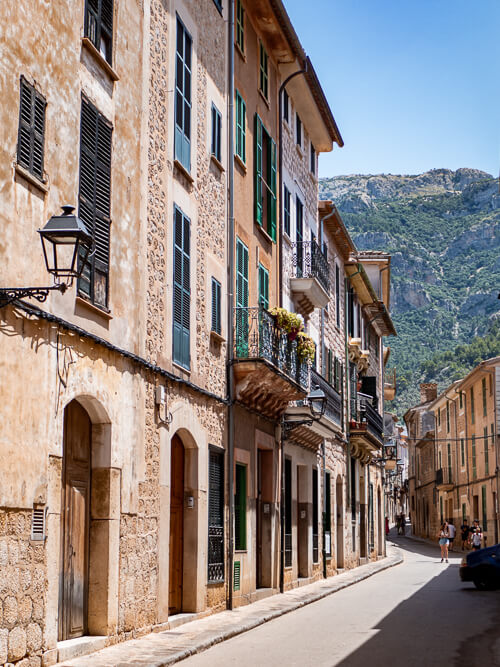 ---
2) Taste the Soller oranges
You can't visit Soller and not taste its famous sweet and juicy oranges! Enjoy a glass of freshly squeezed orange juice, indulge in some orange ice cream or orange jam or try the local orange liquor called Angel d'Or.
The town has been producing oranges for centuries and gained its wealth by exporting these delicious fruits to France in the 19th century. As you explore the valley of Soller, there are citrus trees everywhere you look!
A fun way to learn about the history of oranges in the region is to visit Ecovinyassa, a working citrus farm where you can get a tour of the orange groves and taste their fresh organic orange juice.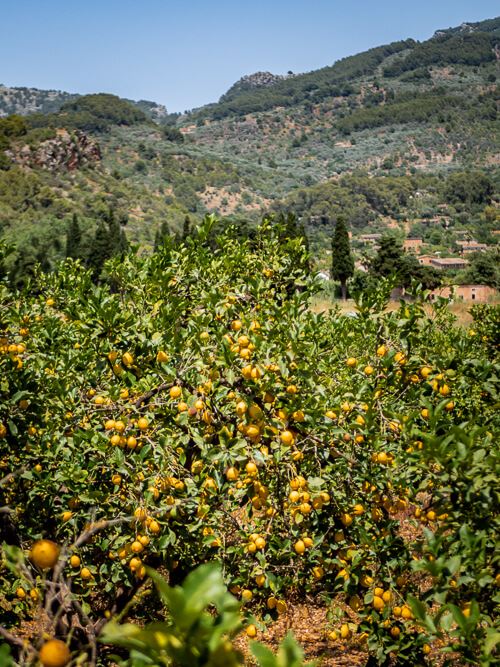 ---
3) Take the vintage tram to Port de Soller
One of the most popular things to do in Soller is to ride its old wooden tram (Tranvía de Sóller) to the neighboring town of Port de Soller. Inaugurated in 1913, the heritage tramway takes you on a scenic 15-minute journey past orange groves, gardens and mountainous landscapes before arriving at the beautiful bay of Port de Soller.
Nowadays this vintage tram is mostly just a tourist attraction but in the past, it was used to transport oranges, fish and vegetables between the port and the town of Soller.
The Soller tram runs every hour and a one-way ticket costs 8 euros.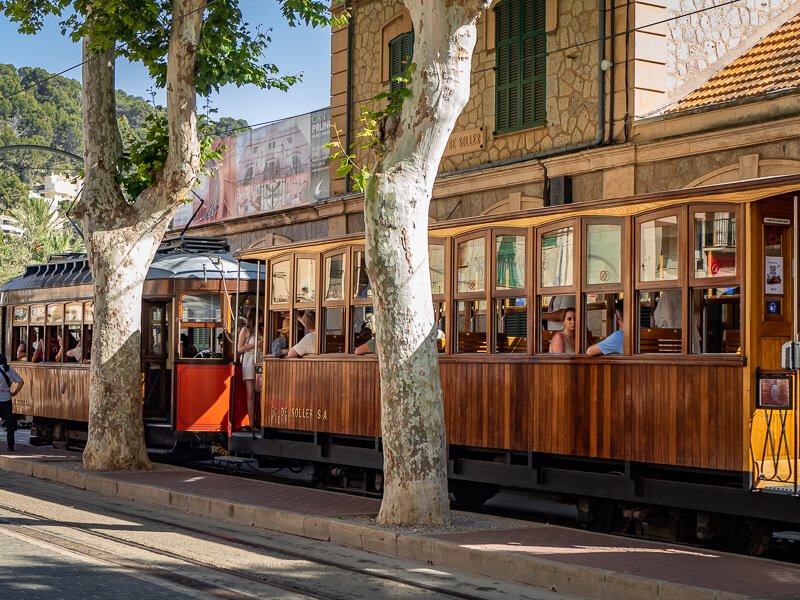 ---
4) Spend a day at Port de Soller beach
The beautiful seaside town of Port de Soller is just 5 kilometers (3 mi) from Soller and has a palm-tree-lined sandy beach with shimmering turquoise water. It's an ideal place to spend a relaxing day by the sea and cool off in the summer heat.
Surrounded by mountains, the crescent-shaped beach is located in a sheltered bay with very calm waters, making it perfect for families with small children. Here, parasols and sunbeds are available for hire and SUP boards, pedal boats and kayaks can be rented to explore the picturesque bay.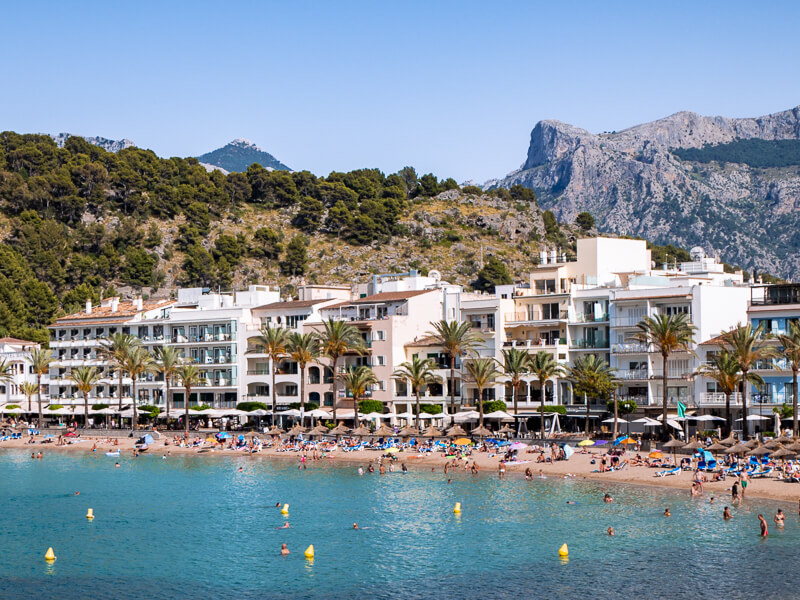 Along the town's seafront promenade, you'll find numerous cafes, seafood restaurants and cocktail bars.
For amazing panoramic views of the sea and the town, head to Cap Gros lighthouse. It's a great spot for watching the sunset so you might want to time your visit accordingly!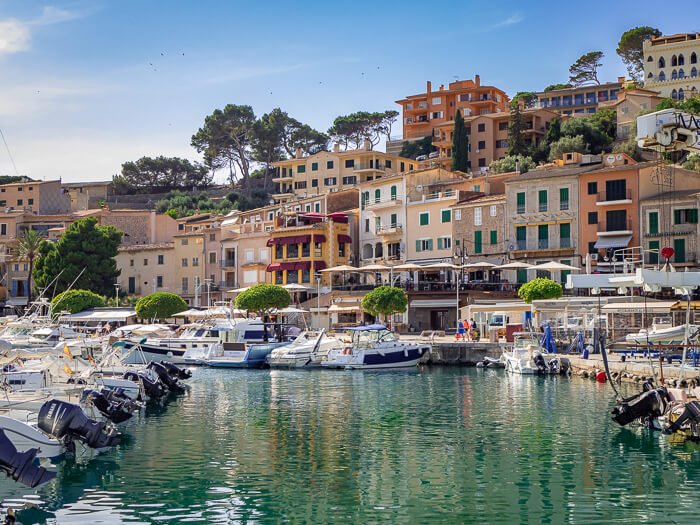 ---
5) Sa Calobra boat trip
A boat trip to Sa Calobra village and Torrent de Pareis beach is another one of the must-do activities when visiting Sóller. It is a jaw-droppingly beautiful place and was definitely one of the highlights of my 7-day Mallorca itinerary.
The Sa Calobra boat departs from the Port de Soller marina and the journey takes about an hour. Along the way, you'll get to marvel at the spectacular northwest coast of Mallorca, including sea caves, towering cliffs and hidden beaches.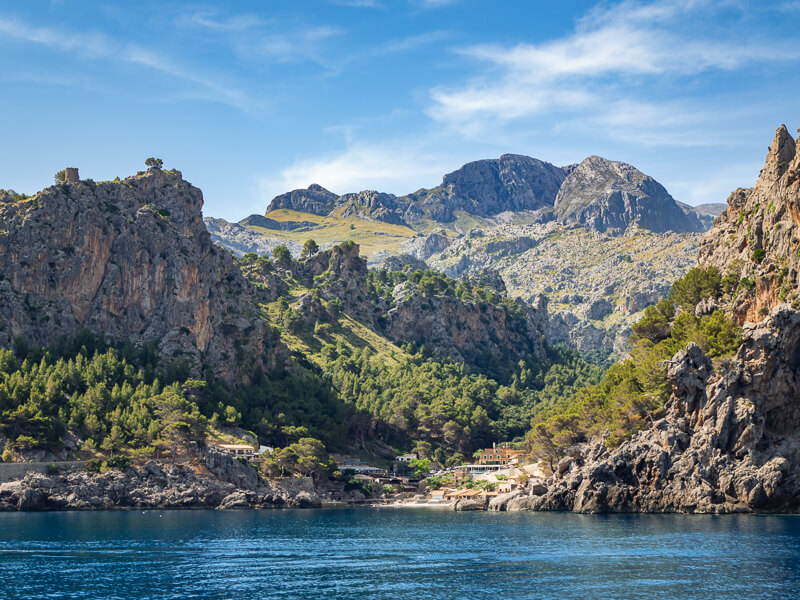 The boat will drop you off at a small turquoise cove in Sa Calobra. From there, it's a 10-minute walk through an amazing coastal landscape to Torrent de Pareis canyon. At the mouth of the canyon, hidden between towering cliffs, you'll find a small pebble beach with irresistible neon blue water.
You can see the boat schedule and book your tickets here. It's definitely one of the best boat trips from Port de Soller. I couldn't recommend it enough!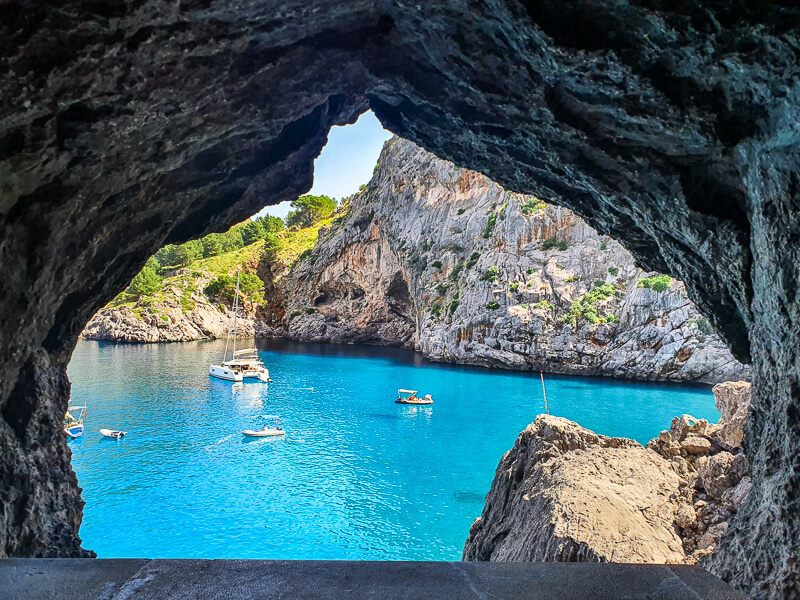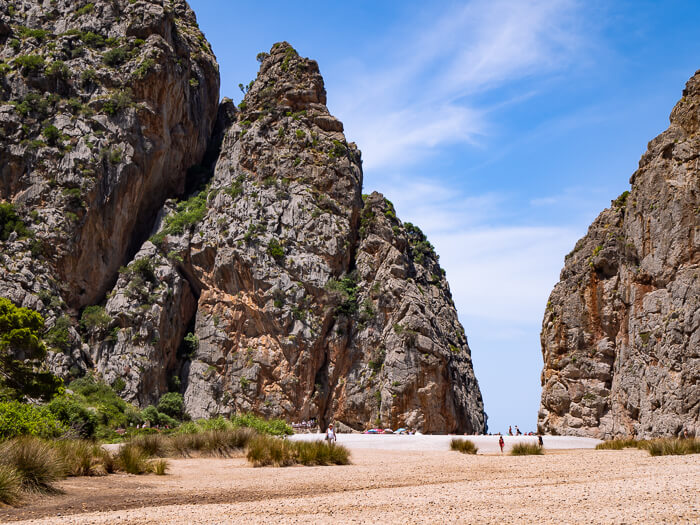 ---
6) Explore the hiking trails in Soller
Another one of the best things to do in Soller is to go hiking. In fact, this little town is considered the hiking capital of Mallorca.
Its scenic mountainous surroundings are home to a variety of trails with different lengths and difficulty levels and some of them are also suitable for mountain biking. The trails are pleasantly uncrowded and offer spectacular views of the coast and the Tramuntana mountain range.
Some of the most famous hikes in Soller are:
Soller to Port de Soller hike
Barranc de Biniaraix hike
Soller to Cala Tuent hike
Soller to Fornalutx hike
For a more detailed overview of the walking trails in the area, take a look at AllTrails.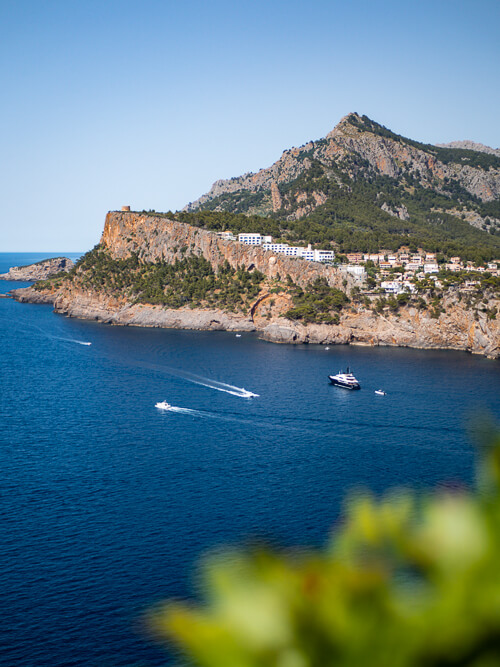 ---
7) Take a day trip to Deia and Valldemossa
Deia and Valldemossa are idyllic villages nestled in the Tramuntana mountains and they make for a perfect day trip from Soller. With their winding cobbled streets, beautiful mountain views and old stone houses decorated with flowers, these villages look like something straight out of a fairytale.
Deia, which is the smaller one of the two, is known for its bohemian, artsy and a little eccentric vibe and has a beautiful pebble beach called Cala Deia. It's a highly popular beach and can get very crowded in the summer so be sure to show up early.
Valldemossa on the other hand boasts a lively historic quarter full of cafes and small boutiques. Visit the centuries-old Carthusian Monastery, take a walk in the Gardens of Rei Joan Carles and drop by a bakery to taste some of the local pastries such as coca de patata and ensaimada.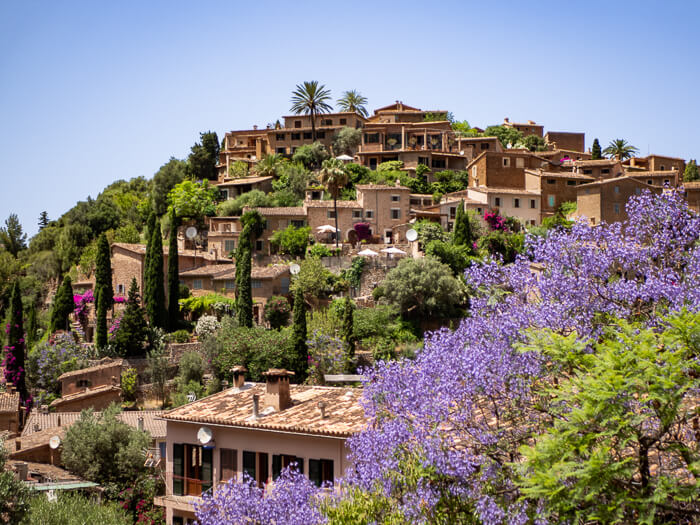 ---
8) Explore Fornalutx and Biniaraix
Another two villages to explore near Soller are Fornalutx and Biniaraix. They are located just a couple of kilometers northeast of the town and sit high in the mountains above the valley of Soller. Unfortunately, I didn't have time to see them myself but I've heard that they're definitely worth visiting, especially if you want to get away from the crowds.
Biniaraix and Fornalutx have a quiet and authentic setting and are known to be very picturesque because of their steep streets and traditional stone houses. Fornalutx has even been named the prettiest village not only in Mallorca but in the whole of Spain.
---
Where to stay in Soller
Soller and Port de Soller have a wide selection of hotels to suit all kinds of budgets and preferences. If you like the idea of having the beach at your doorstep, stay in Port de Soller. But if you prefer a more authentic vibe, stay in Soller.
If you plan to visit this area in the summer season, book your accommodation well in advance as many hotels tend to get completely sold out in this period.
Hotels in Soller
BUDGET: Hostel Soller
This hostel is located in a beautiful historical building just a short walk from the town center and is one of the prettiest and cleanest hostels I've ever seen! They have both private and shared rooms.
LUXURY: Finca Cas Sant
A fantastic manor house surrounded by romantic gardens full of orange and lemon trees. It's a rural boutique hotel with Mediterranean-style rooms and two large outdoor pools.
Hotels in Port de Soller
MID-RANGE: Bikini Island & Mountain Hotel
This 'adults only' hotel is just a 10-minute walk from the beach and features gorgeous bohemian decor, a heated outdoor pool, a spa and daily yoga classes.
LUXURY: Jumeirah Port Soller Hotel & Spa
Situated on a cliff above the bay of Port de Soller, this 5-star hotel is undoubtedly the most luxurious hotel in the area. Guests can enjoy its amazing infinity pool, breathtaking sea views and a world-class spa.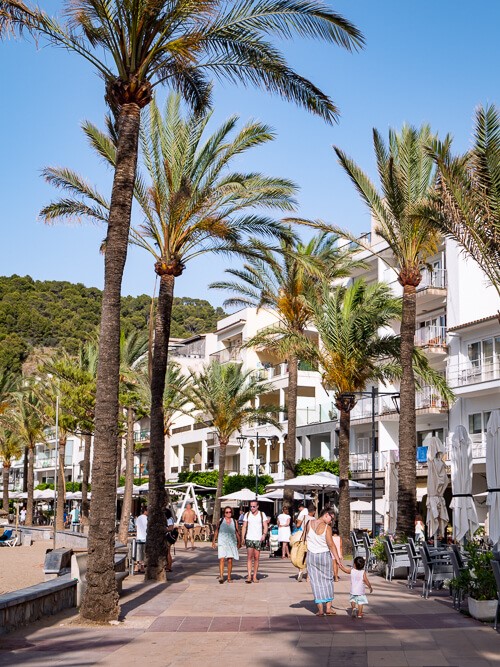 ---
A map of the best things to do in Soller
On the map below, you can see the locations of the main points of interest covered in this Soller travel guide and the hotels I recommend. Click on the icon in the top left corner of the map for more details.
---
I hope that you found this blog post helpful for planning your own trip and that it gave you an idea of what to expect when visiting this wonderful part of Mallorca! Be sure to also read my post on the best things to do in Cala d'Or in southern Mallorca.
In case you have any questions, please leave them in the comments below and I'll do my best to answer them.
Enjoyed reading about the best things to do in Soller? Pin it!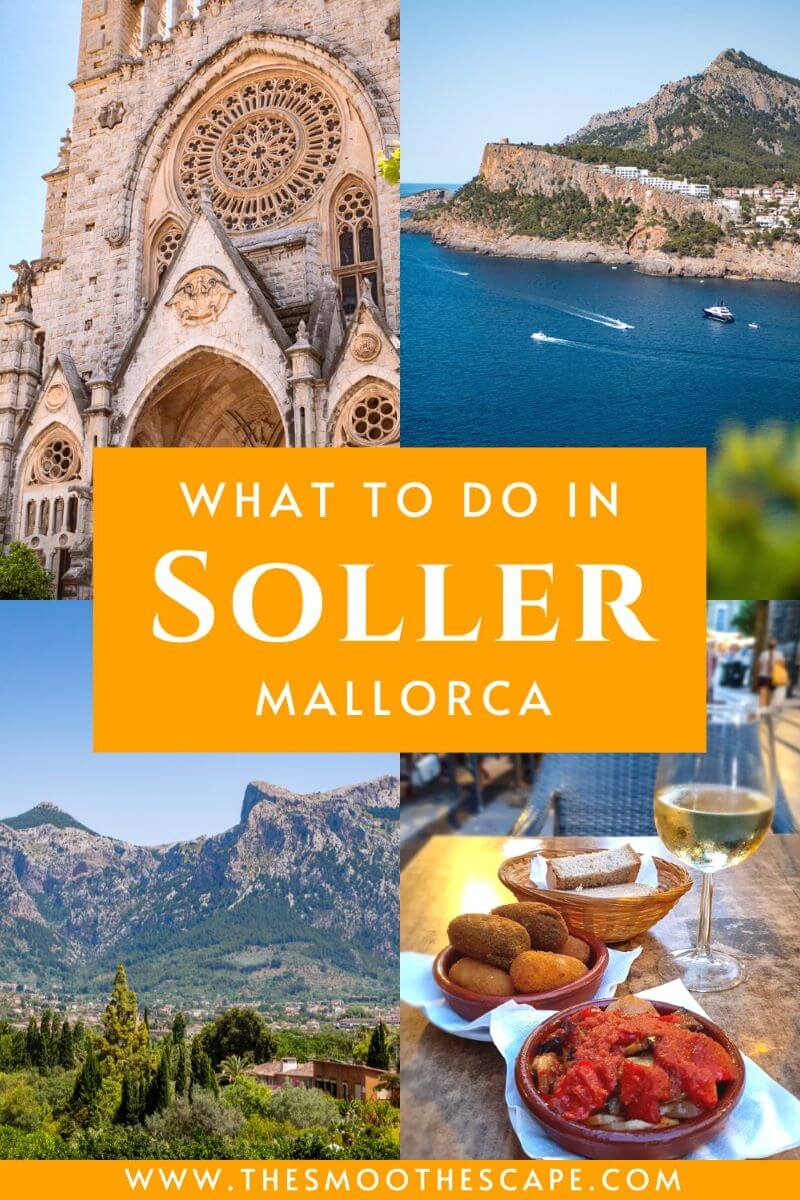 READ MORE: